Issue: Disney's Darkwing Duck #18
Release Date: November 9, 2011
Story: Warren Spector, Ian Brill, and James Silvani
Writer: Ian Brill
Artist: James Silvani
Colors: Lisa Moore
Letters: Deron Bennett
Cover A: James Silvani
Cover B: Sabrina Alberghetti
Publisher: kaboom!
Like the other issues, Darwking Duck #18 picks up right after Duck Tales #6 with the real main villain of the story arc, Negaduck. It seems he was stuck in some alternate dimension and he is responsible for the slime that is attacking Duckburg and St. Canard. Negaduck shows Darkwing how the slime came to be and how Negaduck will come back. Apparently, Morgana, Darkwing's on and off girlfriend, got stuck with Negaduck. Darkwing can save her, but Negaduck will also come back.
With Negaduck back in this world, he takes control of the slime and locks everyone, good and bad alike, up in slime cages while he gloats. While he's gloating, Scrooge calls Agent 44 for the last time saying that it's time to bring out the big guns. I won't spoil who Agent 44 is, because I think it's pretty awesome. Agent 44 goes out to the streets of Duckburg and pushes the citizens to fight back against the slime. While the people fight back, Negaduck loses some control over the slime. The Phantom Blot then convinces all the villains to become one entity.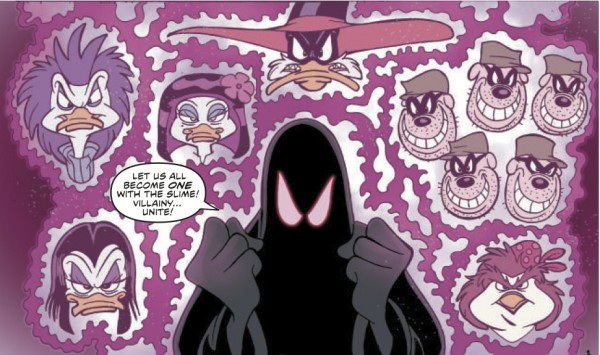 At first, things don't look good for our heroes, but Morgana tells Darkwing that she put a spell on Negaduck. All Darkwing has to do is tell the villain the truth. Everyone fights the connected villains, while Darkwing fights Negaduck and tells him the truth, Darkwing has friends where Negaduck doesn't. Once Negaduck sees that truth, the portal opens back up and sucks him, and all the villains connected to him, back through to that alternate dimension. The issue and story arc ends with Darkwing and Scrooge shaking hands and becoming (somewhat) friendly.
I thought that the whole story arc was done really well. There were plenty of twists and turns in the plot. I never saw Negaduck coming or the reveal of Agent 44, although thinking back, it seems the only logical choice. I hope that they do another crossover later on down the line, as this one was very fun.