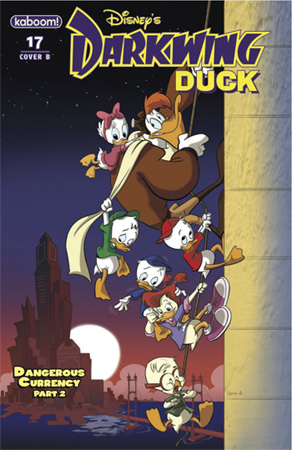 Issue: Disney's Darkwing Duck #17
Release Date: October 12, 2011
Story: Warren Spector, Ian Brill, and James Silvani
Writer: Ian Brill
Artist: James Silvani
Colors: Lisa Moore
Letters: Deron Bennett
Cover A: James Silvani
Cover B: Sabrina Alberghetti
Publisher: kaboom!
This issue picks up right after Duck Tales #5 with the gang seeing that the ooze has spread to all of St. Canard and that Quackwerks is at the center of it all. Scrooge, Darkwing, and Gyro plan to infiltrate the building while the kids and Launchpad go to investigate the source of the ooze.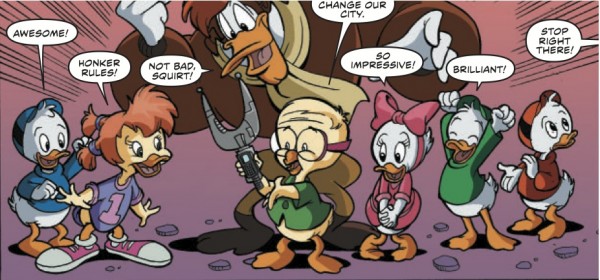 As Scrooge, Darkwing and Gyro break into a Quackwerks building, Quackerjack and other villains from Darkwing's past confront them. They have been evolved by the ooze and are much more dangerous than before. As they are being attacked, the kids and Launchpad are on the streets of St. Canard, looking for clues to the source of the ooze. They are almost attacked by the things on the street, as they've come to life because of the ooze. However, they manage to get away.
The story then cuts back to Scrooge, Darkwing, and Gyro who are still being attacked by Darkwing's old villains. Meanwhile, the others find the source of the ooze and attempt to grab some of it for testing. Back to Scrooge and company, as they finally found a safe spot and find Gizmoduck. However, they aren't safe for long as Magica and her crew finds them and releases the ooze on poor Fenton. Scrooge calls Agent 44 once again and asks for some help.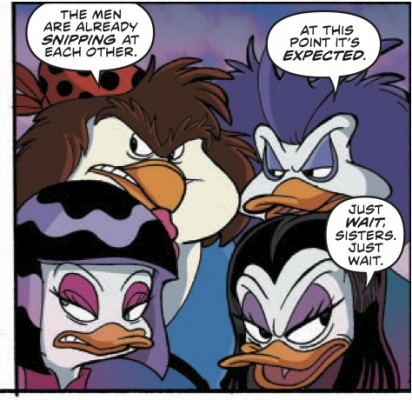 It seems, though, not all is well with the villains of the comic. There seems to be some infighting and suspicion from all sides. The help from Agent 44 arrives and Gizmoduck becomes himself once more. All the villains attack at that moment, but Gizmoduck fights them off and manages to save Scrooge, Darkwing, and Gyro. After all of that though, they manage to find themselves in more hot water. It seems the ooze that kids were trying to grab got on them and they are now on a rampage through St. Canard.
This issue follows very nicely after Duck Tales. Even though different people write each comic, they merge together seamlessly. The scenario is amazing and the plot keeps changing. I expect there are more twists and turns in the next two issues.