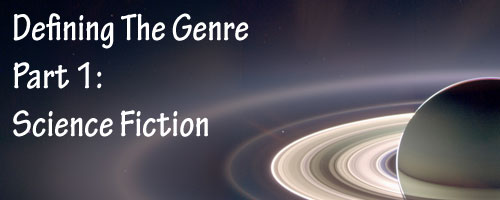 Have you ever heard someone refer to Star Wars as a "Space Opera" and wondered, "Well, they aren't singing, so what does that mean?" or heard someone refer to something as "Bangsian Fantasy"?  (OK, that last one not so much) Well I've come to rescue you in my new series called "Defining the Genre".  The genre of fiction has more subgenres than just Science Fiction, Fantasy, Horror, and Mystery.  While your library or book store may not be more specific than that, we're going to delve into various subgenres and styles.  Worry no more, I'm here to help you and all of your genre defining needs.
We're going to start with the genre of Science Fiction.  When we are talking science fiction, we are really discussing a very wide variety of fiction.  Maybe when you hear the term certain things comes to mind–space travel, advanced technology, or aliens–and while these are all certainly part and parcel of what science fiction is, there is a lot more to it as well.  Themes in Science Fiction include, but are certainly not limited to: cosmology, the future, evolution, exploration, societal structure, alternate histories, artificial life, and in many cases the ethics about artificial life, sex, gender, and culture.
All these can be addressed in many ways to be considered science fiction.  The thrust of the story can be space travel and encountering strange new life forms or firmly planted on earth with advancements in cybernetic human enhancements.  Science fiction also often will look at futuristic societies in the "what if", posing questions such as, "What if in the future Earth was a military state?" or "What if in the future Earth developed a utopian society?" The "what ifs" truly are boundless.  The genre of sci fi exists to speculate what the future will be like and who the human race will become.
Different subgenres we will be discussing in further detail as the series continues are understanding hard and soft science fiction, cyberpunk (and post-cyberpunk), steampunk, biopunk, space westerns, space operas, time travel, futuristic societies, military science fiction, and time travel.  Science fiction is by no means limited to these topics (and if you already know I skipped something you want to read about, you are more than welcome to email me at kelly@fandomania.com).  Along with defining these subgenres, I'm also going to be reviewing books in these genres as often as possible and including lists of authors and books along those lines as well.
Throw away your preconceived notions about what you think science fiction is, because if your idea of sci fi is Star Wars, you're missing a huge portion of what the genre has to offer.  While it can be fun, care free jaunts to other worlds, it can also be very serious, cautionary tales.  Science fiction is only bound by the imagination, and I personally believe that is limitless.  Interplanetary travel is only the start. Strap on your space suits; this is going to be a fun ride.
"A handy short definition of almost all science fiction might read: realistic speculation about possible future events, based solidly on adequate knowledge of the real world, past and present, and on a thorough understanding of the nature and significance of the scientific method" – Robert Heinlein