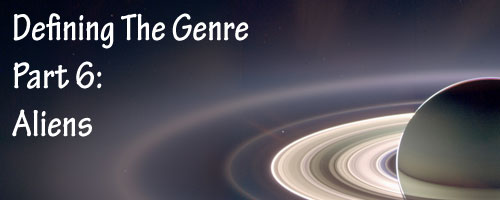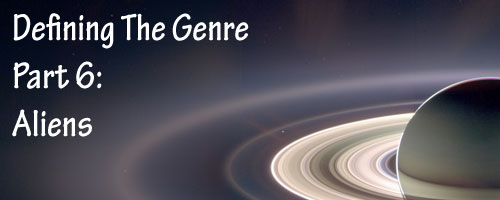 Are we alone out there?  If the universe is infinitely vast, we can't possibly be the only intelligent life out there.  Can we?  This has long been the question and a point of speculation for scientists and science fiction writers alike.  If there is other life out there, is it intelligent?  What does it look like, how does it act?  Will it be friendly or hostile?  These questions and more have long been the basis of speculation in science fiction, and while not a genre, it is a subject that can't be ignored when discussing science fiction as a whole.  Sometimes they are as close as our neighboring planets, or sometimes so far away we have to rethink physics and how to get there to find them (or try and figure out how they got here).  No matter where they are, it's hard not to wonder "who are they"?
The study of aliens or possible alien life has begun to be a more respectable field in science within approximately the last ten years.  Two terms have come up in regards to studying extraterrestrial life, and for various reasons both are lacking to actually describe what must be considered when studying aliens.  The first is astrobiology, the term used by scientists to explain the study of potential life on Earth-like planets.  It is essentially the combined study of modern astronomy and biology.  The fall back to this is that it assumes that all life evolved in the same way that life evolved on Earth, so the study is narrowed to Earth-like planets around an Earth-like sun.  These scientists are looking at biology as it applies to Earth, but that is really the only context in which extraterrestrial life can be looked at until we know otherwise.
The second category of alien study is xenobiology, which translates to the study of strange life.  This is perhaps more to the point and a more accurate a term for what the study of aliens should be.  Xenobiology allows for and even expects alien life to be different. However there is a less scientific basis for this until we actually come in contact with alien life.  What xenobiology makes up for in hitting the strange aspect spot on, it also is missing an element that astrobiology is missing, and that is that the study of aliens needs to be more than just biology.  Cohen and Stewart suggest that the study of aliens should be called xenoscience.  (pp. 4-6)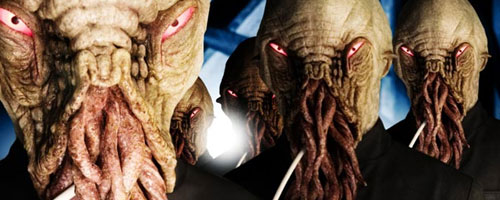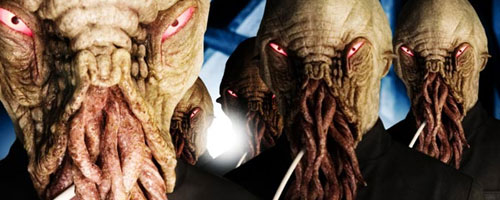 Science hasn't been able to answer that question very well, but science fiction sure has tried.  If tomorrow an alien space craft landed on your front lawn, and the hatch opened, who would be walking out, and what would they look like?  Theoretically, aliens can look any way the human imagination can dream up, and likely they don't resemble humans at all.  Why is it then that so many movies and television shows depict aliens as roughly similar?  (If not like in Doctor Who or Star Trek to be almost completely similar. Tell me, Spock, is that logical?)
There's actually a good reason for this.  For a movie going or TV watching audience to be able to relate to an alien, it needs to be able to understand nonverbal clues like facial expressions.  This is why most movie aliens are going to be bilateral (having symmetrical sides), two arms, two legs, and a recognizable cranium with eyes and usually the other recognizable facial features. (Pickover, 14)  With this configuration we can look at E.T.'s face from E.T. the Extra-Terrestrial (1982) and have an idea that he is a sympathetic character with feelings not too different from yours or mine.  The alien from the movie Signs (2002), however, has non-verbal facial cues saying that this is an alien I don't want to mess with.  You can look at it and know it doesn't have your best interests at heart.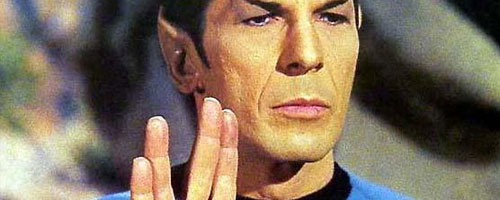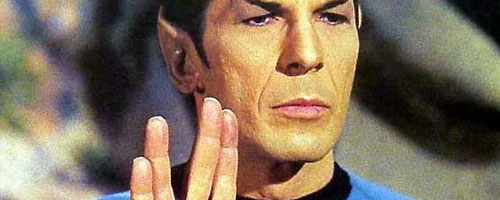 The idea that aliens should or would look human is not just a Hollywood pretense however.  Since the beginning of the discussion of the possibility of intelligent life on other worlds, or even throughout the history of science, there has always been the God question.  If humans were in fact made in God's image, would not intelligent life on other planets also be made in human image?  An early exception to this rule can be seen in Henry Baker's poem The Universe (1734) where in a nutshell he states that people from Saturn must be different than us.  While there had been some literary experimentation with small differences, it was not really until the idea of evolution was planted into the public consciousness that the idea that aliens may in fact be very different truly came about.
In H.G. Wells' War of the Worlds (1898) not only were there aliens, but they were predatory aliens.  They were less human-like and they were bent on taking over Earth for their own purposes.  In this, one of the earliest invasion stories, not only were the aliens different from us, but those differences were significant for important reasons.  First, in not looking like us, even before the book was adapted for radio or movies, it is harder to relate to who these aliens are and what they might want.  There is no bargaining with them, as we don't even know if we can communicate and are not given the chance.  Second, their differences are what ultimately doom them.  This is also an example of how different environments would cultivate different species, and therefore not all alien life would resemble humans.  The Martians are not immune to the bacteria and other pathogens that exist on Earth since they do not exist on Mars.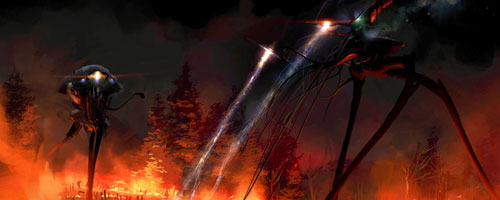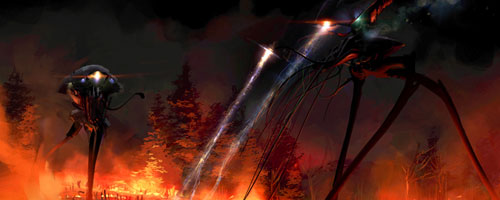 With the advent of Space Opera from authors such as E.E. Smith and Edmond Hamilton, the idea of going to the aliens was presented.  While invasion stories had been very popular and would remain so, if humans can go make war, why sit at home and wait to be invaded?  Now that mankind no longer needs to wait to be invaded to experience aliens, variety amongst aliens only expands as more worlds can be explored (Stableford, 13-14).    In Smith's The Skylark of Space (1946) the main characters encounter monstrous aliens that appear like large insatiably hungry bugs and reptiles, while on another planet they come across an alien that is able to manipulate energy. Finally they land on Osnome, where they meet colorful but otherwise human aliens.  Here they manage to ally themselves with the good faction against the bad.  With space opening up, humans in other books and media will also use the tactic of allying with the good of alien kind to fight the bad.  Teal'c from Stargate SG-1 is an excellent example, as he forsakes his dominating oppressors, the Goa'uld, to align himself with the humans, the only race capable of fighting the menace.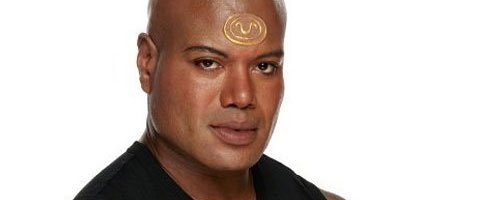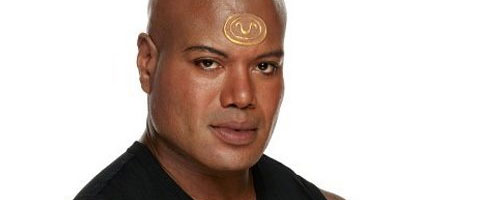 Once we realized that we could go to the aliens, this opened up the possibility for every different kind of alien.  The next possibility is one that social science fiction writers started becoming interested in exploring.  Invading aliens and ones who fight with us among the stars have all been painted in a bad light.  Humans were obviously the better race, morally if not technologically.  I would postulate that the next important theme with aliens in science fiction literature is the alien that man encounters that is better than he is.  An example of this would be Robert Heinlein's Stranger in a Strange Land (1961).  While the main alien is actually of human descent, he was raised by Martians and then rescued and returned to Earth after reaching adulthood.  Rather than assimilate into the culture he now found himself in, he rejects how humans live and interact.  As he meets and learns about humans, instead of changing, he changes them, eventually forming his own religion based on the values he was taught on Mars.  In this case, man was shown as the monster, persecuting and ultimately killing him as a religious martyr.
Unlike other movements in literature, all aspects and themes of aliens can coexist at the same time.  There are certainly other considerations when it comes to aliens in science fiction.  As long as people are imagining what life is out there, there is no limit to what aliens can be, what they can do, or what they can mean.  Whether a story is looked at through the eyes of man battling aliens or aliens trying to understand man, one thing is clear: we're not only exploring our relation with the unknown but also with who we are as a people.  When and if we ever do truly meet aliens, how will they see us?  Will they see us as the monsters and villains, or will we be the peaceful and friendly people that we like to depict ourselves as being?
The possibilities are limitless, and aliens will never cease to amaze.  Whether they're invading or coming in peace, the study or even the assumption of alien life has fascinated many people.  Scientists may be plugging numbers into the Drake Equation (an equation to calculate possible planets that contain possible life) but science fiction writers are bringing those possibilities to life.  Are we alone?  Not as long as science and science fiction keep trying to discover what's out there.
Recommended Reading:
Resources
Cohen, Jack, and Ian Stewart. What Does a Martian Look Like : The Science of Extraterrestrial Life. New York: John Wiley & Sons, Incorporated, 2002.
Pickover, Clifford A. Science of Aliens. New York: Basic Books, 1999.
Stableford, Brian. Science Fact and Science Fiction. New York: Routledge, 2006.