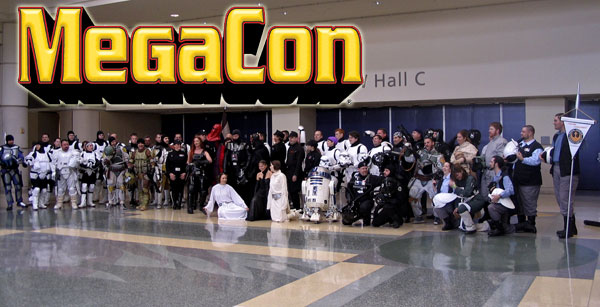 This year's MegaCon took place from February 27-March 1 and, by all accounts, was a rousing success. Several of us at Fandomania were there to cover the event as well as to enjoy the convention, and we were not disappointed.
Media guests at MegaCon were diverse as always, though the list gave particular attention to both the old and new incarnations of Battlestar Galactica. Tricia Helfer, James Callis, Luciana Carro, Jennifer Halley, Dirk Benedict, Herb Jefferson, Anne Lockhart, and Melody Anderson were all on hand to represent the BSG universe. Star Wars's Peter Mayhew and Richard LeParmentier, Torchwood"s Gareth David-Lloyd, Lou Ferrigno, Margot Kidder, Micky Dolenz, and many others were also there to meet with fans.
Comic book readers were treated to a number of high-profile guests as well: George Pérez, Chris Claremont, Adam Hughes, Chuck Dixon, Jimmy Palmiotti, Amanda Connor, Mark Waid, Greg Land, Frank Cho, Mike Perkins, Dan Didio, Rob Granito, Arthur Suydam, and many more held panels and met with fans.
In addition, hundreds of independent artists of all kinds showed off their talents, from traditional painters to costumers to robot builders to LEGO enthusiasts. Listen to the Fandomania podcast for our interviews with several of the guests and check out the gallery below for some of the highlights from the show!