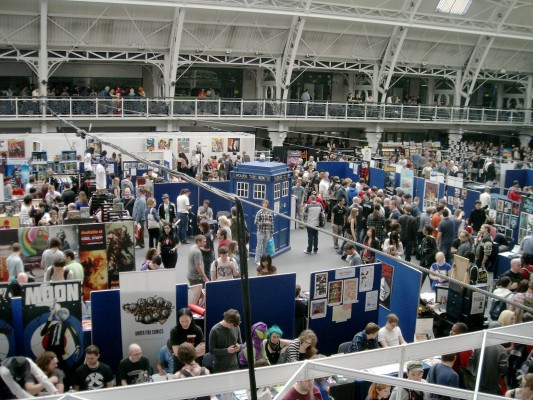 There's an unwritten rule that when you go to a concert, you don't wear a t-shirt with the name of the band you're going to see or an image of the band on the t-shirt. It somehow lacks class and seems like a bit of a desperate cry for attention. We all know that you're a fan of the band. That's the reason that you're at the concert.
There isn't a rule, unwritten or otherwise, like that that applies when you go to a comic convention. When you go to a comic convention, it's almost mandatory to wear something that displays your fandom. It might be as simple as a t-shirt with a Superman pentagon on it or something that requires as much effort as a Black Cat costume. But no matter what it is, you have to represent.
Last weekend, I was in attendance at Kapow! Comic Con in The London Business Design Centre. The convention is ostensibly the brain child of Mark Millar, though he gives all the credit for the convention to his wife, and it was the first attempt at bringing something akin to San Diego Comic Con to this side of the Atlantic Ocean.
Kapow! was a two-day affair held over the weekend of the 9th and 10th of April. I arrived in London on Thursday morning so that I could see a bit more of London than I usually do when I travel there, but mostly because I'm a nervous wreck after a flight and I didn't want to fly over on the Saturday morning and go straight to the convention in a state of near-catatonia. Despite arriving in London two days before the start of the convention, however, it was still well after midday by the time I actually got to the convention hall. This lack of earliness was due to a successful attempt the previous night to empty a fridge in a Leicester Square bar of its entire stock of Budvar and the fact that arriving early would have meant auditing early to get in to the convention. There are people who queue for stuff and there are people who won't queue for stuff. I'm definitely the latter. Though I reserve the right to withdraw that comment if I have to queue at a bar for a drink. I will do that.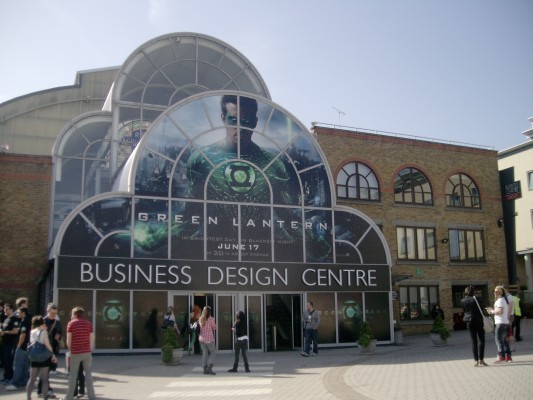 Outside the convention centre, I rang a friend who I was due to meet at the convention and was informed that he was in the bar next door. It was barely seven hours since I had left the bar the night before but I was more than happy to meet my friend in another bar which happened to be an Irish Bar of the same franchise. When I walked in to the bar, I was amazed and delighted at the amount of nerds who were there, almost all of whom were wearing some form of nerd attire, though I noticed straight away that I didn't see many folk walking around wearing Millar-themed attire. The guy walking around dressed as Bane seemed to be a particular hit with the patrons. The bar staff weren't as pleased with the crowd as I was though, and they were totally unprepared for it too. Maybe it was because of the kind of crowd that it was, but evidently they didn't expect a crowd of five thousand people in a convention centre one hundred yards away to have any impact on them. But it did. After eventually managing to use our Irish charm to get some food, we went in to the convention centre and I got my first glimpse of Millar's attempt at bringing SDCC to London.
My first thought was that he had made a damned good first attempt. My second thought was that London Business Design Centre was actually a glorified office block. The main part of the convention operated on two floors, one of which had an IGN stage that was used for interviews and displays and Sunday's Cosplay Parade. This floor also had a couple of gaming demonstrations set up where people could try their hand at some new console games. They were both a wise use of the space available and the IGN stage in particular was positioned well so that people could see a lot of what was happening on the stage from almost any angle on the upper level so long as they weren't standing directly behind it.
On the exhibitor-level of the convention, the fact that we were in a glorified office block actually worked out to our advantage. One thing you notice at any convention you go to is that space is at a premium and Kapow! was no different. Getting from one end of the floor to another can be a bit of a chore, but because we were in an office block, there were exits and walkways behind the various stalls located all around the floor. Walking behind a busy, crowded stall in order to get where you're going is a he'll of a lot easier than trying to force your way past the front of it.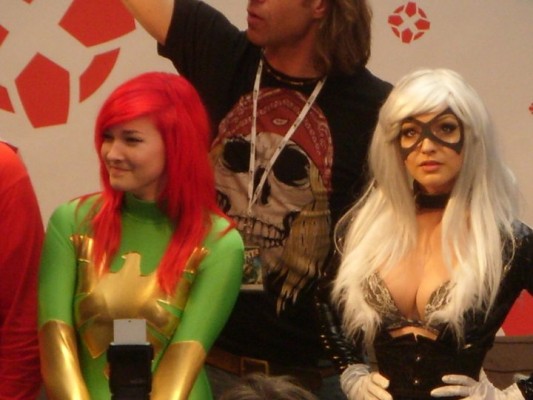 The busiest, most crowded stall on the convention floor though wasn't the one that had the cheapest statues or the biggest selection of comics or back issues, it was the "Cyber Candy" stall which basically consisted of hot ladies selling nerd food. Not once during the entire weekend did I see that stall without somebody in front of it, handing over money for a brightly coloured, nerd-friendly sugar rush and a chance to talk to a pretty lady. Hell, I'm diabetic and I was still tempted to buy half of their stock.
Most of the comic retailers present at the convention were (understandably) pushing a lot of Mark Millar comics but there was a huge variety of retailers selling a huge variety of merchandise from cheap comic books to not so cheap statues to never-cheap Alex Ross artwork. Due to the fact that I'm a sucker for statues and Alex Ross artwork, I purposely brought the smallest suitcase that I could find to London with me. The reasoning being that if I can't fit it in to my suitcase, then I can't get it on the plane to bring it home with me. I'll agree that it's pretty weak reasoning but it did work.
Scattered around the merchandise-floor of the convention were areas set up for autograph sessions. I appreciated the fact that the signing areas were so conveniently placed while still being out of the way so as not to cause any more problems for folks trying to get navigate the Con. While the guest list for Kapow! was indeed impressive, there was nobody who was signing autographs that made me want to stand in a queue to get an autograph. I really do try to avoid queues as much as possible and it takes the possibility of meeting someone who I admire the hell out of or may never get to meet again to get me to queue for an autograph. The last time I can actually remember doing that was at NYCC in October of last year when I met the legend that is Bruce Campbell.
After the convention had wrapped up for the day, I went and hung out with some friends to have a few pints and record a podcast. If that had been the end of the day, I would have been content. Good food, good company, a well-organised convention and a few pints are more than enough for me to declare any day a success. But as it turned out, the day was not quite over yet.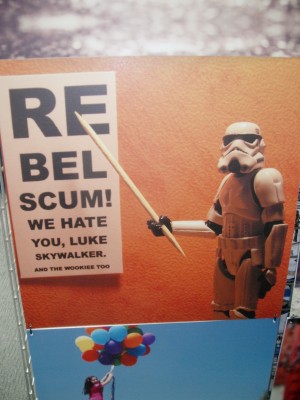 Due to having friends in high places, I was able to get in to the bar where the stars of Kapow! were hanging out on the Saturday night. I've spoken and written many times before now about how one of the best things about the nerd-life is that the people we admire and respect are pretty accessible and respectful. This night was no different.
It didn't take long to get talking with folk in the bar and five hours in the bar talking and laughing flew by. Some people people in the bar I knew by reputation, some I didn't know at all. But what became very clear very quickly is that I had found myself smack bang in the middle of a community. And what was also clear was that Mark Millar was the leader of that community for as long as Kapow! was going on. Millar came in to the bar a little bit later than the rest of his group and due to my proximity to the door and a little bit of luck, I got the chance to meet him and chat with him (very) briefly. This was my third time meeting Mark Millar and yet again he struck me as a genuine guy who's enjoying the success that he's earned but never taking it for granted. I'm still trying to convince myself that he does remember meeting me the two times previous, but that might be a bit of a stretch. Mark disappeared just as quickly as he appeared, having to say hello to a multitude of people before getting any peace. Conversations continued and laughter doubled before I had to leave the bar and wonder just how far it was safe and sensible to walk before having to admit defeat and get a taxi the rest of the way back to my hotel.
If you're wondering, I walked for about two minutes and then realised I was too tired to walk anymore.
After a very content sleep and a mammoth breakfast, I packed my not-big-enough-for-a-statue suitcase and made my way back to Kapow! on the Sunday, roughly around the same time that I was there on Saturday, because tradition is a good thing. I was happy to see that that there were fewer bodies there on Sunday than Saturday and I was also happy, but not at all surprised, to see that prices had already fallen from their Saturday-high. No matter the size or location of a comic convention, retailers are loathe to bring stock back with them, so on the last day of an event, prices will be slashed so as to make as many sales as possible and save on effort and petrol money. Having to lug a suitcase around all day, I could understand the desire to unload as much stock as possible before leaving.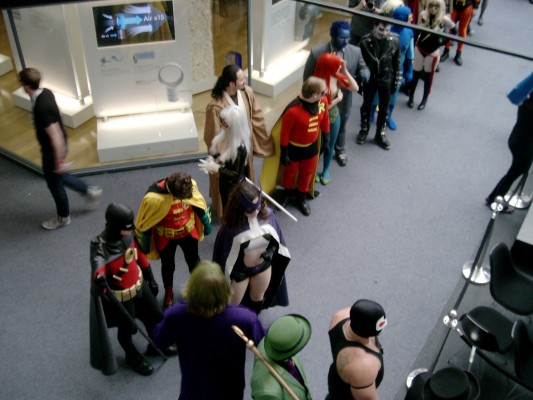 Over and above the general satisfaction of being at a comic convention and being in a building full of nerds, Sunday did have a couple of highlights for me, both of which were on display at the IGN booth on the lower floor of the convention. The first was an interview with Danny McBride that I caught more by accident than design. It's entirely possible that I've underestimated McBride for the last few years based on the movies he's made. McBride is a very entertaining, erudite and witty man who was more than able to field every question that got thrown to him, from both interviewer and audience. Due to my aversion to long queues and wasted time, if this was an interview that had been done in a closed off panel room, I never would have seen it. And that would have been my loss.
The second highlight of Sunday was something that I've never seen at any convention anywhere before, and that's a damn shame because it was thoroughly enjoyable, it was a Cosplay Parade that took place again on the IGN stage. Over the course of the Saturday and the Sunday, I had been very impressed with the quality of cosplay that was on show in various places around the convention and even in the Irish Pub around the corner. The Cosplay Parade was just an excuse to get all of the cosplayers together in one place all at the same time. When they were all together, it truly was a sight to behold mainly due to the amount of time and effort that went in to it. Also, you almost never get to see Black Cat, Phoenix, and Super Ted all on one stage at the same time. For my money, Super Ted should have easily won the popular vote for best costume but due to showmanship and probably fear that he could kill us all, the guy who was dressed as Bane won the popular vote. The prize for winning was insubstantial when compared with the effort of making a costume and wearing it over the entire weekend but the Cosplay Parade was definitely a great way to finish off the convention.
I don't know what the future holds for Kapow!, whether it will grow or stay the same size, whether it'll become more movie-orientated or it'll always have a good focus on comics. But I do know that I'm already looking forward to going back next year. And I might even bring a bigger suitcase with me next time.