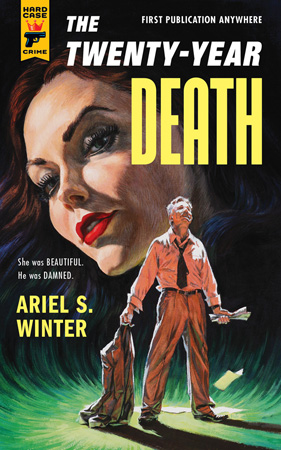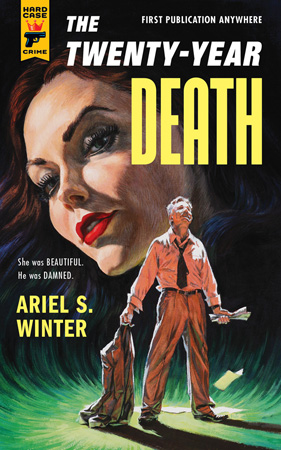 This month Hard Case Crime is releasing Ariel S. Winter's uniquely epic crime saga, The Twenty-Year Death. The book actually contains three novels that cover a twenty year timespan and that all tie together to form an overall continuous narrative. Each of the three novels pays homage to a crime writer and style from its decade, with the 1931-set story echoing Georges Simenon, the 1941 story recalling Raymond Chandler, and the 1951 tale paying tribute to Jim Thompson. The publisher has provided us with copies of the book to give away to three lucky winners this week, and they also have sent us an exclusive excerpt for you to check out.
You have from now through midnight Eastern time on the night of Wednesday, August 8, 2012, to enter. Check out the form below for all the ways you can enter, and scroll past it to see our exclusive excerpt from the novel.
Good luck!
Upstairs, the other diner was just stepping out of the door to the room across the hall from Pelleter's. He stopped short at the sight of the inspector, and then tried on an ingratiating smile, extending his hand as he stepped up to meet Pelleter halfway down the hall.

"Inspector Pelleter!"

The man took Pelleter's hand almost against his will and pumped it, blocking the inspector's path.

"I don't mean any familiarity. I couldn't help but hear some of the conversation downstairs. It's very exciting to meet a celebrity."

Pelleter freed his hand and tried to step around the man. "A pleasure," he said.

"Could I ask you a few questions? I hate to be an imposition, but you read things in the papers and you're never able to tell if they've gotten it quite right. Like our own local celebrity, Mahossier."

The man had placed himself in such a way that Pelleter could not pass him without force.

"Is it true that he kept the children in cages?"

Pelleter felt tired. Was there not enough sadness in the world that people had to revel in the worst of it?

"I remember reading that you found a child in a cage, and that there were other small cages next to it…And that he had dug a pit in his basement where he would force the children to fight each other if they wanted to be fed…An image like that stays with you. I still have nightmares about it, and that's just from reading the stories. Is it true?"

"Excuse me," Pelleter said, but he made no attempt to get by.

"I just don't understand how somebody could do that, how it works. He would kidnap the children, and then starve them…"

The man paused, observing Pelleter with a keen eye, as though he were testing him, to see the effect of this story.

"Meanwhile, he would have two of the already starving children fight each other to set an example. Am I getting this right?"

All these years later and people were still talking about this monster.

He should be forgotten, not famous.

The man went on. "Yes. Then the children would fight to the death, and the winner was allowed to eat the other children's carcasses, locked away until the next battle. Amazing."

"Why are you so interested?" Pelleter said, determined to give no signs one way or the other.

"Oh, just curiosity, curiosity. I have an amateur interest in the mystery of crime, let's say."

Pelleter felt his anger rising. "Excuse me," he said again.

"Oh, of course, it's getting late. But just tell me, is that really true? Surely the newspapers must have exaggerated. No one would do that to children just for his own entertainment."

"I have nothing more to say on this. It was a long time ago."

"Then maybe you could tell me about our local murder. Have you any suspects there?"

Pelleter took a step forward as though to walk through the man.

The man held his ground so that he was too close, directly in Pelleter's face. "I don't believe that anyone could get away with what Mahossier did even if he would do it. You have to tell me that. It can't be that that is how it was."

It was as though the man needed some reaction out of Pelleter, as though he were deliberately pushing him to see what kind of a man he was.

"There were really bones with children's teeth marks on them? That detail always seemed too extreme."

Pelleter grabbed the man's shoulder then and pushed him out of the way. The man fell against the wall, and hopped to regain his balance as Pelleter stepped around him. "There's nothing more to be said."

The man called at Pelleter's back, "So it really is true, and you saw all of that. Why didn't you kill him on sight?"

Pelleter turned back and rushed the man, stopping inches away from his face. "Because that's not how the law works."

"When there are murdered men in the streets of Verargent, maybe the law doesn't work."

Pelleter glared at the man. He could have told the man of the years of scars on the surviving boy, the evidence of many battles fought and won. That the bite marks on the bones suggested that this last boy had killed no less than six other children in his short life, and that he was still in an institution in the city unable to talk, often in restraints. They had managed to keep that out of the papers, for the boy's sake.

Instead he said, "Good night," and turned away.

Behind him the man said, "I didn't mean anything by it. I just wanted to know."

Pelleter unlocked his door.

"You—"

But the man stopped himself before Pelleter had even closed the door.

In the room, the inspector felt too wound up for such a small place. Mahossier was one case. He could have told the man of so many other cases over the years that the papers were too busy to notice. Was one horror really more terrible than another when somebody was dead?

And somebody was dead again, and Mahossier was close at hand again. Even if Mahossier had nothing to do with this, it just made Pelleter uncomfortable.

He took a deep breath and let it out slowly. It had just been a tactless man. As he had told Officer Martin that afternoon, people can do anything. Right now, only the questions were important:
Who moved the body?

Why hide that Meranger was a prisoner by changing his clothes?

He shrugged off his jacket and stepped over to the bed. He tried to review his interview with Madame Rosenkrantz as he sank onto the mattress.

Instead, the image of that lone boy in a cage in Mahossier's basement crowded everything else out. His anger flared up again at the guest from across the hall, and he clenched his fists and ground his teeth.

Of course the papers had left out the smell. Mahossier's basement had smelled like a latrine outside a slaughterhouse. Pelleter had had to discard the suit he wore that day, because the smell had woven its way into the cloth.