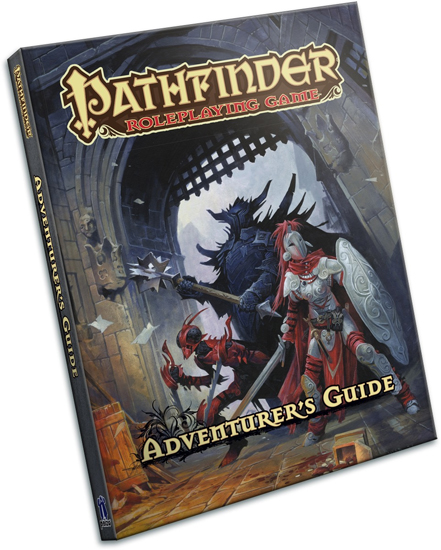 Wise adventurers don't just march off into the wilderness to search for dragons to slay and wrongs to right, for to adventure without support is to invite disaster. The hardcover Pathfinder RPG Adventurer's Guide presents information on 18 different organizations in need of brave and able adventurers. Be they forces for good, such as the virtuous Eagle Knights or the freedom fighters of the Bellflower Network, or agencies of sinister mien like the notorious Red Mantis Assassins or the infernally-inspired Hellknights, the one thing these groups all share in common is a need for powerful adventurers to serve as their agents in the world. To the adventurers who ally with them, these groups offer specialized training, powerful magical items, specialized magic, access to unusual gear or mounts, and more!
Pathfinder RPG Adventurer's Guide includes:
Details on the history, goals, and leadership for 18 of Golarion's most famous (or infamous) organizations, including the Aldori Swordlords, the Aspis Consortium, the Cyphermages, the Gray Maidens, the Hellknights, the Lantern Bearers, the Magaambya, the Mammoth Lords, the Pathfinder Society, and the Red Mantis.
Each organization includes at least one prestige class and at least two archetypes for characters who seek to further specialize in the themes and powers offered by the organization.
Dozens and dozens of new spells, magic items, feats, and other unique character options of diverse nature, all themed to the various organizations presented in this book!
… and much, much more!
Pathfinder RPG Adventurer's Guide is in stores now, and we have one copy of the hardcover to give away to a lucky winner! You have from now through midnight Eastern time on the night of Monday, July 10, 2017, to get your entries in. Take a look at the form below to see all the ways you can enter.
Good luck!
Legal Stuff: This giveaway is not sponsored, endorsed, administered by, or associated with Facebook. When you enter our giveaways, Fandomania is the only organization that receives your information. We do not share any of your information with our sponsors or any other companies.