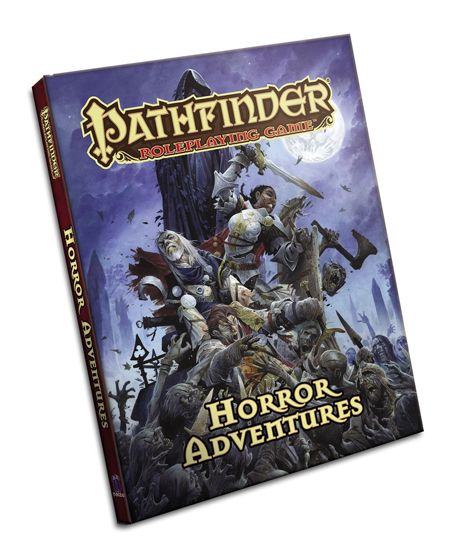 There are things that dwell in the dark places of the world, deep beneath the ground, in long-abandoned crypts, or in musty attics; terrible things that can destroy your body and shatter your mind. Few sane individuals would ever think to seek out such nightmares, but those that are drawn into the darkness often find it infecting them, corrupting them in ways both subtle and gross. Some think that those who die facing off against such horrors are the lucky ones, for the survivors are forever scarred by their experiences. Horror Adventures gives you everything you need to bring these nightmares to your game.
This terrifying 256-page hardcover book will take your game into the darkest reaches, where the dead hunger for the living, alien gods brood in dreams, and madness and death lurk around every corner. There are rules for players and GMs alike, giving heroes a fighting chance against the darkness that threatens to swallow them whole. Characters can take far more than a few hit points of damage, when their very sanity is called into question from witnessing horrors too terrible to comprehend. To face such nightmares, the heroes can take new feats, utilize powerful spells, and even acquire holy relics to aid them. They will need every edge they can get if they plan to survive the secrets of this book.
Just in time for Halloween, we're giving away the Pathfinder Roleplaying Game: Horror Adventures hardcover to one lucky winner! You have from now through midnight Eastern time on the night of Friday, October 21, 2016, to get your entries in. Take a look at the form below to see all the ways you can enter.
Good luck!
Legal Stuff: This giveaway is not sponsored, endorsed, administered by, or associated with Facebook. When you enter our giveaways, Fandomania is the only organization that receives your information. We do not share any of your information with our sponsors or any other companies.