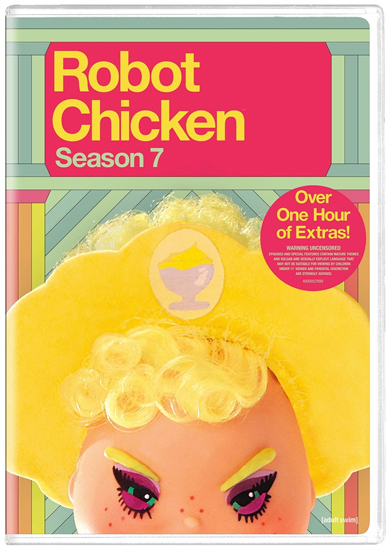 Adult Swim's Emmy Award-winning stop-motion animated series Robot Chicken returns on DVD with 20 all-new episodes from Season 7, including the now famous "Bitch Pudding Special." Packed with hours of bonus content, Robot Chicken Season 7 includes 20 commentaries from show creators and cast, deleted animatics, outtakes, interviews, behind the scenes, and more.
Robot Chicken: Season 7 features the following 20 episodes:
1. Bitch Pudding Special
2. G.I. Jogurt
3. Link's Sausages
4. Secret of the Booze
5. Rebel Appliance
6. Legion of Super-Gyros
7. El Skeletorio
8. Snarfer Image
9. Up, Up and Buffet
10. Panthropologie
11. Catdog on a Stick
12. Super Guitario Center
13. Noidstrom Rack
14. Stone Cold Steve Cold Stone
15. Walking Dead Lobster
16. The Hobbit: There and Bennigan's
17. The Robot Chicken Lots of Holidays but Don't Worry Christmas is Still in There Too so Pull the Stick Out of Your Ass Fox News Special
18. Batman Forever 21
19. Victoria's Secret of Nimh
20. Chipotle Miserables
Robot Chicken: Season 7 is in stores this week, and if you're interested in snagging a free copy, you're in luck! We have one DVD to give away to a lucky winner. You can get a shot at the prize by entering anytime between now and midnight Eastern time on the night of Friday, July 31, 2015. Check out the form below to see all the ways you can enter.
Good luck!