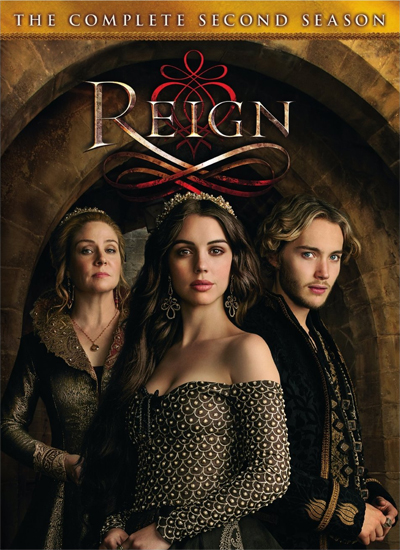 Queen Mary is as fierce as ever as Warner Bros. Home Entertainment brings Reign: The Complete Second Season to DVD on October 6, 2015. Don't be a lady in waiting, and catch up with all of the temptation and scandal from the second season, just in time before the season 3 premiere on The CW. Reign stars Adelaide Kane ("Teen Wolf") as Queen Mary Stuart, Toby Regbo ("One Day") as Prince Francis, Torrance Coombs ("The Tudors") as Sebastian "Bash", Megan Follows ("Anne of Green Gables") as Queen Catherine, Celina Sinden (Newcomer) as Greer, Caitlin Stasey (Newcomer) as Kenna, Anna Popplewell ("The Chronicles of Narnia: The Voyage of the Dawn Treader") as Lady Lola, Jonathan Keltz ("Entourage") as Leith Bayard, Sean Teale ("Skins") as Louis Condé, Craig Parker ("Spartacus") as Lord Narcisse, and Rose Williams (Newcomer) as Princess Claude. The five-disc set contains all 22 one-hour episodes from the second season, plus never-before-seen extras including a featurette, and deleted scenes.
The second season of Reign begins with Mary and Francis on the throne of a nation burning.  France is rocked by the aftereffects of the plague, a disease that creeps inside the castle walls, taking thousands upon thousands of lives across the land, and ravages the stability of a nation.  From the ashes, powerful lords will rise, carrying out personal, religious and political vendettas, taking lives, and tearing at Mary and Francis's commitment to each other, and their people.  Friendships will be tested, loved ones murdered and betrayed. Meanwhile, a mysterious and deadly threat snatches victims from village streets and castle corridors; leaving evidence of savagery that looks like the work of monsters; mythical creatures who are the subject of nightmares, but who walk among us; doing the Devil's bidding.
If you want to add the second season of Reign to your collection, you're in luck! This week we're giving away this brand new DVD to one lucky winner. You can have a shot at the prize if you enter anytime between now and midnight Eastern time on the night of Friday, October 2, 2015. Take a look below to see all the ways you can enter.
Good luck!