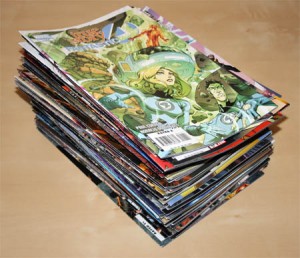 We get a bunch of review copies of comic books every week, and after going through the noteworthy ones and writing up the reviews, the comics just sit in a stack here in Fandomania Central. While moving furniture and wishing I were at Comic Con this past weekend, I decided the big stack o comics needs to go. So here's the deal…
Reply to this post with your favorite thing you heard about, saw, or learned from this year's San Diego Comic Con, and you'll be entered in a drawing to win a stack of 20 of these comics. Be sure to use your real e-mail address when you reply, or I won't be able to contact you if you win.
Keep in mind that these are not minty-mint collector grade comics. They're the actual copies we read here when we write up reviews, so they ain't perfect. They're great for reading, though, so why not give it a shot and get these things off my hands?
The contest will run until next Wednesday (August 6) at 12:00am Eastern time. At that time I'll announce the winner, and then I'll start up another one of these later in the day. You can expect comic giveaways like this each week until I get rid of this mountain of issues.
Good luck!