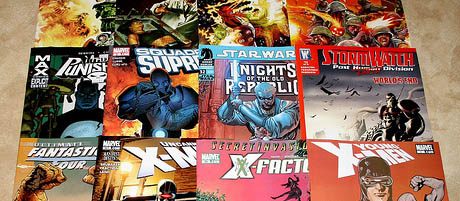 Congratulations to the winner of last week's comic book contest, David Seruyange! He has twenty comics on the way to him, and that opens the way for a new contest this week. Here's how it works:
Reply to this post and tell me which is better and why: Marvel or DC. You'll be entered in a drawing to win a random stack of 20 of these comics. Be sure to use your real e-mail address when you reply, or I won't be able to contact you if you win.
Keep in mind that these are not minty-mint collector grade comics. They're the actual copies we read here when we write up reviews, so they ain't perfect. They're great for reading, though, so why not give it a shot and get these things off my hands?
The contest will run extra long, due to our being at Dragon*Con this coming weekend. The contest will end next Wednesday, September 3, at 12:00am Eastern time. At that time I'll draw a winner, and then I'll start up another one of these later in the day. You can expect comic giveaways like this each week until I get rid of this mountain of issues.