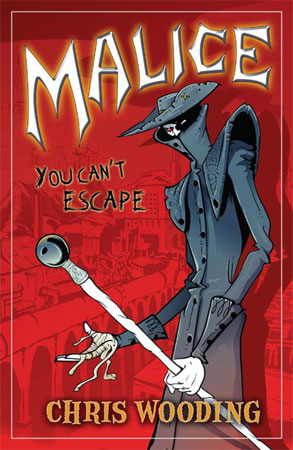 Chris Wooding's Malice is the first book in a chilling new series that debuted in October. Today we're starting a new contest, thanks to the folks at Scholastic Books and Big Honcho Media, to put copies of this fantastic novel into the hands of five of our readers! Here's the official blurb from the publisher:
"TALL JAKE, TAKE ME AWAY…"

Everyone's heard the rumors. Call on Tall Jake and he'll take you to Malice, a world that exists inside a terrifying comic book. A place most kids never leave.

Seth and Kady think it's all a silly myth. But then their friend disappears, and suddenly the rumors don't seem so silly anymore…

Part thriller, part ground-breaking graphic novel … get into this story, and you may never get out!
You can enter this contest in two ways:
1) Reply to this post and, since Malice is all about adolescent superstitions and fears, tell us about something silly you used to be afraid of.
or
2) Follow @Fandomania on Twitter and retweet this message: Follow @Fandomania and retweet this message to enter to win Malice by Chris Wooding!
You will receive one entry in the drawing for doing either of those things, and you'll receive two entries if you do both!
You have until midnight on Friday night, December 18, to enter. After the deadline, we'll draw five winners from all the entries.
You can find more info about Malice at the book's official website: Link
Good luck!