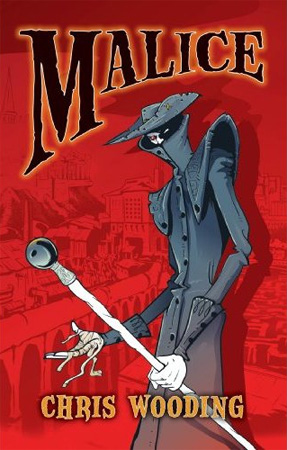 Title: Malice
Author: Chris Wooding
Publisher: Scholastic Press
Release Date: October 1, 2009
Collect the right ingredients, burn them together, and chant the proper incantation, and Tall Jake will kidnap you away to the darkly horrific world of Malice. You'll be stranded there and in constant danger, and you won't be able to see or talk to your friends and family. Those in the know will be able to follow your adventure as depicted in an underground and secretive comic book called Malice. At least, that's what the kids in and around London are saying. This unlikely urban legend becomes all too real for English boy Seth and his American friend Kady when they watch their recently disappeared friend die horribly within the pages of the latest issue.
So begins Chris Wooding's Malice, the first book in his new series of young adult horror / fantasy novels that combines traditional prose with sequential art. Reminiscent in tone and theme of Return to Oz, Malice is an immensely engaging read that will grab you from the first page. The story weaves between our world and the hellish clockwork world called Malice, deftly introducing us to the ways and means of this new universe and its denizens. The bulk of the book consists of fast-paced prose, but every once in a while we get a glimpse at the actual comic pages that act as a window into the alternate world. The comic portions are illustrated by Dan Chernett and usually portray perilous action scenes that pit our stranded heroes against ghastly monstrosities.
The book is a young adult fantasy novel, but it's full of all the darkness and mature themes that have become common in the genre over the past decade. The young characters deal with loss, grief, terror, and even a bit of existentialism as they find their ways into and sometimes back out of Malice. Wooding doesn't pull any punches just because he's writing for younger readers. Characters do get hurt and die, often brutally, and a sense of building dread pervades the novel. At times it feels like an urban or industrial fairy tale, but the unfortunate and realistically written kids make the story strangely buyable.
Delving any deeper into the plot itself would be a disservice to the twists, suspense, and surprises it holds. My only real issue with Malice is that the art in the comic sections is a bit looser and sloppier than it could have been. It should have been something more along the lines of Jhonen Vasquez or, in an entirely different direction, Ashley Wood. That's a small gripe in the scope of the overall book, though, and I have no qualms in recommending this one to anybody looking for a surprisingly good, gripping, and fast read that creates a new world that undoubtedly will be thoroughly explored in future installments.
You can win a copy of Malice this week from us, courtesy of Scholastic Books and Big Honcho Media.
Rating: 4 / 5 Stars