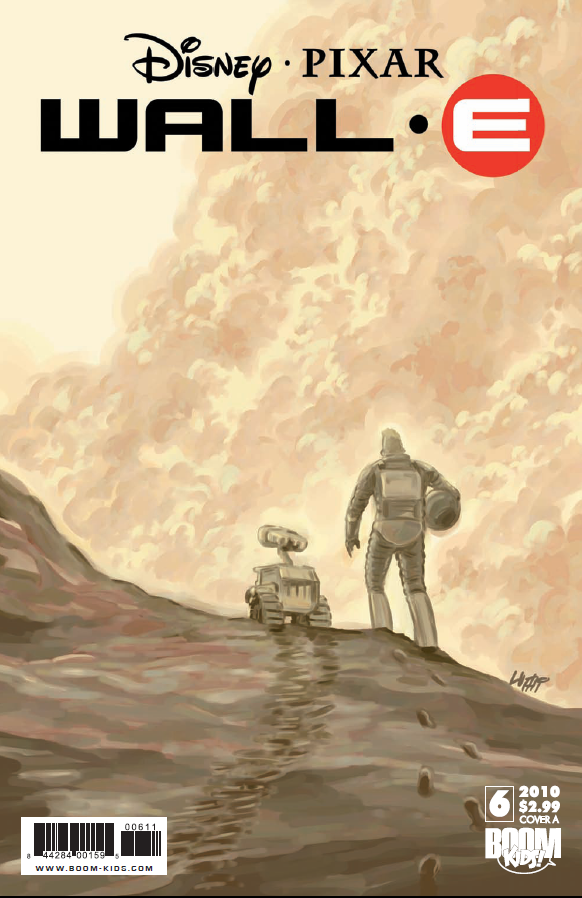 Issue: WALL-E #6
Release Date: May 19, 2010
Writer: Bryce Carlson
Artist: Morgan Luthi
Colors: Digikore Studios
Letterer: Jose Macasocol, Jr.
Covers A & B: Morgan Luthi
Publisher: BOOM! Kids
The acclaimed prequel nears its conclusion!
WALL-E continues to help his human friend Andy repair a small spaceship. Andy hopes to be reunited with his family. The duo eat dinner and sleep during the night. Unfortunately, the large robot Bull-E captures WALL-E (along with several other WALL-Es). Andy saves him and they find a new motherboard for the spaceship. Suddenly, Andy sees a larger spaceship which is actually flying!
Okay, I just summed up the whole issue. Sorry for the spoiler if you were planning on reading the issue. What can I say? I'm disappointed. I was expecting something with a little more substance. The movie was deceptively simple, but the comic is, well… just simple.
The artwork does a poor job of balancing between "rushed" and "just good enough." The story itself is slow and feels more like a picture book than a comic. Moreover, my own kids showed very little interest in this comic. Fortunately, the story promises to be concluded in the next issue. Only the painting on the cover saves it from being a total failure.
Rating: 1 / 5 Stars