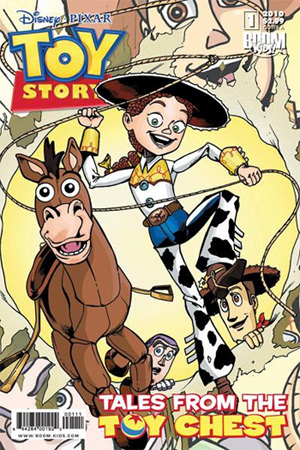 Issue: Toy Story: Tales from the Toy Chest #1
Release Date: October 13, 2010
Writers: Jesse Blaze Snider
Artist: Morgan Luthi
Colors: Mike Cossin
Letterer: Deron Bennett
Covers A & B: Nathan Watson (Colors: Eric Cobain)
Publisher: BOOM! Kids
This new series starts out with Andy preparing to go on a cruise and he can only bring a few toys along for the trip. Woody and Buzz announce this to all of the toys in Andy's room, which sparks the toys to vie to be one of the chosen few. Newcomer Jessie and her pal Bullseye wonder if they will be considered to go alongside some of the other toys or if they'll be left behind.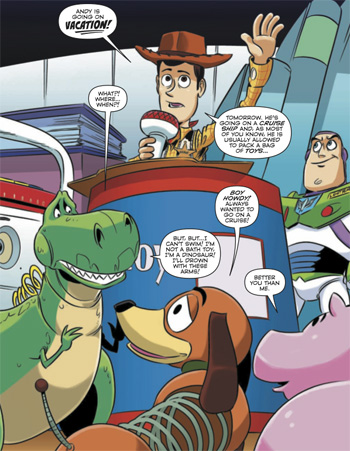 I have to admit that this was a light and yet somewhat engaging read. I enjoyed how Jesse Blaze Snider captured all of the toys' different personalities, both when they were talking amongst themselves and when Andy was playing with them. I'm curious to see the plot go in a different direction from the Toy Story movies but I'm hoping that it will still maintain the same Pixar charm that Snider captured in this issue.
The one thing that was a bit underwhelming overall in this issue was the art. Don't get me wrong — I liked the style and all, but there were a couple inconsistencies here and there. Some readers might not even notice it, but I could not overlook such details.
This is merely the start of the ongoing series by BOOM! Studios, and hopefully the issues to come will bring more of a wow factor for kids and adults alike.
Rating: 3 / 5 Stars