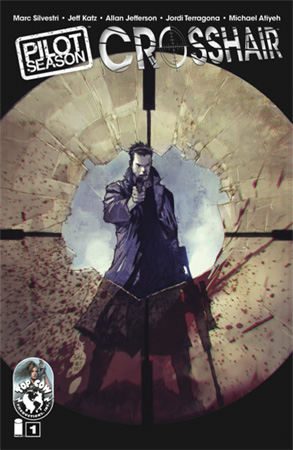 Issue: Crosshair #1
Release Date: October 6, 2010
Creator: Marc Silvestri
Writer: Jeff Katz
Artist: Allan Jefferson (Inks: Jordi Terragona)
Colors: Michael Atiyeh
Letterer: Troy Peteri
Cover Marc Silvestri & Sunny Gho (of IFS)
Publisher: Top Cow Productions
"In the right hands, even suburbia can be a weapon." – Justin Weller
Pilot Season is an annual initiative started in 2007 by comic book publisher Top Cow Productions, Inc. Each year, Top Cow allows readers to vote on the future of six different one-shot comic book pilots released by the publisher throughout the year. The one-shot pilot with the most votes becomes an ongoing series published by Top Cow. This year, six different creative teams have each produced a pilot issue of a new series, one of which is called Crosshair #1. Thanks to our friends over at Top Cow, we were given the opportunity to read and review the pilot issue of writer Jeff Katz and artists Marc Silvestri and Allan Jefferson's new series.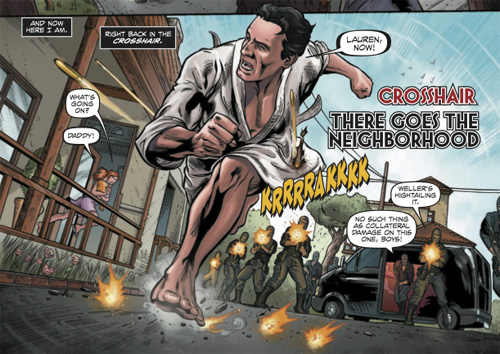 Similarly to a previous Pilot Season comic I reviewed for Top Cow, 39 Minutes #1, the main character of Silvestri and Katz's Crosshair is a former CIA assassin. Out of the game for a decade, Justin Weller, now a happily married man and father of a beautiful five-year-old daughter, is forced to return to his old ways when he discovers that he's been brainwashed to kill the President of the United States. Fortunately, Weller always knew that someone would come looking for him, and he's turned his picturesque suburban neighborhood into a hidden death trap, complete with spring-action release picket fences and strategically placed propane tanks.
Crosshair #1 is structured brilliantly. While Weller is on the run from his former colleagues — other elite CIA killing machines — Silvestri and Jefferson present the reader with two sets of corresponding images, one of which depicts Weller's escape and the other depicting black and white flashbacks to the installation of the various traps and weapons that speckle his neighborhood. This contrast gives readers a unique look at both sides of Weller's character: the ruthless, calculating side honed by years of CIA training and missions, and the well-intentioned, hard-working and good-natured side with which his neighbors and family are familiar. Although an unknown person or organization brainwashed Weller, he serves as both the hero and the villain in Crosshair #1; his resolve to prevent the President's assassination is admirable, but Weller's motives are a grey area and readers may not be as sympathetic to the ex-assassin's plight when they see where he's hidden some of his weapons around the neighborhood.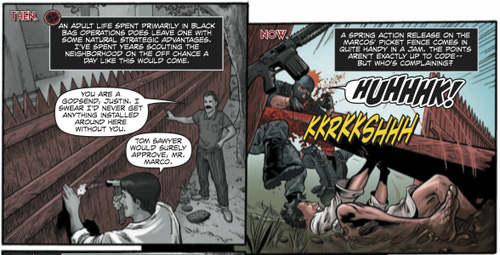 The plot of Crosshair #1 addresses the ideas of corruption, betrayal, personal responsibility, and the good of one versus that of the many. The concept is a familiar, if not predictable, one: Weller has 48 hours to figure out how to deactivate his "programming" or he will be faced with a very difficult decision involving either the assassination of the President or his own death. The skills that Weller acquired during his time working for the CIA are impressive, and the ease with which he overcomes various obstacles placed before him will leave readers hopeful about his ability to overcome this insidious plan. Crosshair #1 reads like the opening scenes in a blockbuster action movie, laying the groundwork for Weller's current situation and highlighting the knowledge and skills he retains from his career years ago.
Crosshair #1 sets the stage for an action-packed story that readers are sure to enjoy on an ongoing basis. In addition, Silvestri and Jefferson's artwork is very impressive, and the methods the two use to depict action are some of the best I've seen in quite a while. Of course, the series's future remains unclear until the next Pilot Season winner is announced, but based on the Pilot Season entries I've read thus far I wouldn't be surprised if Top Cow chooses more than one winner this year and Crosshair is one of them. For those of you unfamiliar with this year's Pilot Season lineup, it includes the following: science-fiction thriller series Forever #1 (Matt Hawkins, Brad Inglesby, Bagus Hutomo, and Thomas Nachlik), supernatural thriller 7 Days from Hell #1 (Bryan Edward Hill, Rob Levin, and Brian Stelfreeze), romance thriller Asset #1 (Filip Sablik, Jenny Frison, and David Marquez), and of course the action/crime comic 39 Minutes #1 (William Harms and Rafael Albuquerque).
Rating: 4 / 5 Stars