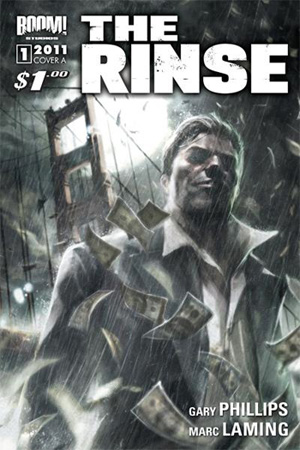 Issue: The Rinse #1
Release Date: August 31, 2011
Author: Gary Phillips
Artist: Marc Laming
Colors: Darrin Moore
Letters: Steve Wands
Cover A: Francesco Mattina
Cover B: Paul Azaceta
Publisher: BOOM! Studios
I love the artwork. Gritty, yes, but the traditional-ness of it feels comfortable to my eyes while I'm reading through. The darkness is rich with subtleties, it's beautiful in its own manly way. (Handsome?) I also get lost in some of the detail on the pages, stopping to notice all the little things and build a full, rich scene in my mind. Very well-done, I'm a fan of the art work. I'm also a fan of the plot.
The Rinse is really exciting. From the first page I felt like I was snatched right into the storyline. I love a good mob story, or crime fiction. So The Rinse is right up my alley. I knew the story was about a slick money-launderer. So I was interested. Right away we meet Jeff, the slickest of them all, a guy who can clean any cash. And we, the readers, become his student. He talks right to us. I mean, we could practically take notes for the first half of this installation.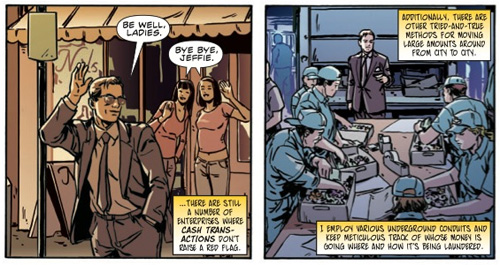 But don't get me wrong, it's not academic; the tone of the story is fluid. It's fun and friendly in a dastardly way. It's like being in a secret classroom where you learn how to be a criminal. Like a celly teaching another celly in jail, the reader feels like we're getting the inside how-to lesson.
I was ready to move to San Fran, or Vegas, or South Beach and meet up with Jeffy and be his partner! And become a money launder-er? Well, in my dreams I did. (In real life I'm quite the conspicuous dorky housewife, but as I was reading I went into this fantasy where I was a super smooth criminal awesome guy, and I totally had these pipedreams of being the heisty-sort).
The South Beach part was really fun. I never thought of the whole cash-only thing. But it's so true. A cash-only bar would be a very easy way to clean money. Maybe this is novice-stuff, but for me it was fun. And I liked the rump-shots. You'll know what I mean if you go take a look in the SoBe section of the story. I love a sweet, well-drawn rump! I mean it!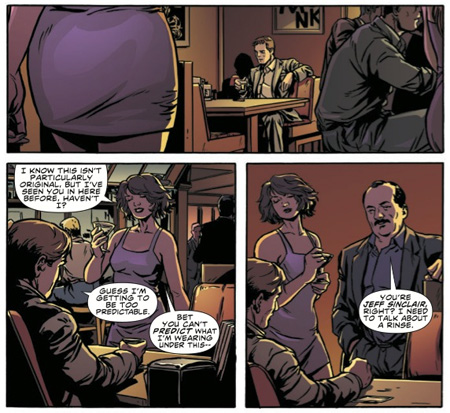 So yes, I was grabbed into the story right away. Easy to follow and fun, the plotline plays out smoothly. There were a couple places that almost went too quick for me, I found myself wanting more backstory and detail. Like the fight in Chinatown for example: I was all, "Whoa! Tell me more! Show me more!" when it happened.
Spoiler Alert Here: The whole chase and flee and fight scenes with Griff moved almost recklessly for me. It felt kind of jagged. I mean, I cared about Jeff dealing with Griff, but at the time that was playing out, I was more interested in the whole Winslow thing. Who is this guy? Why is Jeff just putting him in a cab? I wanted to see Jeff actually talk to Winslow and see what was going on, I have a feeling that will be in the next installment though.
Still spoiling, the scene at the very end totally had me eek! out lout. The IRS? Oh no! I knew that the hot babe in the pantsuit at the ballgame was drawn in and shown to us for a reason. So I guess I should have seen this coming, but I didn't think we'd run into Johnny Law quite so soon.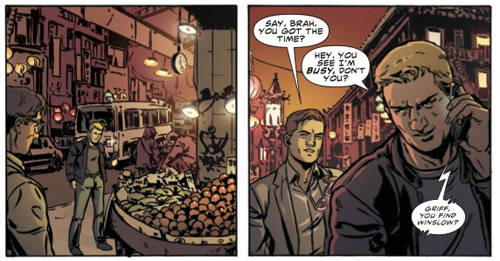 I want to know why Jeff is willing to take money from a Maxon Casino theft. Seems dumb and risky. But, he claims the profit will be worth it. Will it? And if Maxon already has his big guns out looking for Winslow and thus tussling with Jeff, is this even possible to go forward with? I guess all my questions are trying to express that I'm really not sure how this will all play out. It seems like a big ole mess for now. I like how tangled everything is. But at the same time, it's stressful. I like neat and tidy happy endings. Cliffhangers and messes, not so much. I love/hate them! They keep me fretting.
(Spoilers Done): The first installation of The Rinse is super rad — a quick and fun, gritty read that I really enjoyed. And I'm left hanging on for the next installation now too. I can't wait. I really loved this, for everything: the artwork, the storyline, the questions I have that I want to see answered next time. Gary Phillips, the writer and creator, is very clever and really brought me into his whole world. I love how full the fiction is, with everything really vivid and easy to imagine. The artwork, by Marc Laming, really fleshes everything out. Technically, the style is gritty and dark, but what it accomplishes is shedding light on and really expanding the story in a very competent manner.
I'm not your typical comic fan, but I couldn't put this one down. I read from start to finish in a brief sitting, and I enjoyed myself the whole time. After my first read-through, I did have to go back and pick at a couple scenes, to try and clear things up a bit. But that was for my own enjoyment. Everything was so well done, and just really cool. Maybe that takes the coolness away, to actually label the comic as "cool," but for now, that's the best word I have for it: The Rinse is very cool.
Rating: 5 / 5 Stars