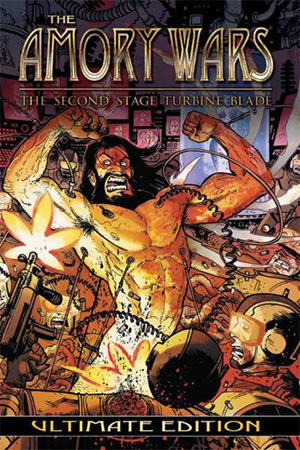 Issue: The Amory Wars (Ultimate Edition Hardcover)
Release Date: August 4, 2010
Created and Written by: Claudio Sanchez
Artists: Gus Vasquez, Mike Miller, Gabriel Guzman
Colors: Rex Justice, J.D. Smith, Javier Tartaglia
Letterers: Matt Ryan, Zach Matheny
Cover: Tony Moore
Publisher: BOOM! Studios
This 350-page trade paperback version of The Amory Wars represents the brainchild of Claudio Sanchez, the self-styled "creative force" behind the prog rock band Coheed and Cambria. To understand the comics, you have to know a little about the band. And to appreciate the band, you have to know about the comics.
Even with a full background knowledge, many still don't take to Coheed and Cambria. The key word for The Amory Wars (music and comics) is "epic." This is a good thing and a bad thing. If you are into melodrama, complicated back stories, and the feeling that the idea behind the story is more important than the story itself, then you'll probably enjoy this fictional universe and the music it inspires. If not… well… you probably don't like comic books or progressive hard rock anyway.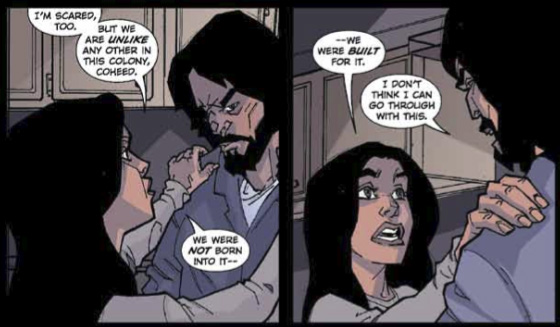 On the other hand, even if your tastes run on the "epic bigger than life" side, the constant reference to things you don't quite get can bring you down a bit. The book is full of insider jargon and references to back-stories that are never fully explained but that hardcore fans obviously know a lot about.
The Amory Wars both benefits and suffers from the highly ambitious nature of the project. The fictional world Claudio Sanchez has created is bigger than life — twelve or more planets connected by a centralized star-based energy system, multiple god-like races, an evil intergalactic overlord — Sanchez is definitely a world builder, and this effort benefits from his ambitious instincts. But the albums have been released out of order within the chronology of the fiction (all songs are about the characters of the story), so it is difficult to figure out what is going on based soley on the music. And even though The Amory Wars is 350 pages and tightly presented, there is way more going on in this story than just what you see on the page (meaning plenty of fuel for prequels and sequels, if BOOM! is interested).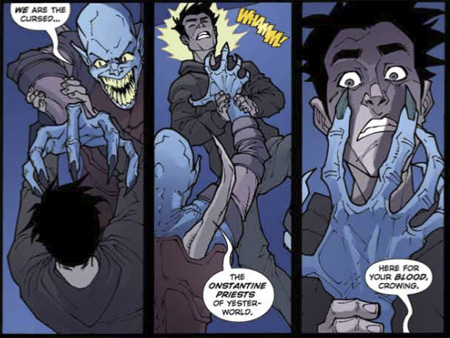 So you can try to get your head around this stuff by resorting to the various comic books, but again the epic nature of the project gets in the way. In addition, the series has had numerous starts and stops due to financing challenges and touring schedules. But once you visit Wikipedia, or the Amory Wars homepage, you can start to get a handle on things, and then you have a fighting chance of becoming part of the club.
And then you can enjoy Amory Wars, although you'll have to be a bit messed up in the head to avoid at least some moments of disgust. No matter how you slice it, it's hard to get around infanticide, for example, or predestination involving suicide-homicide pacts. Or rape. It does get creepy (creepy in the bad way, not the good way).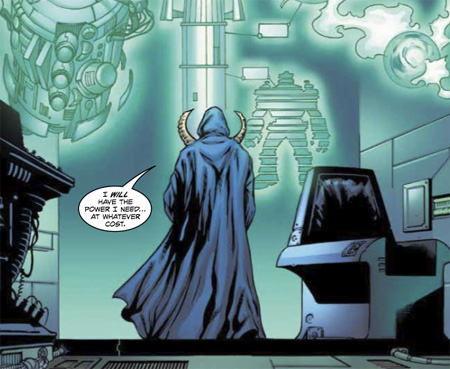 Nevertheless, hardcore fans fans will be thrilled with this effort, since it represents the culmination of many years of starts and stops before finally getting this whole story in one place. And the artwork and story telling are solid efforts. It will probably earn some new hardcore fans, considering the over-the-top, take-no-prisoners ambition of this fictional world.
There won't be many casual fans. It's too epic, and too over-the-top for this to be anything but a love-it-or-hate-it proposition. If you like Opera, or Punk Rock, or Heavy Metal, or Shakespeare (especially the bloody parts), or anything else that is based on overly exaggerated everything, then you might want to give The Amory Wars a try. For those who prefer moderation, or just good old-fashioned sanity, you'll probably want to sit this one out.