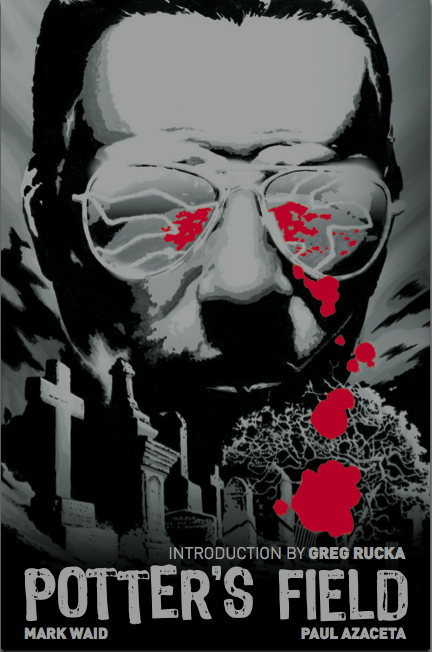 Issue: Potter's Field
Release Date: August 30, 2011
Author: Mark Waid
Artist: Paul Azaceta
Colorist: Nick Filardi
Cover: J.G. Jones
Letters: Ed Dukeshire, Marshall Dillon, Matt Gagnon
Publisher: BOOM! Studios
An easy trap to fall into when writing crime fiction is to make the story so complex you end up losing the story entirely, along with the characters. Mark Waid's Potter's Field avoids that by stripping the story down the the bare essentials. The protagonist has no name and you don't know how he got to where he is. He's a man out to make things right, plain and simple.
Potter's Field refers to a burial ground for those that could not be identified. This particular field is located on Hart Island, New York. There's a man who walks the field at night, carving the names into the grave markers for the bodies he's been able to identify. He's our hero without a name, referred to only has "John Doe" by those that know of him. John Doe has made it his personal mission to identify the names of the dead buried on Hart Island.

Writer Mark Waid starts the story in media res, with Doe already having named several of the deceased on the island. He also has a network of trusted associates he calls 'Agents' — people in a variety of professions from all walks of life that assist him in some way. It's mentioned briefly in the story that Doe has helped each of them out in some way, and the Agents are indebted to him. As one could imagine in this line of work, John Doe has also made more than a few enemies. Those that die and are unidentifiable were usually the victims of a crime, and Doe's investigations have caused some run-ins with New York's criminal element.
The stories in this collection are all told in a very noir style, complete with a "twist" that's designed to keep you guessing. The surprises in the plot aren't all that complex, and they can be seen coming a mile away, but that's not a slight against the stories. Mark Waid isn't interested in keeping you guessing. His John Doe is a man who sees an injustice and sets out to fix it. There are people who have died, possibly murdered, and weren't even given the decency of a proper grave marker. They have no family or loved ones to mourn for them. They have died without a name. It's as if they never existed at all.
Supporting the gritty storytelling is artwork by Paul Azaceta and color by Nick Filardi. The images are what you would expect from modern crime fiction: cool, yet muted color tones, low-key lighting. Facial features are kept undefined in many panels; you see enough to know who's who, but there's not a lot of detail in them. This works for the most part, as much of the stories take place either at night or in a dark place like the inside of an apartment or abandoned building. The only real use of warmer colors is to highlight the occasional bursts of action: blood spewing from a wound, the light from the muzzle flash of a gun, or the flames from a burning building. Only when there's a lot of physical movement from many characters at once does the artwork suffer a little. It can become difficult to follow the action in some panels where characters are shooting at each other, ducking behind things, etc.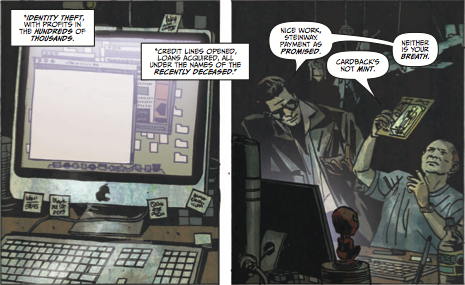 Mark Waid's Potter's Field many not come off as the most violent and gritty of recent graphic novel crime fiction, but maybe that's why it seems a bit refreshing. John Doe is not some jaded, hard-boiled anti-hero. He seems like a decent enough guy that happens to have an unusual and dangerous hobby. Doe is like a P.I., only you don't come to him with a problem, he finds them all on his own. To John Doe, the unidentified dead have no one else to turn to.
Rating: 4 / 5 Stars