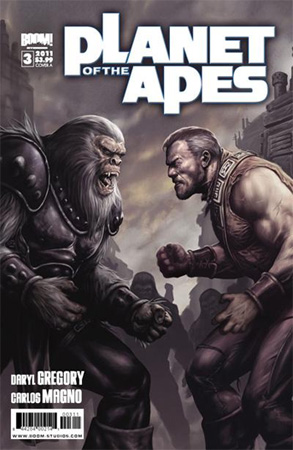 Issue: Planet of the Apes #3
Release Date: June 22, 2011
Author: Daryl Gregory
Artist: Carlos Magno
Colors: Nolan Woodard
Letters: Travis Lanham
Cover A & C: Karl Richardson
Cover B: Carlos Magno (Colors: Ander Zarate)
Publisher: BOOM! Studios
When you think about it, there's good POTA and there's bad POTA. This little gem almost has everything you could want from the POTA franchise: scantily clad warrior women, heroic sexy manly men, a weighty political subtext, and, most importantly, apes. The only thing missing are those over-the-top stylings that only Charlton Heston could pull off.
This, for example, is not to be found: "Get your stinking hands off me, you damn dirty ape!"
This, also, is missing: "It's a mad house. A MAD HOUSE!"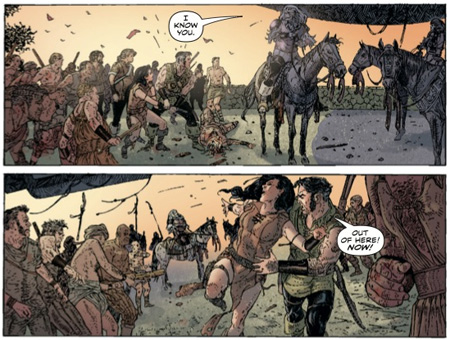 Nevertheless, this is good POTA. This issue starts at the end of a battle that the humans are loosing. General Nix debates Sully about what the Law Giver wanted, and whether it was right for the apes to take over more land. Nix doesn't really care, since the Law Giver is dead. Plus, his army is stronger. Chaika tries to shoot Nix in the back, but is foiled at the last minute. She and the rest of the humans go back to Sully's bar to drown their sorrows.
Meanwhile, Alaya, the leader of the apes, contemplates how the Law Giver was a fool for believing in the inherent goodness of man and ape.
Back at the bar, Chaika is disappointed that nobody has the guts to take on the apes, inspiring her usual "I'm strong and I'm sexy because of it. By the way check out these curves" toughness. She sneaks away and tries to assassinate Alaya, but gets injured in the process.
Good issue. Good series. Good POTA.
Rating: 3.5 / 5 Stars