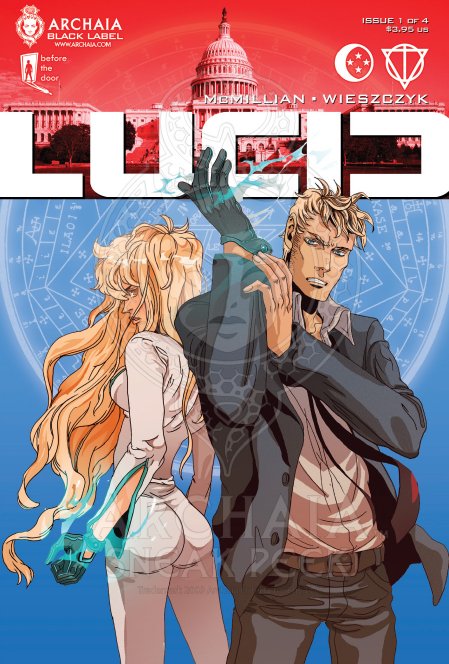 Issue: Lucid #1
Release Date: August 2010
Writer and Creator: Michael McMillian
Illustrator: Anna Wieszczyk
Letterer: Shawn DePasquale
Designer: Sean Akers and Stephen Christy
Publisher: Archaia
Lucid has many Hollywood ties. It is written by Michael McMillian, more commonly known for his role as Steve Newlin on True Blood. It is Archaia's first venture in conjunction with Before the Door, Zachary Quinto's (Star Trek, Heroes) company. Combining these talents, I was set for an adventure!
This is the first comic release in a four-issue arc. We start with a flashback fifteen years in the past. This sets the scene for our main character, Matthew Dee, and explains how he never thought he'd be thrown into such fantastic circumstances, but that's exactly where he is now. Honestly, it was too much of a time jump for me. I can't reconcile the teenager we first meet to whatever situation we've been thrown into a few pages later.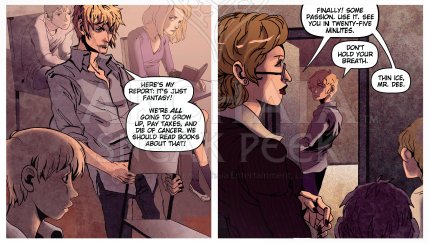 It seems that Matthew is on a team and they are up against opponents who are a religious cult that worships UFOs and has kidnapped a noted astrophysicist. It's a typical good guys versus bad guys set-up, so you are well-prepared for a battle. There are a few so-so fights, but the more interesting confrontations come later. As we soon see, the more powerful bad guys have red lasers. And what have we learned in our comic book history? Red lasers equal bad, usually death, and this time is no exception. Not only does it kill you, it burns you down to bone. Cool! Or, well, not cool for the good guys.

I think Matthew has some sort of power control or maybe some secret weapon. Either way, he was able to neutralize a couple of the bad guys who were coming for him and his crew. I'm just as perplexed as his teammate. How did he do that? Magic, as he suggested, or something more involved? He's an asset to his team, as he holds a great potential inside him, but it still doesn't forgive the secret he's been hiding from them. He is shown to recite symbols to release his powers. I'm not sure how that translates to oral language, but visually it's very awe-inspiring.

Sadly, however, I'm continually lost within the plot. Who is Matthew Dee? How did he gain such powers? Why do his teammates not seem to know he possesses them prior to this confrontation? Even with three pages full of "explanation" about what this world is all about, there are still more questions than answers.
This comic seems to want to do too much in a limited amount of time. The flashback seems out of place to lead off the story, since there wasn't a good transition between the two time periods. This is a new world, but what inspired the change? I still have questions, but I'm not sure if there will ever be satisfactory answers.
Rating: 2 / 5 Stars