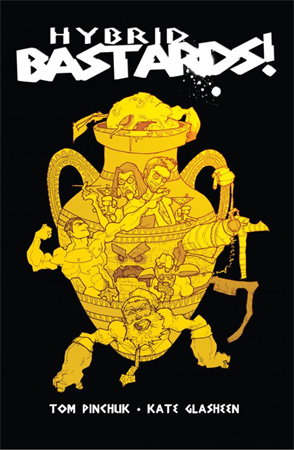 Issue: Hybrid Bastards (Hardcover)
Release Date: June 30, 2010
Writer: Tom Pinchuk
Artist: Kate Glasheen
Letterer: Shawn DePasquale
Cover: Kate Glasheen
Publisher: Archaia Comics
I'm a huge fan of mythology of all kinds, so when the opportunity to review a comic rooted in Greek mythology arose, I had to do it. The summary of Hybrid Bastards alone hooked me; the idea of Zeus having a bunch of hybrid offspring running around was amusing. The fact that those hybrids are the result of Zeus getting it on with inanimate objects made it hilarious.
The comic begins eighteen years ago with a couple driving down the road. All of a sudden the bumper of the car blows off! Stopping to see what the problem is, something unexpected happens. The car gives birth. Yes, that is indeed what I'd intended to type. The car pushes a very interesting looking creature right out of its tailpipe. I couldn't stop laughing at the woman's declaration of "I smell placenta!" The image was awesome. The "baby" even had an umbilical cord!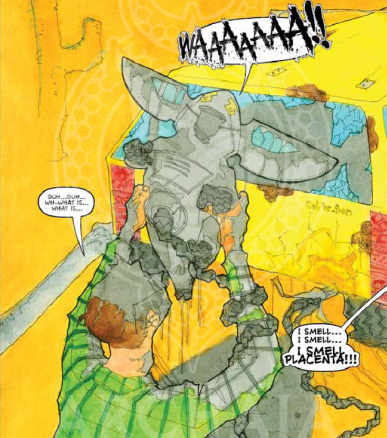 Now we come to the present day and the real fun begins. Everyone knows that Zeus is a ladies' man and his poor wife Hera is stuck putting up with his cheating heart (or body, rather). It seems like he'll bang anything that moves and finally she's gotten tired of it. It's time for revenge! With the help of Hypnos, she put a spell on him that for one night caused the great and powerful Zeus to be uncontrollably attracted to inanimate objects, making him happy to bang things that don't move too. Just the very idea is awesome. Eighteen years have passed since that night he can't remember and Hera tells him all about it and the results, a mess of children that are, well, a mess.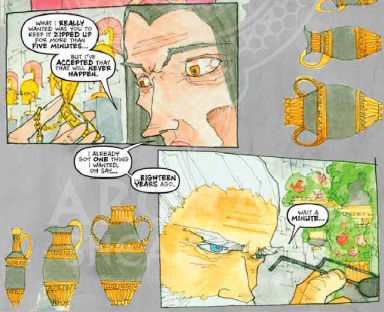 Zeus has a reputation to keep up so he has to do something. No one can know about his humiliating offspring. What would they think of a god screwing things like a brick wall and a car? Not good thoughts, that's for sure. So Zeus orders for all his misfit children to be dealt with, and quick. Too bad Zeus's henchmen are all absolute idiots.
Meanwhile, Panos, the most human looking of the misfits, has decided that his father has to pay for his and every other misfit's suffering. He forms a ragtag band of brothers and together they try to make dear old Dad's life a living hell. I love the hybrids. There's Walter, half brick wall; Cotton, who's made of miscellaneous swatches of fabric; Carmine, the half car; and Corey, a very depressed apple. Does the idea of Zeus humping an apple make anyone else laugh uncontrollably?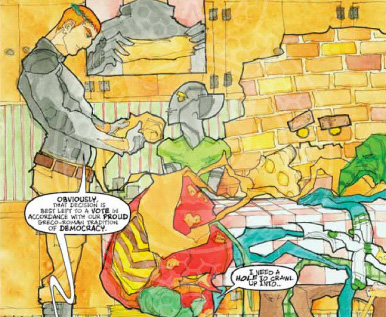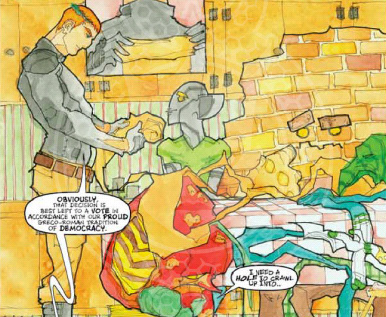 They go through several plans, Zeus fighting them all the way, and I loved every minute of it. The art is reminiscent of ancient Greek pottery, which just adds to the fun. It's a little difficult sometimes to figure out what parts of the hybrids are which, but then they don't look too normal so that's not necessarily a bad thing.
Following the main comic is another, shorter bit about the hybrids where Hypnos explains the Greek gods' family tree and introduces some of the other hybrids we didn't get to meet. I loved this part because I was very curious what other inanimate objects Zeus had gotten funky with that fateful night. Why am I so interested in his intimate activities?! Also included are sketches of the main hybrids, where you can see them much more clearly, images of the hybrids done by other artists, and a great short comic about the common cold called Cure for the Common Foe.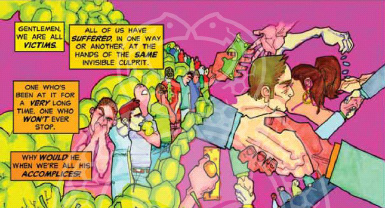 This comic did not disappoint. It definitely lived up to what I'd expected to find, if not better, and I don't think I'll ever look at Zeus the same way again!
Rating: 4 / 5 Stars