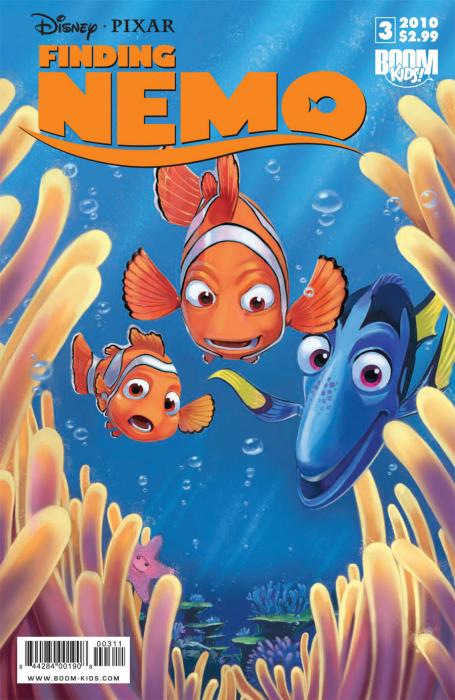 Issue: Finding Nemo #3
Release Date: September 22, 2010
Writers: Michael Raicht and Brian Smith
Artist: Jake Myler
Colors: Rachelle Rosenberg
Letterer: Deron Bennett
Cover: Jake Myler
Publisher: BOOM! Studios
I'm admittedly a huge Pixar fan. Even though I approached reading this series with an open mind, I didn't know what to expect in seeing a cherished animated film (in my eyes) being translated into print. While reading this issue of Finding Nemo, I was in awe of everything — especially the art and storyline. Michael Raicht, Brian Smith, and Jake Myler have brought the movie to print flawlessly.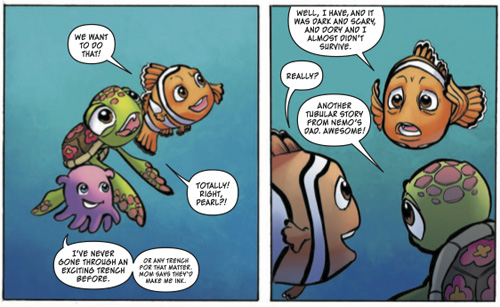 Thus far, Dory has gone missing while she went on a field trip with Nemo, Marlin, and their friends. As they try to find her, Nemo and his friends run into problems of their own. But as for Dory, she ends up with a group of fish who want her to perform for a special guest. Who could that guest be: friend… or foe?
The storyline for the Finding Nemo series veers away from its movie predecessor. Nemo is no longer lost and instead teams up with his father Marlin to try to find another missing fish, which is Dory. The change of roles works in the writers' favor. Where Dory and her bubbly and forgetful personality can simply drive her captors crazy, Marlin's high level of carefulness can work in his favor or against him given whatever situations that are encountered.
Each issue presents a new obstacle for Nemo, Marlin, and their friends to face. In this issue, they get stuck in an abandoned, sunken submarine that's being being lifted to the surface by humans. Will they all work together to make it out in time?
Jake Myler's art is superb. In this series, he captures the characters and the oceanic surroundings quite well. What stands out to me the most is how animated and varied the expressions on the fish are. His attention to detail is definitely something that any comic book reader would appreciate. That, matched with Michael Raicht and Brian Smith's storyline, makes this a worthwhile read for all ages.
Rating: 4 / 5 Stars