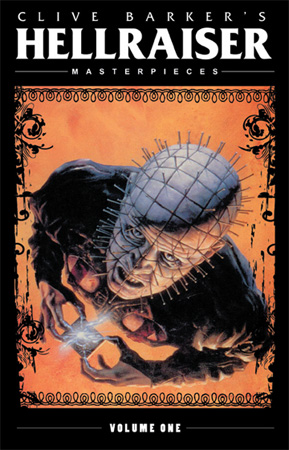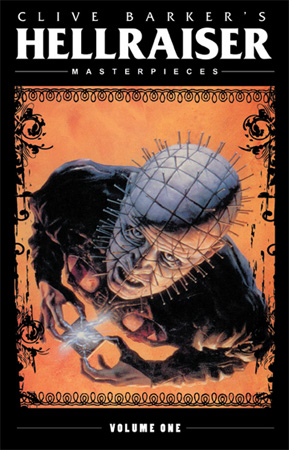 Issue: Hellraiser Masterpieces Vol. 1
Release Date: May 4, 2011
Writers: Clive Barker, Dwayne McDuffie, Larry Wachowski, Neil Gaiman, and more
Artists: Alex Ross, Kevin O'Neill, Mike Mignola, and more
Cover: John Bolton
Publisher: BOOM! Studios
When I set out to review Clive Barker's Hellraiser Masterpieces I wasn't sure what to expect. Sure, I've seen the movies, but they always seemed to me to be missing something. Maybe I just wasn't paying enough attention. There wasn't enough background information for me and I was always left with questions, questions I was hoping this might answer.
The thing is massive, and as I started I found that instead of being a sequence of stories, this collection is a bunch of different stories originally released between 1989 and 1993. This is all well and good, except that two of the stories are broken into multiple parts, with the other parts to be included in future anthologies. This… annoys me. I hate waiting to find out what happens, and it just feels like a gimmick to make sure you keep buying. I'm not a fan of this sneaky tactic, especially because of my impatience.
There are nine stories in this volume, two of which are the "to be continued" ones mentioned above. I figured I would give a little mini review of each. You'll have to excuse the length of this review, but it really is nine reviews in one.
The first is "Razing Hell Part One: Stolen Time" by Larry Wachowski, art by Mark Pacella. This is one of three parts and I must say it is very interesting so far. Knowing I won't get to find out how it ends for a while will make me crazy, but at least there were other stories to distract me.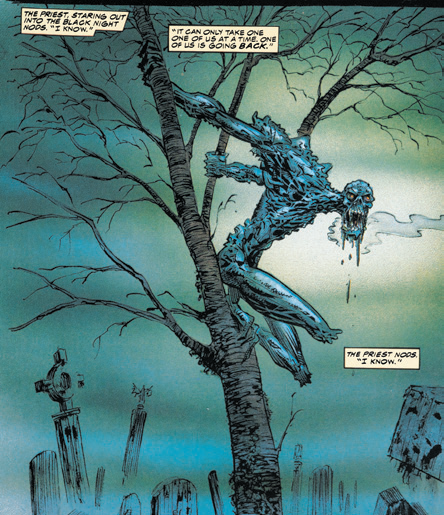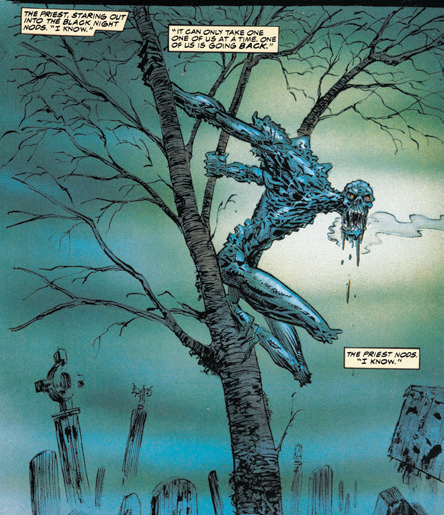 The story starts in Hell, with an old man somehow escaping. News of his sudden reappearance in our world long after he'd been thought dead, and long after he could have possibly lived in the first place, brings several people to him. These people are looking for help, for answers, for some way to keep from returning to hell themselves, as it seems that they have all escaped somehow as well. The way they fight the hunter, their weapon of choice, is quite intriguing. The artistic style definitely gives away the story's age, but the hunter himself is still wonderfully creepy and I'm looking forward to seeing more.
The next story is "Wordsworth" by Neil Gaiman and Dave McKean. It starts with a poetic bit, dark of course, but still beautiful in a creepy sort of way. The main character, Harrison Wordsworth, is on a train doing a crossword, but he finishes it long before he reaches his destination, disappointed by its lack of challenge. His problem of impending boredom is solved when a stranger gives him a new one, only the new puzzle is a bit different than he is used to. The first few clues and answers are things from his own life, things only he could know. He becomes obsessed with the puzzle, going to bizarre and extreme lengths to find the answers he seeks so that he can complete it. Each new task changes him until he finally reaches the end.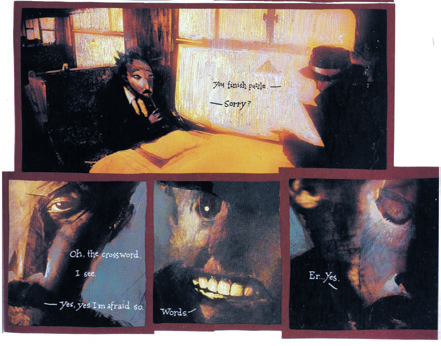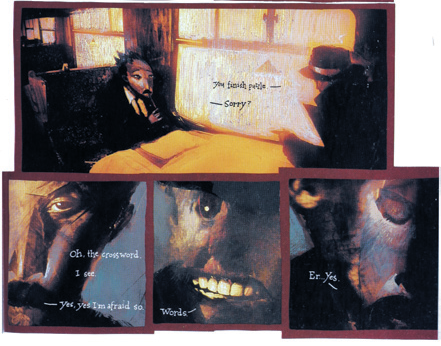 I'm honestly not sure what to think about this story. I'm not necessarily sure what this had to do with Hellraiser.  There were no cenobites or any direct link, besides the obvious focus on a puzzle. It just seemed like a creepy commentary on obsession and the darkness of the human soul. The art was entrancing, abstract in a way that pulls you into the picture as you try and find every little detail that might mean something. All in all, it was certainly worth the time it took to read and however long it continues to linger in my mind, just under the surface.
Story number three is "Writer's Lament" by Dwayne McDuffie, art by Kevin O'Neill. This one was just weird. It's about a writer in Hell who has finally created something he thinks is perfect… a baby. Of course he has to take it to his editor, who wants to make a few changes. Maybe it's being a mom, or maybe it's being pregnant at the moment, but seeing the editor plucking out a baby's eyeball and ripping off an arm… Yeah, I could have done without this one entirely. There did seem to be an overall message however, a lesson learned by the writer, though it certainly isn't an encouraging one. What I got out of it was not to put your heart into your work, because someone else is going to come along and tear it apart piece by piece until they rip the heart right out of it. Not the best way to look at things, but it definitely fits with the dark theme we've got going here. It is Hellraiser after all.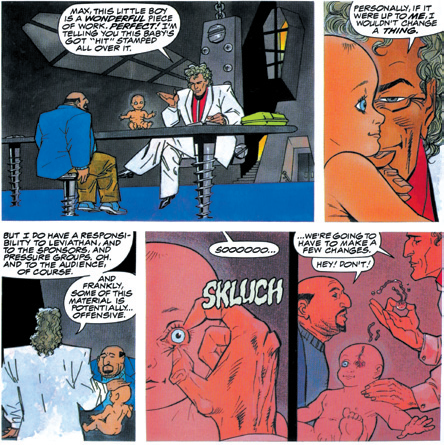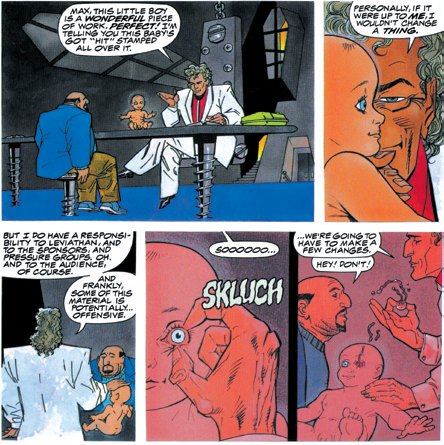 "The Vault" by Marc McLaurin, art by Jorge Zaffino is the fourth story in this anthology, and is set in a prison in South America. The man who runs the prison is obsessed with a puzzle box, the puzzle box. This was a very interesting story that made me think, mostly about how power can go to one's head and get them into trouble. The art was dark, done almost entirely in blacks, reds, and oranges, giving the impression of fire throughout.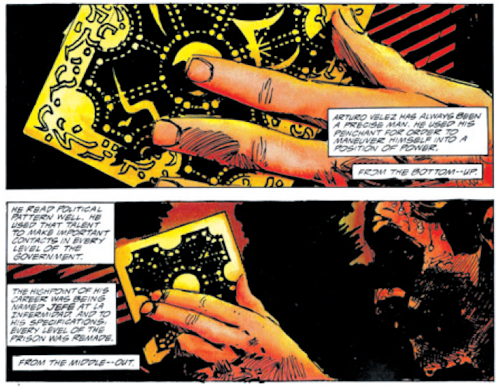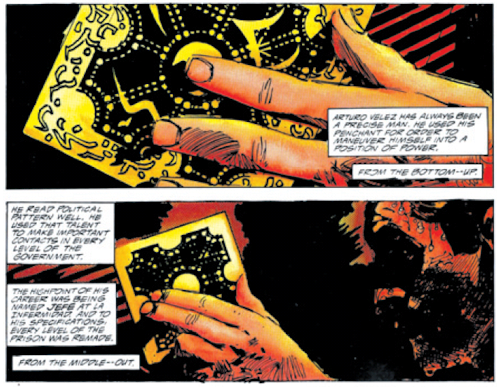 The fifth story is "This, I Saw" by Malcolm Smith, art by Mike McMahon. This is a tale of a young tribesman and his journey to manhood. It is told by him on his deathbed, charging the young to keep his story alive just as he was ordered to do. I can't even begin to explain this one to you. It was very complex for being so short. That's the interesting thing about all these stories so far. They all seem to have some underlying lesson in them. The art in this one wasn't that thrilling visually, but at least I could actually see what was happening, which is more than I can say for some comics.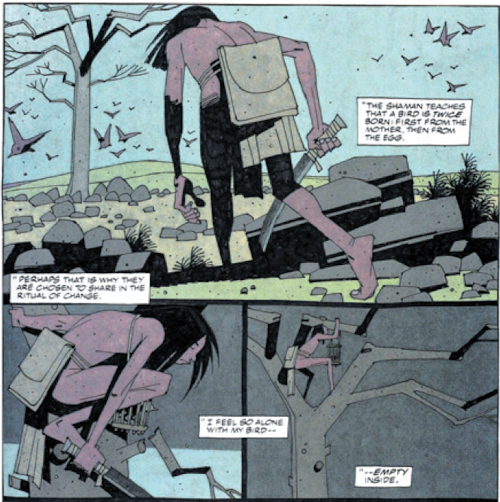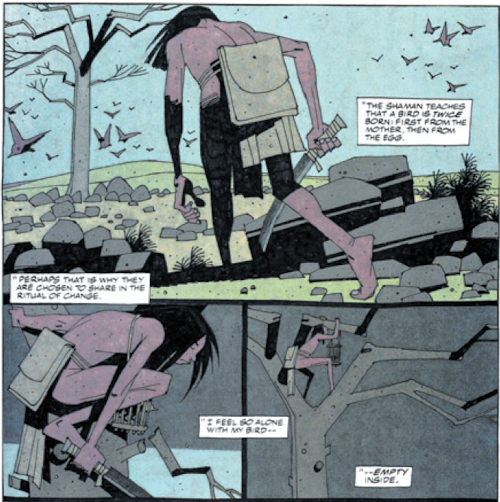 "The Harrowing, Part one: Resurrection" is the next tale. This one's story is by Clive Barker but it was written by Anna Miller, Malcolm Smith, and Fred Vicarel, art by Alex Ross. This is part one of two. It starts with what appears to be a mummified woman, the goddess, sending out flies to set her free. She needs six people and one by one the flies affect them and lead them her way. As the story goes on, it becomes apparent that it is connected to the last one, which ended with an egg monument, while this story is centered around the same monument much later. As the six converge at the monument, Leviathan gathers six of his own to deal with the problem.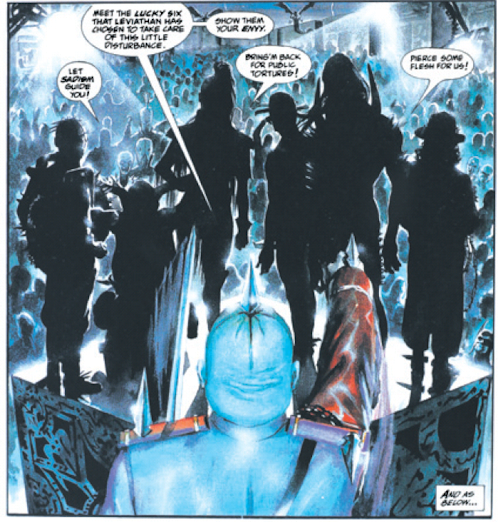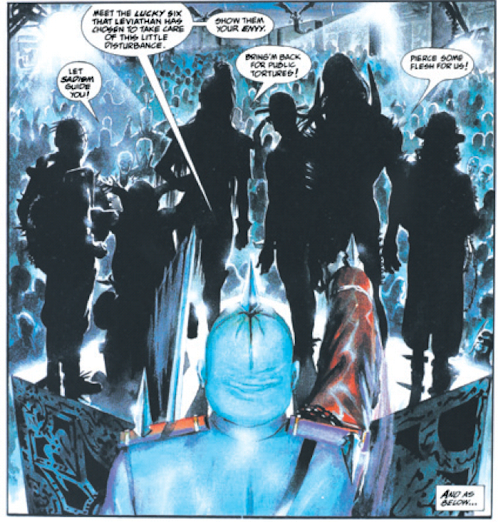 When the six release the goddess by solving a puzzle, she tells them that it has also released six of her enemies, the Cenobites. Finally, a Hellraiser story with Cenobites! I thought it would never happen. Six good guys, meet six bad guys. Let the battle begin.
This story was filled with action like you can only find in comics. I'm still amazed by how much can happen in just a few frames. At least it didn't end on a huge cliffhanger. It was more like a movie setting up for a sequel than part one of two, which was a relief. I hate waiting.
The seventh story is "Dead Things Rot" with plot and art by Mike Mignola, plot and words by D.G. Chichester. Oh, I liked this one. It's centered around two people, a serial killer who is collecting body parts and a man in Hell looking to get out by any means necessary. It was twisted and dark, though that was to be expected. I've always had a bit of an obsession with serial killers, which is probably why I enjoyed it so much. Yes, this one had a lesson too. Don't trust demons to make fair deals. It probably won't turn out well.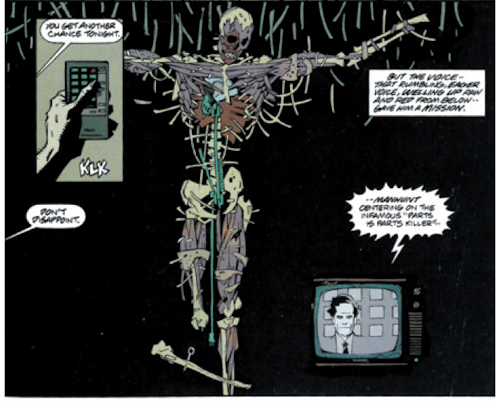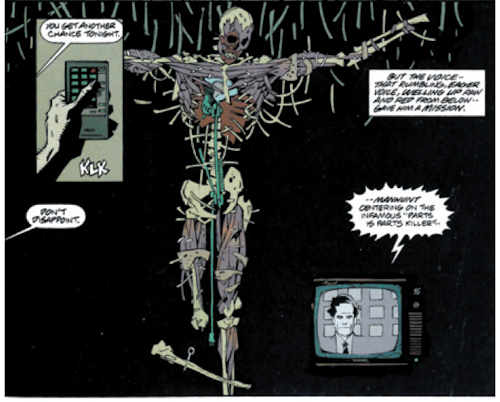 The art in this story was very graphic, with scenes of torture and, of course, body parts. It is well drawn, to the point where I forgot I was reading a comic at all. When it plays like a movie in your head, you know they did a good job.
Number eight out of nine is "To Prepare a Face" by Jan Strnad, art by Mark Chiarello. The stage is set in Hollywood, the star an obsessive actor. He is trying to plan the makeup for a part being filmed the next day but can't seem to get it quite right, so he goes out in search of the perfect face. The face is his way of connecting with his character and without it he is completely lost. Just when he spots the perfect face, he loses it. Following the man, he finds him murdered and his face cut off, only to find the face still there, just waiting for him. Creepy. So he decides to wear it like a mask. Even creepier.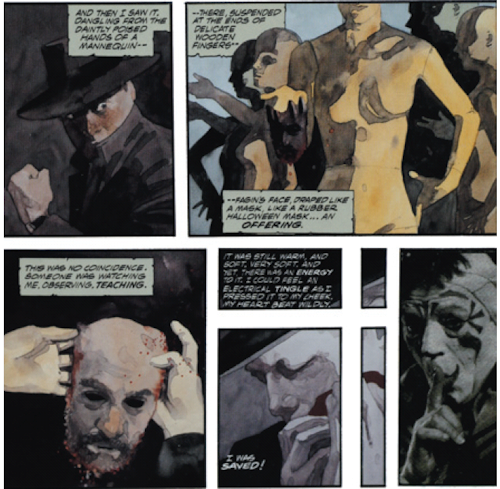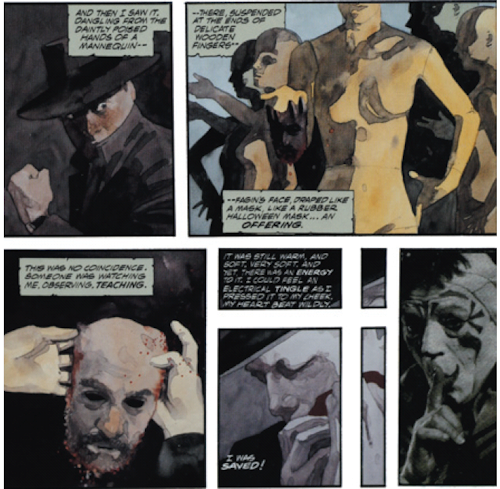 It worked so well it made the movie a hit and the actor was hooked. For his next film he had to find the perfect face, kill the man himself, and then cut off his new "mask". This came with even greater success, leading him even further down his dark path, right into Pinhead's hands. Nice to see a familiar face!
This one looked like it was done in watercolors. I'm not an artist or an expert by any means, but I have a lot of watercolor rainbows on my wall, and it definitely looked similar. Nothing too striking, but it got the story told.
The final story in this anthology is "The Devil's Absolution" by R.J.M. Lofficier, art by Jorge Zaffino. It is about a grandfather who is also a mob boss and his granddaughter who witnesses him committing murder when she is only eight. The sight traumatizes her and leads her into trouble of the demonic type when she grows up. Grandpa saves her, but cannot protect her from her nightmares until he realizes that all her problems are his fault. He makes a deal to free her, giving himself over to Hell. This one was interesting, about familial love and long term consequences.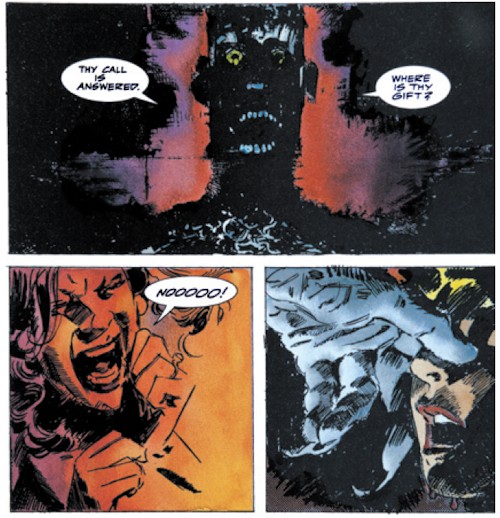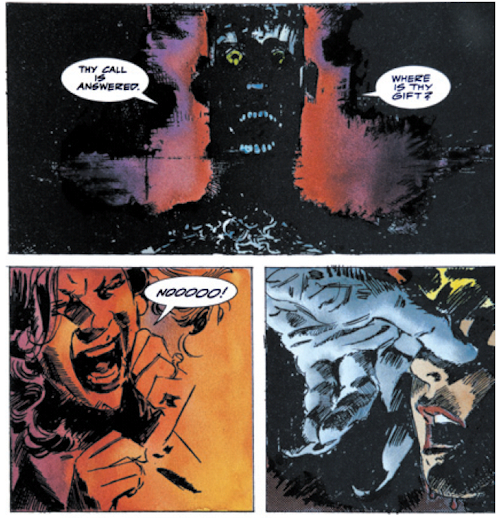 The images were rather vague, with most of the good parts hidden in the shadows. I'm the kind of person who wants to see the monsters, not leave them to my imagination, so I was a little disappointed.
Overall, while it wasn't what I'd imagined it would be, I enjoyed this anthology of Hellraiser stories. They were all very different, both content and style-wise, and it was interesting to see how much they varied. Some of the stories I could have done without, but some had great lessons that make you think. This was definitely worth the read.
Rating: 4 / 5 Stars