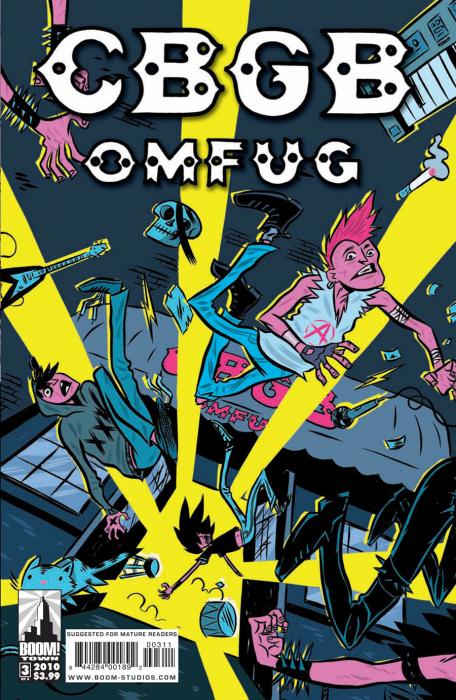 Issue: CBGB #3
Release Date: September 15, 2010
Editor: Ian Brill
Writer: Kim Krizan, Robert Steven Williams, Louise Staley
Artist: Toby Cypress, Giorgio Pontrelli
Colorist: Toby Cypress, Renato Faccini
Letterer: James Dashiell
Cover: Chuck BB
Publisher: BOOM! Studios
The third issue of CBGB, the comic based on the legendary rock and punk venue of the same name, is out. Considering the winning combination of writing and art in issue two, I expected even better from issue number three. Sadly, this is not the most stellar issue of CBGB to date.
It begins with the heartily titled tale, "Of And Concerning The Ancient, Mystical, And Holy Origins Of That Most Down And Dirty 20th Century Rock 'N' Roll Club." Written by Kim Krizan and drawn by Toby Cypress, "OACTAMAHOTMDAD" is an Alice in Wonderland meets Dances with Wolves meets Hot Topic kind of tale. Three teens stumble upon ancient cave paintings that lead them on a journey to the past. There, they learn being a misfit and an outcast is not a burden meant only for the twenty-first century teenager.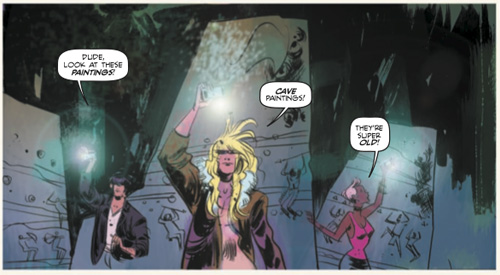 I understand the point the story is trying to make. It's just the story is drawn out for too long. I thought there might be another point coming up soon, what with the length of the comic, but no, it was just a continuation on the same theme. Near the end, I wanted to scream at the writers, "All right, I get it, march to your own drummer, don't let the man get you down, it's okay to be you and me. You made your point seven pages ago!".
The closing tale, "Advice to a Young Artist," is the stronger piece — but not by much. Professor Stratocaster is approached by a student after his lecture. The student presents him with a demo CD and a request for advice as to whether he should continue with school or quit and follow his dreams of rock and roll stardom. The good professor takes the demo CD home and, while enjoying some choice herb, gives it a listen. He finds he is transported from the comfort of his study back in time thirty-odd years back in time to his youth and the heyday of CBGB. (I am noticing a theme with this issue.)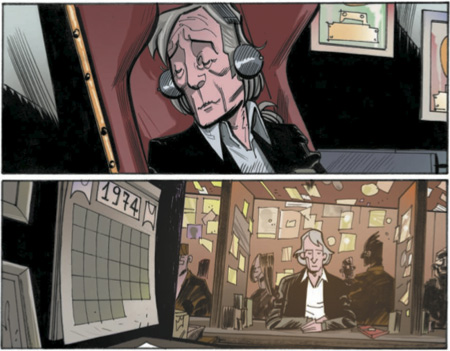 He runs into a soon-to-be ex-girlfriend and is fortunate enough to have a second chance at witnessing rock and roll history. Is the professor having an acid trip or was there really something magical about that demo? It isn't until he wakes up in the present that the truth is revealed. The ending is painful. This is not a statement about the writers' and artist's talent. More to do with the reality of the world today. The story ends with the professor's sage advice falling on the deaf ears of a youth brought up in a society where pursuit of art and creativity is only a means to fame and fortune and nothing more.
Not my favorite issue of CBGB. Bit of a let down, really.
Rating: 2 / 5 Stars