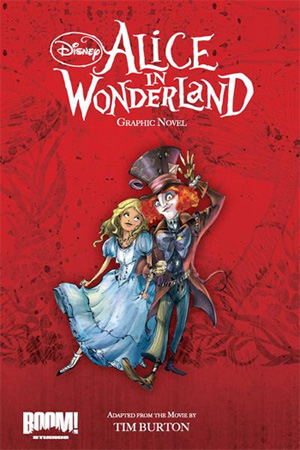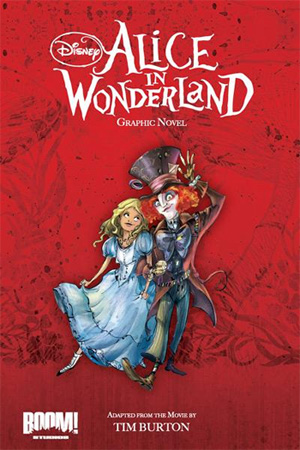 Issue: Alice in Wonderland (Hardcover)
Release Date: June 30, 2010
Manuscript Adaptation: Alessandro Ferrari
Layout, Cleanup, & Ink: Massimiliano Narciso
Paint: Marieke Ferrari
Publisher: BOOM! Studios
Wow. Just, wow. The Alice in Wonderland graphic novel was just… wow. I loved it. The whole thing is absolutely beautiful and the best part is, it makes sense!
Okay, I'm not sure if I wasn't paying enough attention or what, but when I watched Tim Burton's Alice in Wonderland I was lost. It seemed like everything was happening too fast and half the time I didn't have a clue what the heck was going on. The graphic novel, however, has cleared everything up for me.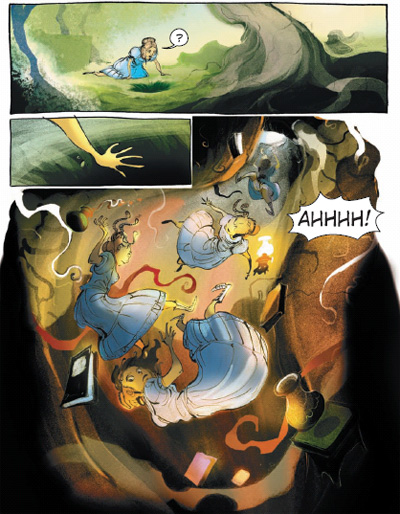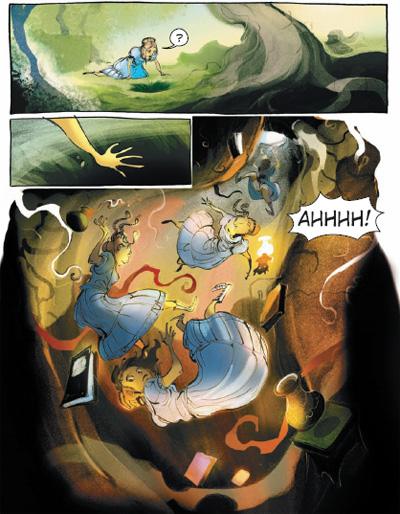 I'm impressed. It really sticks right to the movie, almost scene for scene, starting with little Alice discussing her dream with her father. I have to say, I absolutely love her father. He interrupts an important business meeting to put his little girl back to bed. That's a good daddy. Plus, the whole "yeah, you're crazy, but the best people always are" thing is my favorite part. That thought could be the theme song to my life. Who wants to be sane anyway? It's boring!
On the flip side, I do not like her mother, trying to force her to conform to society's expectations and pushing her into marriage. What's worse, the guy everyone wants Alice to marry is a douche. Thank goodness the white rabbit showed up just in time to save her!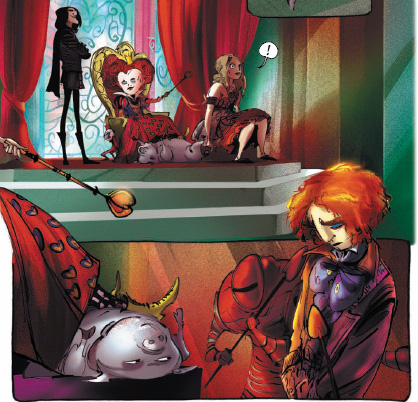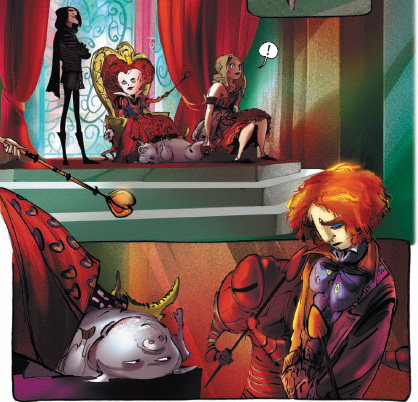 The art throughout the entire comic is amazing. The characters look so much like the actors in the film that from time to time I almost forgot I was reading a comic and not watching a movie! This brings me to the coolest part of the graphic novel. After the story is over, there is a section called "The Art of Alice in Wonderland Graphic Novel." It starts by telling us about how the original Alice in Wonderland by Lewis Carroll came to be, continuing on to when Linda Woolverton writes an update to the story.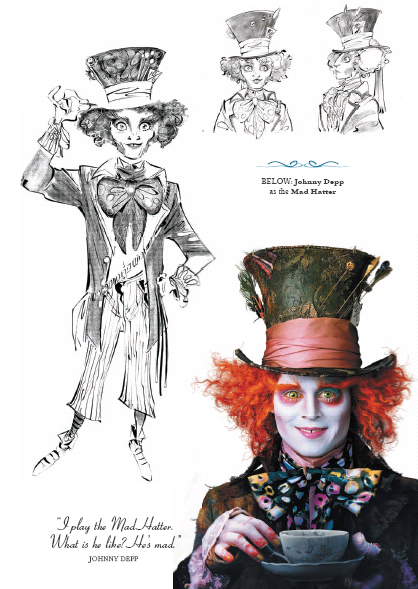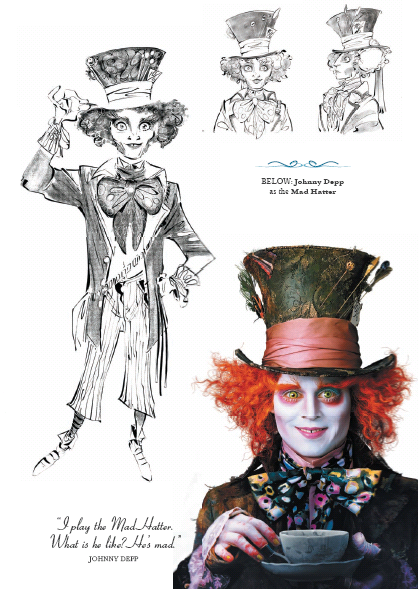 It then details the process of determining how the comic would look with lots of sample images. It was so cool to see the characters and setting done in several different styles by different artists. There are character studies, including photos of the actors in costume from the film. Then we learn all about how the pages are drawn and colored. I really enjoyed this peek inside the making of the graphic novel itself. I learned a lot about the process. Anyone interested in a behind the scenes look will definitely enjoy it too.
Now if you'll excuse me, I have to go watch the movie again.
Rating: 5 / 5 Stars