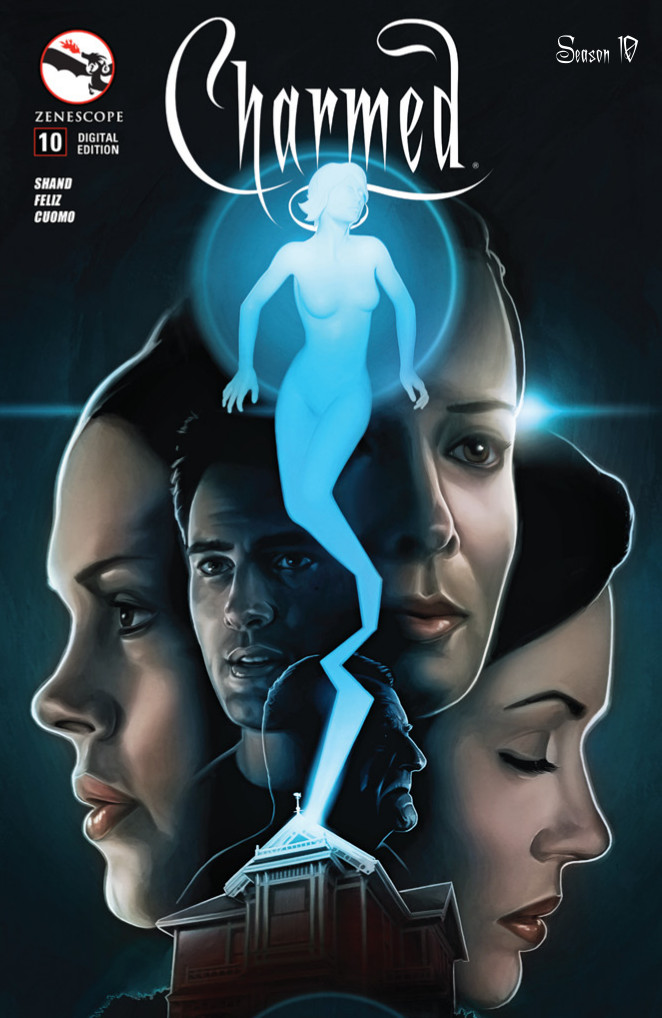 The sisters and their loved ones have quite an eventful life, and that continues to be true in this issue. Between amnesia, rising from the dead, and powered-up beings, it's a wonder they had any hope of normalcy. But that's the cost of being a Charmed One.
Note: This recap may contain spoilers!
There were a lot of quick touch-points at the start, working our way towards when all the loose ends come tying back together. We start off the issue with Tyler, Coop, and Henry, who are still in the Wasteland. The giant Cole statue is moving towards them and it appears that hope might be lost, but Tyler is not going to let them go down without a fight. He powers up and we cut away to Kyra, who is coming back to consciousness. She was knocked out looking into Prue's mind, but also finally knows what Prue is. The revelation of that secret will have to wait until later, though, since we jump over to look in on the sisters, who are still waiting for Coop and Henry to return. Phoebe has sequestered herself in the bathroom, re-living the memories of Cole's death.

And then, everything starts coming back together. Henry, Coop, and Tyler fall through the ceiling onto the breakfast table by way of a fire portal. All of them seem none the worse for wear, having escaped, but that was a short-lived notion. It sees that Coop doesn't remember anyone, and he only appears to get his memory back when Phoebe hugs him. A quick plot point? Not quite.
Paige sends Tyler home after what he did, with a promise they'll talk tomorrow, and then she fights with Henry over his part in the experience. But it feels like a double standard. Paige can put them in danger, but Henry can't? It seems like they're at an impasse. And that tension causes Leo to take Henry with him to a local bar so that Henry can cool down and explain why he did what he did. Henry admits that he finally wanted to do something, to be of use.

But the Henry storyline isn't the main point right now. What's more Earth-shattering is what's up with Coop. Or Not!Coop. His body is currently being inhabited by Ben Turner, Cole's father. Seems like they did get his soul out after all, though not in the way they intended. Phoebe placed a call to Prue to tell her what's up, since Prue sent them on the mission in the first place, and the elder sister says she's coming to the mansion. Before she leaves, though, she makes Kyra a human, as promised. Prue's got some definite power running through her. What is she? We'll soon find out.
Upon arrival, we get a whole lot of revelations and progress forward. Prue says that she can move between the dimensions and leave the Nexus of the All because she IS the Nexus. Very meta, very powerful. And she uses that power to remove Ben's soul from Coop and send him to a new body… the raised Cole. What has she got in mind for Ben? This is going to be interesting!
Rating: 3 / 5 Stars