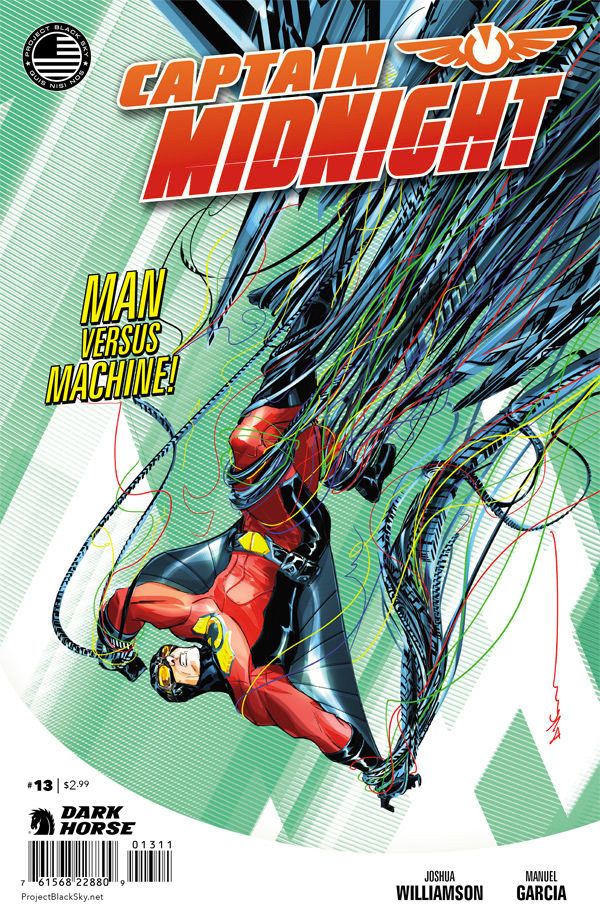 The thirteenth issue of Captain Midnight starts off with a bang and a prison escape. A mysterious man breaks out an old enemy of Midnight's, Tempus. He has been hiding in a regular prison instead of being somewhere more secure. Tempus is leading the men who were ready to attack Midnight's base at the end of the last issue.
Note: This recap may contain spoilers!
Meanwhile, Jones is still trying to talk Midnight back into joining the fight, but Midnight doesn't want anything to do with it. Then they are attacked, which kills all of Jones's men. Tempus taunts Midnight from a helicopter and demands to know Midnight's secrets. Midnight responds by swearing, which shocks everyone. Jones and Midnight run to a secure building while being under fire, grabbing whatever weapons they can to hold off the invading group. Midnight had been making a lot of technology and toys while he wasn't fighting and he uses this to great effect.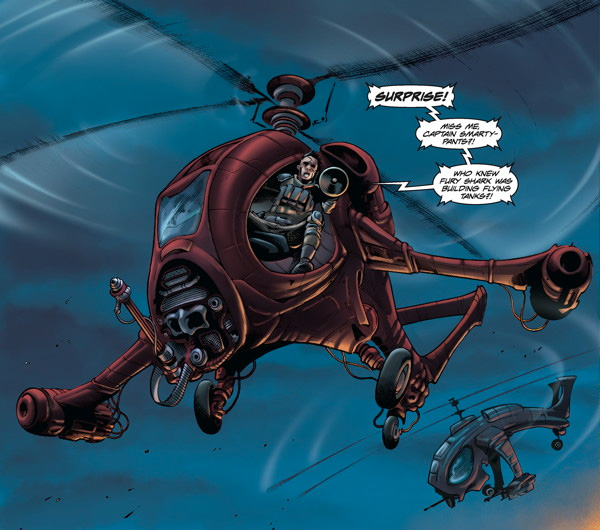 In Thailand, Charlotte has found Helios and asked to meet him. He is surprised to see her, but still sits and drinks with her. Charlotte isn't in the mood to talk, but Helios takes a few jabs at her anyway. As he goes to leave, Joyce shows up with a gun at his head. The women demand to know where Chuck is, as he is responsible for Rick's death and many others.
Back with Jones and Midnight, they seem to be fighting a losing battle. However, Midnight has another trick up his sleeve. Midnight sends Jones as far away as possible from the base and releases an EMP wave, taking care of everything and everyone attacking them. They think that they have taken care of Tempus, but he radios them and says he has taken the small town of Nightshade hostage. Tempus wants Midnight to turn himself in in exchange for saving everyone in town.
The issue ends on a great line and builds up tension for the next issue, not only with a confrontation between Midnight and Tempus, but also between Helios, Charlotte, and Joyce. Midnight wants to save everyone, but he's learned that's not always possible. And Helios cannot be trusted at all, so hopefully Charlotte has planned for that. It will be really interesting to see what happens with each group and how that will affect later issues.