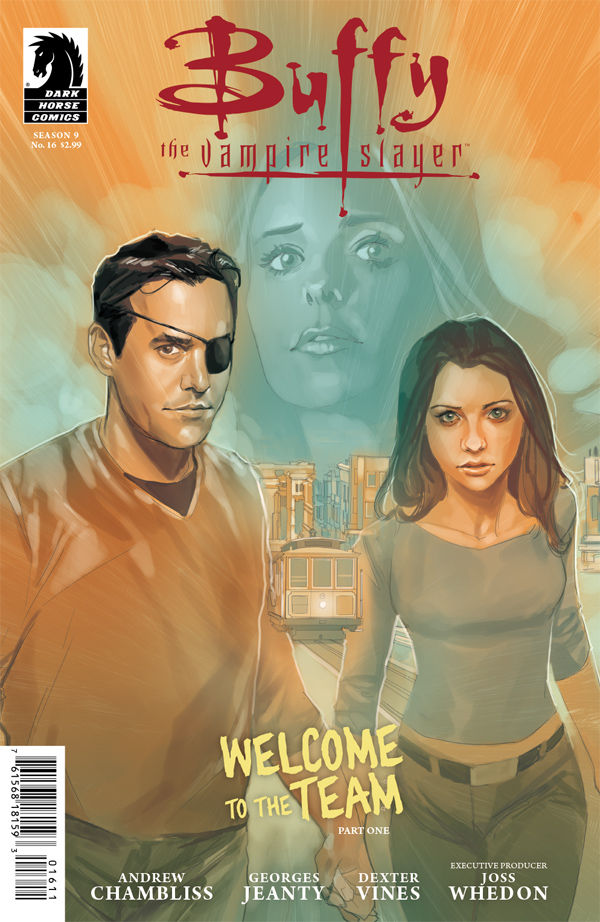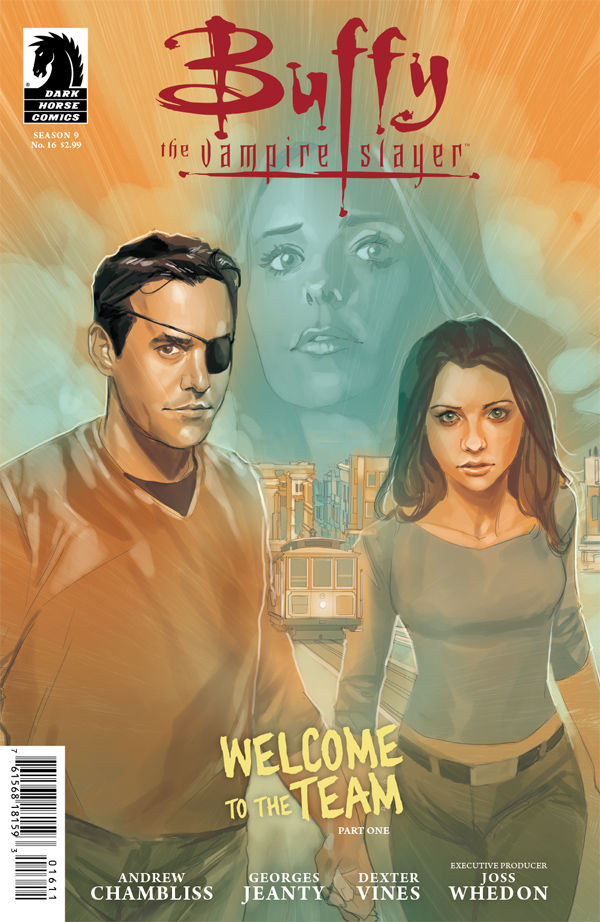 Issue: Buffy the Vampire Slayer: Season Nine #16
Release Date: December 2012
Writer: Andrew Chambliss
Pencils: Georges Jeanty
Inks: Dexter Vines
Colors: Michelle Madsen
Letters: Richard Starkings and COMICRAFT'S Jimmy Betancourt
Cover A: Phil Noto
Cover B: Georges Jeanty with Dexter Vines and Michelle Madsen
Publisher: Dark Horse Comics
Buffy's back on the Slayer job full-time, but it's not going to be an easy road for her. She left a lucrative position to return to her destiny and has to deal with zompire attacks, mentoring, and even teleportation.
Note: This recap may contain spoilers!
The female leader of the latest zompire group takes a shine to Buffy. After Buffy breaks up her attempts to turn a random stranger, the leader decides that she wants to see the Slayer dead at her hands. This zompire doesn't seem to be the regular fare, though. She's stronger, able to throw Buffy around like a rag doll, and she really acts like she's got it in for the Slayer. Buffy realizes that she knew this woman before she got turned, though she can't place how. Her identity is still a mystery to us, but what we do know is that she doesn't seem to like Buffy one bit. Her multiple attempts to kill Buffy are never successful, however, which just opens the door for her to be a long-term threat.


And in the secondary storyline of the issue, we get Dawn and Xander. What seems like a case of morning sickness, much to Xander's fear, is actually something as simple as Dawn having the flu. After dealing with the supernatural all these years, I guess it's nice of them to go through something so normal. Plus, they get to be all couple-ly together while Xander's taking care of her. It's sweet, and I'm almost to the point where their relationship doesn't weird me out. I'm not there yet, but I'm working on it. And when Buffy comes to visit her sick little sister, we get a bit more information on how Buffy can afford to support herself without a steady job. Turns out that the paycheck from the whole Kennedy job situation made her quite comfortable. Good for her, but I hope they don't use this as a reason why Buffy will never need to take on another outside job other than Slaying. I'm all for her pursuing her destiny, but getting a weekly wage would be good for her, too.
We also get to deal with Buffy's growing attraction to the cop, Dowling. He's been pairing up with her on patrol and he even texted her a lead on where the female zompire was holed up. Xander and Dawn can see that Buffy's got a crush on the guy and they approve. Plus, we get to find out that the feeling is mutual and that Dowling likes Buffy quite a bit, too. The flirting between them was sweet and I like that she's trying to regain some kind of normality in her life, but I still mourn the loss of Spike. She turned away from a man who would die for her, why should she think that she'll get her happily ever after with Dowling?


My two big problems with this issue centered around Billy. First of all, I was repeatedly asking "where's Devon?" because he was missing in action. Billy and Devon decided to give their relationship a go and committed themselves to the whole Slayer and Watcher roles they've taken on. I loved them for the past two issues and was excited to see where their storyline took them. Well, apparently we're either supposed to forget about Devon or patiently hope that he's just off hanging out in his own apartment, because he was nowhere to be found during the whole time Billy was hanging out with Buffy. Secondly, the artwork to depict Billy was so rough that it literally took me until Buffy mentioned something about Billy's grandmother to realize that this new helper she had tagging along on the latest patrol was supposed to be Billy. When I can't even tell who the characters are, there's a problem.
The cliffhanger we were left with, having the revelation of an old character returned, was interesting and it opens up the door for more twists and turns in Buffy's life. However, I could tell who it was that teleported her to LA within the first shadowy glimpse. If it was supposed to be a big mystery, it failed on that front. This issue failed in a lot of ways, but there are glimpses into future possibilities, so I'll have to wait and see if it all turns out to be worth it. Instead, I'll just spend a month wondering where Devon disappeared to.
Rating: 3 / 5 Stars