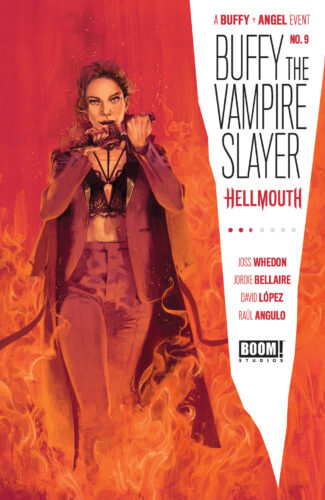 With Buffy away, we focus the issue on those she left behind in Sunnydale. Willow, Joyce, Xander, and Giles are dealing with some pretty heavy burdens, but life is all about survival. Hopefully they will not destroy those closest to them in order to do just that.
Note: This recap may contain spoilers!
We first check in on Joyce. The situation at the museum has left her shaken and unable to believe in the safety of herself or her loved ones. While Buffy being away and out of phone contact means she doesn't have to see the struggles Joyce is going through, it also means she cannot be informed if things change – either to the good or bad. Whatever the outcome, Joyce has some inkling that Buffy's on a path other than the structured one Joyce hoped she would be following. She just has to hope that means she will remain safe regardless.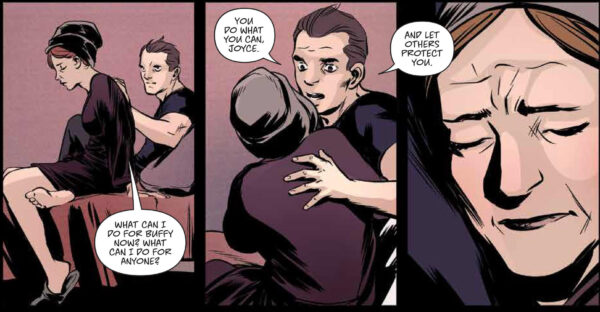 Next up we have Willow. She's changed quite a bit as a result of her soul encounter and its aftermath, and Rose can tell it. Although she did turn up at her girlfriend's house to help Rose study, Willow is doing very little of that. Instead, she's playing video games loudly and basically ignoring Rose's need to concentrate on her schoolwork. The two of them at at odds over Willow's behavior change and it doesn't seem like they'll ever come to a compromise. It feels like Willow's fed up with life in general and taking it out on Rose. She's mad that Rose is focused on mundane life things, like school, when Hell is literally right there on Earth. But focusing on these mundane life tasks are what is important to Rose and saving the world isn't something she can carry the burden of. Like I said, they seem to be at an impasse, and they're obviously going to be taking a break in their relationship. Willow's in a bad mental space.
Third focus we get is on Xander, though it's brief in comparison to the others. He's at the library visiting with Giles, since Buffy is out of town and Willow is nowhere to be found. But Giles is going through a number of things at the moment and doesn't really have time to concentrate on Xander, so the boy goes out to the graveyard to patrol on his own. We get another peek at his constant life of turmoil, never being fully human or vampire, when another vampire attacks and taunts him. There's the lingering threat that eventually Xander will succumb to the demon inside. It's a fear he carries constantly and one that may prove detrimental to his well-being in time.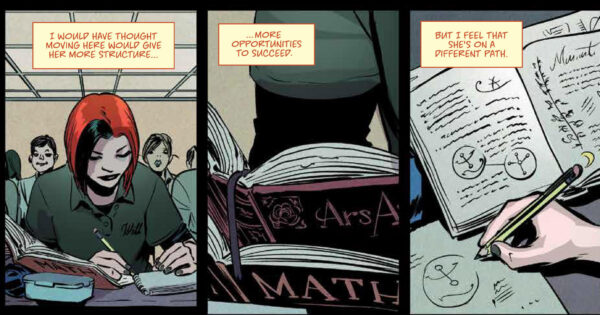 Finally, we check in with Giles. He seems to be changing for the worse as well. Buffy's in the Hellmouth, Willow's had her soul divided, Sunnydale's sinking into a pit of fire, and Jenny's not talking to him. It's a lot to deal with. And his determination to force himself into Jenny's home and make her take him back with force is not a good thing to watch. He's got a fever, he's half out of his mind, and he has a single-mindedness about the entire Hellmouth situation. No, he did not try to protect Joyce at the museum, nor would he probably have tried to protect Jenny had she been in the same situation. He's convinced that everyone is expendable except Buffy and that does not bode well for any kind of relationship.
As we end the issue, we get a hint of something developing with Robin. Prior, we saw a young girl arriving into town by taxi, saying she starts a new job tomorrow. Switching over to Robin, who is hanging out in his room, he hears some kind of noise in the house and goes to investigate. His father says he didn't hear anything and that Robin should go to bed, but there won't be any rest for him anytime soon. The girl is now standing in his room and mentioning that he might be her new Watcher. This will prove interesting, with two Slayers and their Watchers now in Sunnydale once Buffy hopefully returns. I'm looking forward to how this will all play out!
Rating: 4 / 5 Stars