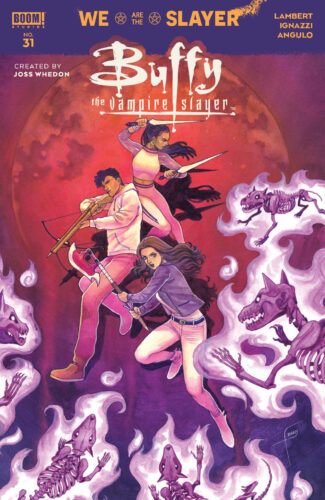 Buffy is trying to gather Slayers from the various universes and Faith is dealing with Silas' desire to taunt and control her. They will need all the help they can get to fight him. Hopefully they will be able to gather allies and wage a winning battle.
Note: This recap may contain spoilers!
We start the issue with Buffy's universe hopping. The other Buffy is spying on a vampire, ready to attack, when our Buffy gets to him first. Introductions and explanations are made, though it takes some time to get them on the same page. There are definitely variations between their two worlds. Over there, Jenny's a powerful witch, which has Willow fangirling over her. And their Buffy gets to explain how their mother isn't quite the same either, as Joyce has been turned in that universe and went on a killing spree afterward. Quite a difference in their experiences!

That visit was just one of many. The gang visits quite a number of universes to meet the other Buffys and Scooby Gangs, trying to gather allies for their fight. When they regroup in the universe without shrimp, they have managed to get twelve recruits. A good start, but not nearly enough. So, Buffy suggests they split up to cover more universes. Good plan, but they have to figure out what to do with Giles and Anya in the meantime. They can't go along with them and they cannot be left unsupervised. Enter Joyce and Eric.
The duo are trying to have a quiet night at home when Buffy shows up with Rose, Giles, and Anya. Of course Joyce wants to call 911 when confronted with the state of Giles and Anya, suffering from the memory disease that Eric has been dealing with at work, but Buffy cannot have that. She crushes Joyce's phone, confusing her mother, but does not have time to explain why Buffy is the only one who can save them all. She tosses Joyce aside and they do not part on good terms.

Meanwhile, Faith is dealing with Silas' control. He is going through her memories, making her relive a winter day with her real mom and feeling the love that she lost so long ago. She questions why Silas is doing this in the first place, depleting people's memories, and he claims it's for the good of all universes to maintain the balance. Not quite an acceptable reason.
The conversation is interrupted when the Slayer's monster allies come to help Faith. They all take on Silas and it's a bloody fight for all. Faith even manages to lose a few fingers before Cam grabs her and flies her away to safety. But Silas is not going to be far behind. This war is just beginning and it's going to take all the help they can get to defeat Silas once and for all.
Rating: 3 / 5 Stars