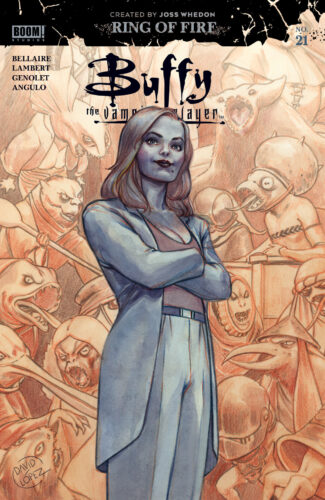 This issue, we delve into Anya's story and how she is connected to the Slayer that came before Buffy. It seems that vengeance was always Anya's destiny and that playing the long game is her expertise. Quite an interesting story to be told.
Note: This recap may contain spoilers!
We start off in Cleveland, Ohio in 2019, and will circle back to it before the issue's over. We see that some demons are searching for a woman, though we aren't clear who she might be. The way the narration goes, we're led to believe it's Anya, but will soon learn that it's someone connected to her instead.
Through Anya's narration, we are shown her history from when she became a vengeance demon to now. Centuries ago, D'Hoffryn saw the potential in her as she had a knack for taking out deserving men. While he's trying to harness her gift for his purposes, he doesn't have to try too hard. The potential for her to seek vengeance for scorned women and kill more men who have done wrong is a big selling point and one she accepts quite quickly.

In a time jump, a century later, we see that she was once a Watcher for a Slayer named Isabelle. However, she did not conform to who the Council wanted. Instead, she proved to be difficult as she cared more about the life of her Slayer than the wishes of the Council. Isabelle would die if Anya went along with the Council's plan, so she refused. That put her on the outs with the Watchers and assured that there would never be another female Watcher because of her proven emotional involvement.
A few more centuries later, Anya is in Cleveland, Ohio at her shop. She's helping out a young Slayer, Morgan Palmer, to protect herself with a hide of Cerberus. Unfortunately, the hide seems to have shrunk in the wash and won't provide much protection. Morgan's going to need it, though, since she's headed to assured death. She's 25 years old, tired of the monotony of her life, and has overheard her Watcher and the head of the Council speaking about the mission they're about to send her on; one that will surely get her killed. The nest she's going into isn't just a vampire nest, but also has a chaos demon that can make her vanish.

Morgan knows about Anya's past as a Watcher, how she tried to rebel against the Council's wishes in a situation very similar to this, and how she's also a vengeance demon. The Slayer has come for help, but not quite in the way Anya might think. She doesn't want to stop the Council's plan or wish direct vengeance on her Watcher at present. Instead, she wants them to think she died so she can have more time to get her true vengeance. It's all about the long game, and that's something Anya plays well.
Later, Morgan goes through with the mission her Watcher sent her on, but since she's wearing a ring Anya gave her she doesn't actually die. Instead, Morgan goes into hiding, biding her time, and the present day is when we pick up her story again. After Anya drops a hint to Giles that the Slayer before Buffy might not actually be dead, she sets into motion the plan she and Morgan's been waiting for. Morgan wants to take down Stephen, the Watcher who did this to her, but they can also take down all the Watchers so that they can never do this to another Slayer again.

We end the issue right back where we started, in Cleveland and the scene from the beginning. The woman was actually Morgan all along and she's there to take down her Watcher, Stephen, for what he did to her. She does get her revenge and now it's onward to take down the Council as well. Watch out, world, Anya's ready to dish out some vengeance alongside a very ticked off Slayer!
Rating: 4 / 5 Stars