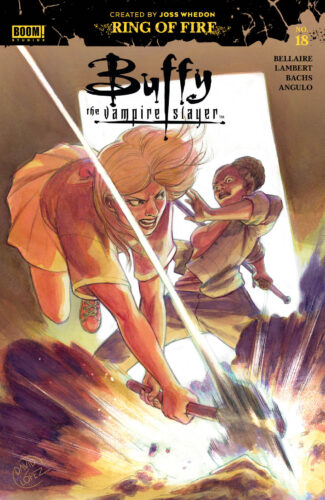 With disconnected timelines and a dangerous connection to Willow driving the storyline, we see how Sunnydale reacts when the witch-in-training returns to town and brings with her a heightened sense of danger.
Note: This recap may contain spoilers!
I believe the print schedule has to be out of sync because the Willow and Buffy comics are not aligning in terms of storyline and character placement, which makes following the overall plot very difficult. But, still, I push on and try to figure out where Willow fits in both worlds.
We start off with Willow doing trust falls with Buffy, Giles, and Kendra. The team has to train and hone their skills in order to defeat Xander, even though Giles is careful not to say his name for fear it will distress Willow. Her best friend has changed and the sweet boy from before is no more. Now, there's a monster wearing his face and if they don't do something to stop him the whole town could be in danger. Perhaps Willow and her increased magical ability will play the key in that.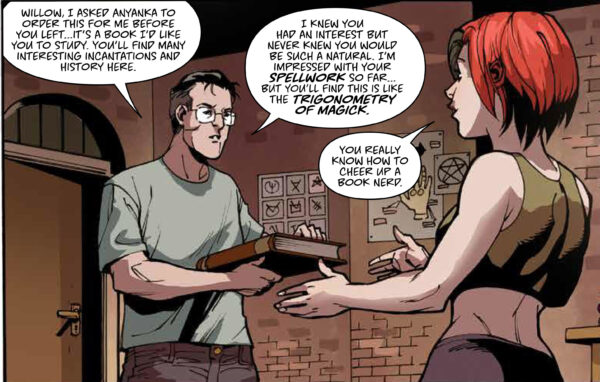 In addition to saving the world, there's also the matter of school. Willow has returned and is trying to catch up on what she missed in terms of Buffy and Kendra's friendship, as well as Robin's relationship with Buffy. The latter is concerning to the young witch, as she doesn't think Buffy should be in a romantic relationship right now, with everything going on. However, Buffy's new BFF Kendra says the other Slayer appears happy, so maybe it's a good thing that Buffy has a boyfriend.
Relationships seem to be the theme of the issue, with both Buffy and Robin, as well as Kendra and Rose, getting some focus. Kendra thinks Willow might be weirded out that she and Rose are now together, but Willow assures her it's okay. She loved Rose, but that's in the past and she doesn't begrudge them for finding happiness together. In fact, Willow and Rose take some time to catch up and focus on the spell book Giles gave her. Willow thinks she can find Jenny with one of the spells, but the person she finds at the end of the path isn't Jenny, but instead Xander. He's been waiting for her!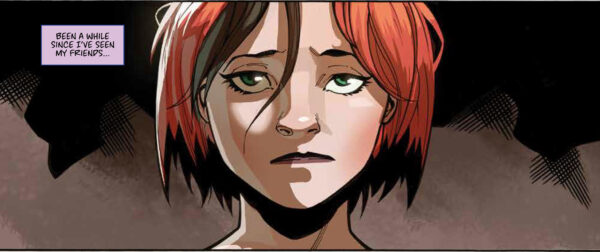 Turns out, Xander's tried to lure Willow out by sending minions to attack Buffy's house. Thankfully, Buffy and Joyce weren't there and later moved to a hotel to protect themselves while the police investigate. Xander has also been making Jenny work on a potion and has been very aggressive with her. While Jenny thinks that the potion is one to make Buffy to fall in love with him, in actuality it's all his plan to draw Willow to him.
And we see that he was successful in the end. But what will happen to Willow now? Will she try to appeal to her long-lost friend or will he overtake her and continue his path of violence? We'll have to wait and see! I do like the Xander and Willow evolving dynamic, so I'm eager to see where it leads.
Rating: 4 / 5 Stars