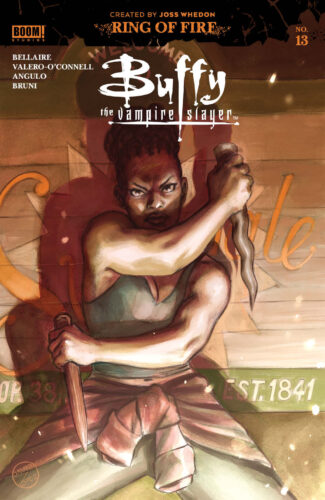 Before she went to Sunnydale, Kendra had a life and a destiny. Now, we finally get a glimpse at that backstory and learn who the newly-called Slayer is. It's an interesting look back as we begin to face the uncertain future that lies ahead.
Note: This recap may contain spoilers!
This issue was Kendra's story, totally and completely. However, I wish we would have gotten this issue before she came to Sunnydale, as that's when the timeline is set, rather than jumping back and forth in time during the emerging plot. But, we got the background now, so we'll have to integrate it into our knowledge the best way we can.
Set in Jamaica, Kendra is doing her duties as a Slayer on the island, taking out the non-stop vampires that seem to be popping up. She mentions that she likes working alone, that she can concentrate on her work, but perhaps that introspection is dividing her attention from the job at hand. Her Watcher, Zabuto, knows that as well. One day, her slip-ups and wandering mind might get her killed.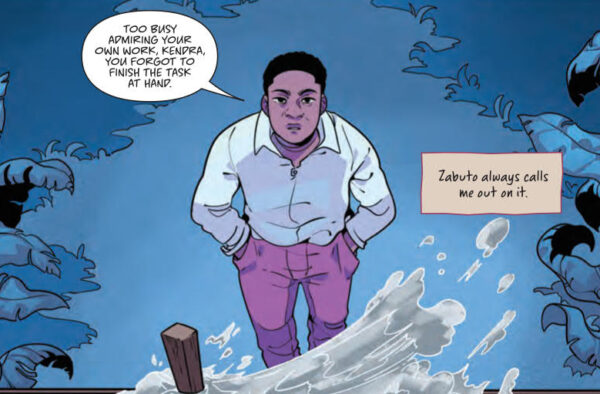 I was a bit confused over the relationship Kendra had with her Aunt Vea, especially because the latter knew she was a Slayer and what that entailed. Isn't this supposed to be a secret destiny? It became a bit clearer as time went on, as Vea was chosen by the Council to help nurture and lead Kendra as she grew into the strong and forceful woman she needed to be. But perhaps a bit of that nurturing goes against the tough love Zabuto seems to be wanting to dole out. While Vea wants to reassure Kendra's worries about being forced to someday leave the island, Zabuto knows that it's a real possibility and Kendra needs to be aware of that. Two different approaches, but they both seem to care about Kendra in their own way.
Zabuto needs Kendra focused because he thinks he's figured how why there have been an increase in non-native vampires lately. He thinks they are being drawn into a tourist attraction / tourist trap and then turned. Now that the problem is introduced, he wants to use it as a teachable moment. He will not give Kendra any indication of how to best deal with them, he wants her to make that decision on her own. And she does, deciding to canvas during the daytime to figure out how and where they're being lured in. Good plan, and they even get a lead that way.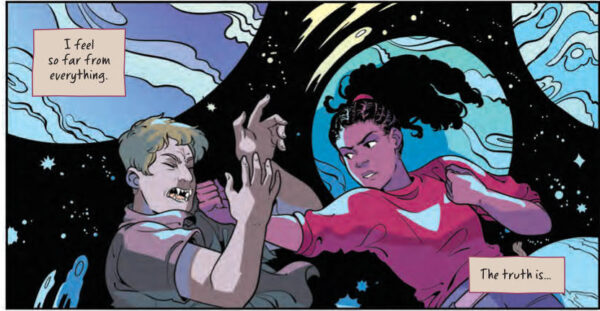 Right when Zabuto is getting ready to tell Kendra something, a group of tourists interrupt them. One of them, Brad, got bitten and now he's turning. That leads Kendra and Zabuto on a chase to follow him into the wilderness on an ATV. Unfortunately, Kendra doesn't heed Zabuto's warnings to be careful and they crash. This leads to some very bad outcomes for them both.
Kendra wakes up and she's been taken hostage in a house surrounded by vampires. On top of that, the female leader says Zabuto's dead and then starts in on Kendra over the fact she's nothing more than a slave; being told what to do by a bunch of old men and she has no free will of her own. It's a lot of heaviness to deal with. But finally a light emerges in the situation. Right when the vampire is about to bite Kendra, Zabuto crashes through the window on the ATV. He's alive and he's ready to kill some vampires! After the fight ensues, Kendra takes out the vampire leader herself and it appears all is well.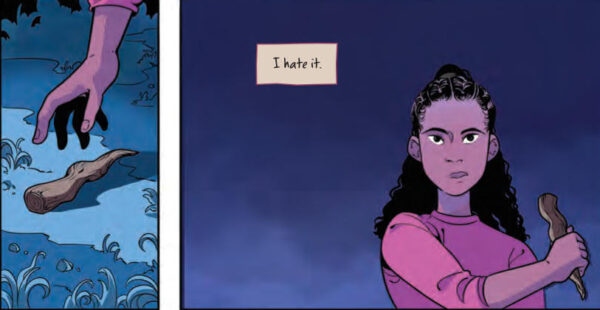 Except, not quite. The thing Zabuto was trying to tell her before they got interrupted is that she's been called. Kendra must go alone and fulfill her destiny. No Vea, no Zabuto, just Kendra carrying the heavy burden by herself. Again, it would have been a great had this issue come in the proper part of the story timeline, but looking back before looking forward again isn't so bad. Now that we know where Kendra came from, we can understand her better and the weight she carries upon her shoulders.
Rating: 4 / 5 Stars