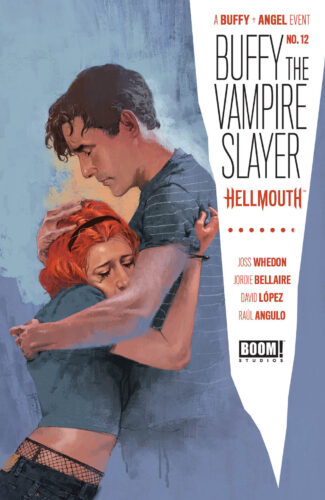 Sacrifices are made and alliances are formed. With the male population of Sunnydale becoming mindless minions, it's up to the remaining Scooby gang to defeat the danger. I just hope they will all be standing when it's over.
Note: This recap may contain spoilers!
We begin with Anya taking her stand, facing off against the horde while Robin's knocked out. But what looks like a no-win situation actually turns to their advantage when the mindless group starts fighting each other. The gang will take any advantage they can get, so they are able to slip away without being attacked and retreat to an underground access tunnel that runs beneath the town. Understandably, the gang is a bit reluctant to follow Anya, since she's an unknown, but they don't have much choice. Upside is that Anya confirms Buffy's still alive, after Kendra mentions that she sensed something divided when she took on the mantle of Slayer. Poor Robin, though, he's still laying on the graveyard ground alone. Good thing the horde isn't looking to kill or maim him specifically.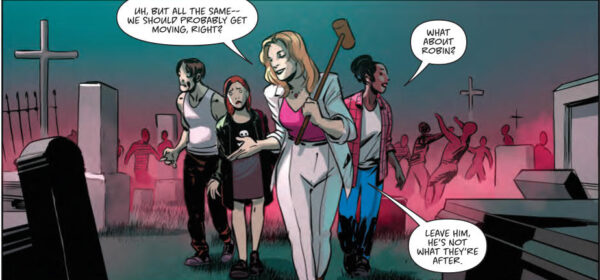 Meanwhile, over at the Tunaverse, Rose is still waiting for Kendra to join her. But time is ticking away and Cordelia needs to close up for the night. Alas, it looks like their meeting is not to be. But we got some nice bonding conversation between Rose and Cordelia when the former volunteers to help with clean up. We find out that Cordelia's been working the night shift just under a year to save up money to go to LA so she can act and model. I wonder if she will join up with the Angel team, as in the original timeline. But first she's got to survive the attacking mob that starts beating on the doors of the restaurant and then breaches the glass to get inside.
Anya manages to show up just in time to protect them, putting up a shield to knock back the mindless horde, at least momentarily. But now what? They need to stay within the shield and Anya's even got a secret stash of weapons there, but how long with the protective barrier hold? As we see, not very long. Time for Plan B, which lays directly on Willow's shoulders even if the girl thinks she's not ready. Well, all it took was Rose getting attacked to energize Willow enough to unleash her power. Go Willow!

However, perhaps she's not in total control of what she's capable of. The soul tie bonds Willow and Xander, splitting her between Xander and herself as well as splitting her power. It seems like Xander must make the ultimate sacrifice to free her of the division. When Anya gives the signal, he reaches out and clasps Willow's hand, unleashing his soul. The group manages to escape to safety thanks to Camazotz, but as they fly away Xander's seemingly de-souled body is left behind. Is he gone forever? Or turned into a vampire completely? We'll have to wait until the next issue to find out.
Rating: 4 / 5 Stars