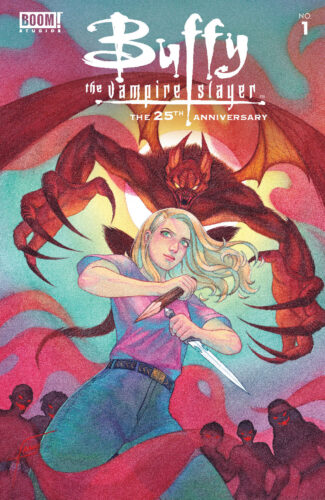 This issue gives us an epilogue to "We Are The Slayer" and also a few short stories focused on each of the main characters. A nice way to celebrate the 25th anniversary of Buffy the Vampire Slayer!
Note: This recap may contain spoilers!
The first, longer story is an epilogue to the previous issue. It centers around where we left Silas, his body and his head, after he was killed. The head has been taken and put inside the Godeater, which causes all kinds of problems. All the memories he stole have started spilling out, becoming corporeal, and overrunning Sunnydale with vampires. Looks like a job for the Scooby Gang.

Earlier that day, Buffy and her friends are at the high school and see that prom has been canceled. Willow's not too distraught, since she wasn't going to have a date anyway, but Kendra may have gone and Buffy mentions she may have had a date. They are curious who it could be, since Robin's in England, but Buffy doesn't tell.
They find Faith hanging out in the library, playing video games, while Giles tries to clean Silas' bloodstain off the floor. She was supposed to be helping and she did a little. Faith found out the name of the funeral home where they're cremating Silas and then she quit for the day. But the job is not over.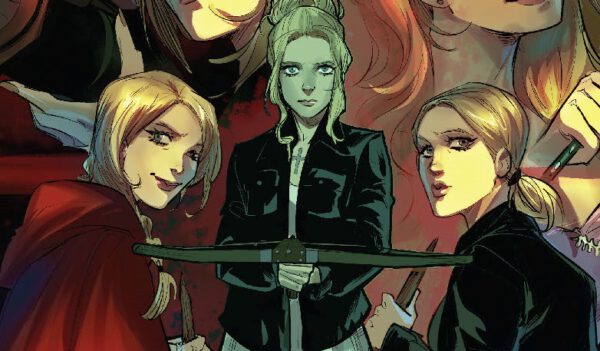 While tonight was supposed to be their night off, Giles needs them to put in the work to finish off this Silas problem. He wants Faith and Buffy to join him in going to the funeral home and destroying Silas' body, especially his head, before he gets a traditional burial tomorrow. Kendra will take patrol and Willow bows out because she says she needs to study.
Buffy and Faith find Silas' body at the funeral home, but there's no head. Then they start hearing laughter from somewhere and find the Master. He claims he killed the Slayer Barbara and there are no others, so he's surprised to see Buffy and Faith. The duo split up, Faith going to find Giles while Buffy takes on the Master. She does manage to stake him in the heart, then steals the hearse and crashes through the wall to save Giles and Faith from the onslaught of vampires they're dealing with. Off they go to make their escape!
Meanwhile, we find out that Willow wasn't studying after all, but instead had her first date with Tara. She has been hired as Anya's new assistant and Willow's taken an interest in her. However, the destruction outside grabs Willow's attention and she has to cut their date short. Will their love blossom? We don't find out in this story, but there is a follow-up in one of the short stories afterward.
Turns out that the whole vampire hoard is going to be replaying non-stop. Kendra's trying to fight a group of vampires in the graveyard when Willow portals in to help. They are overrunning the town and emerging from the tomb where Silas' head is being stored and his memories are becoming real. Meanwhile, Buffy, Faith, and Giles end up back at the funeral home, even though they were driving in the opposite direction. And all the vampires they staked before, even the Master, are waiting for them. There's no way to kill them permanently.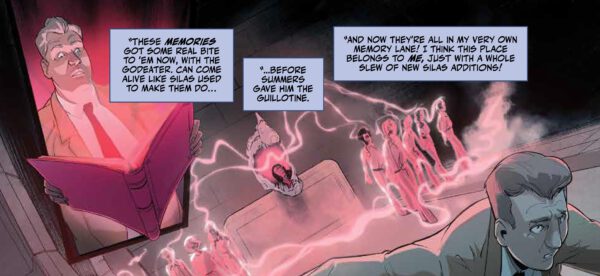 The group finally joins together when Willow shows up at the funeral home and portals them all back to the graveyard. They need to take care of Silas' head. It won't be easy, though. The gang fight off the never-ending vampires while Faith runs outside and grabs the hearse. She crashes into the tomb to cause a distraction so Buffy can grab the head. And finally they go back to the funeral home and cremate Silas' head. Seems like mission is accomplished? Well, until the next big problem emerges.
After that conclusion, we get a few short stories focused on each of the main characters.
For the first story, we see Tara taking Willow out to a park in the middle of the night to do a spell. Even though Tara's attempt fails, they both discover that they feel the same way about each other.
In another story, we see Xander on a road trip. With the help of magic crystals, we see that he fears Buffy, Willow, and himself will go in different directions now that high school is over.
The third short story focuses on Spike and his future being revealed, thanks to a powerful witch. She tells him that he will love and serve a Slayer in the future, but first he must clean up his act.
And the last story shows Buffy in therapy, talking about her problems in general terms and one-off from our reality. Xander's gay, Buffy's a witch, and Willow's the Slayer. Curious to see how that plays out in the long-term.
So, an all-around interesting way to celebrate the 25th anniversary of Buffy the Vampire Slayer. Long live the Slayer!
Rating: 4 / 5 Stars