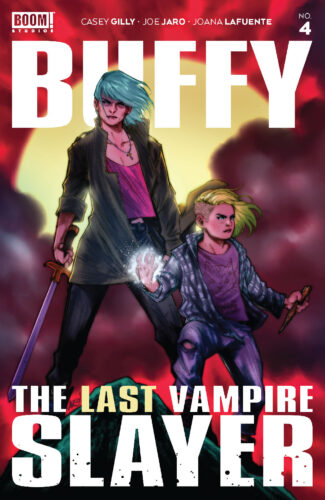 It's the end of the series and some decisions have to be made. What is the path forward for Buffy and Thessaly? Can they save the world or will they have to die trying?
Note: This recap may contain spoilers!
As we start the issue, Buffy is continuing to fight the hoard of vampires. She is trying to keep the witches protected as they work their magic, but it is a difficult battle with many accumulated injuries. And just when it looks like Buffy will have to fight them all on her own, despite how beaten and broken her body has become, Spike rejoins her and Anya joins the fight as well. Charlie gives Buffy some healing so the Slayer can continue to protect them as the witches perform their spell. It's three against many, but at least the advantages for Team Buffy are growing a bit.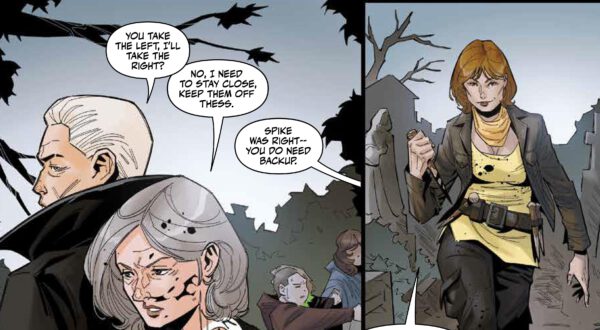 Meanwhile, Thessaly is feeling as if she cannot fulfill her destiny. She doesn't have enough strength or power to finish the spell, or so she thinks. Charlie encourages her to continue on. Thessaly can do this, she is strong. And she would be stronger if her powers weren't bound.
They discover that the thing binding her is the pendant she wears, the one gifted from her mothers. If she removes it, her full power can be unleashed. And that decision is taken out of her hands. After Charlie is attacked and lays dying, she pulls the pendant off Thessaly's neck. It's time for destinies to be realized.

In that moment, Buffy finds her full power as well and starts vanquishing all the vampires. She becomes the sun itself. It's a beautiful sight, though one that takes all her power and perhaps even Buffy's life. As Spike lays cradling her, Buffy sees Joyce and Willow and Giles, all her loved ones. It's time for Buffy to make a decision about her future.
Joyce explains that Buffy's Slayer has come to the end of her power, but that doesn't mean Buffy is at an end. She can live the rest of her life with her chosen family, teaching others, or she can go back with them and have eternal rest. The choice is hers.
Spike gets Thessaly and Anya to safety using a manhole in the mausoleum. And he prepares Thessaly for the road ahead, training to be a Slayer. But he will not have to train her alone. Buffy rejoins them and it's clear what her decision is. She is no longer a Slayer, but she can help. She has a chosen family and a life ahead.
Rating: 5 / 5 Stars