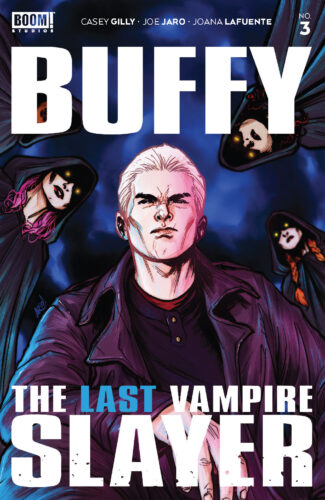 Buffy and Spike are together again, fighting alongside each other to save the world! But the world has become a much harsher place and time has not been kind to anyone. Can they help bring light back to a darkened existence?
Note: This recap may contain spoilers!
Kicking off the issue, Buffy and Spike have a violent reunion. It's an invigorating fight for both, and proves enough of a distraction that Buffy loses track of Thessaly in the process. But, never fear, she is safe with Spike's coven down below. And if Buffy will trust Spike enough to follow him into the sewer, he will show her just that.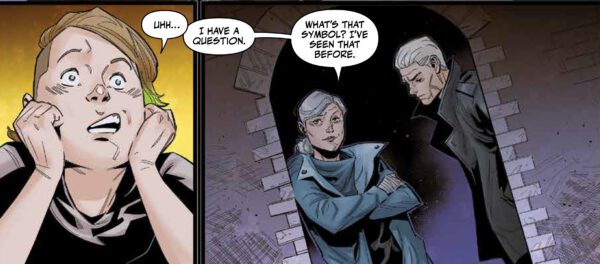 They have a very nice set-up down there and the witches are taking the opportunity to explain their plan to bring back the sun to Thessaly. The girl seems a bit overwhelmed and not following everything, but she's eager to try. When Buffy joins her, she notices the symbol on the whiteboard looks familiar. It's a sigil the coven created so that all the witches could focus their attention on it during the spell without having to be physically in the same location. Hopefully that will be safer and they won't have a repeat of the tragic occurrences of the past.
While Thessaly seems to fit right in, Buffy wants to make sure Spike understands all that is involved and also find out why exactly he's doing all this. Why take out vampires and try to bring back the sun? It all comes down to intentions. Spike explains that he found his vampire friends didn't want equality, they wanted to enslave humans, so he vowed to fight. And both Thessaly and Buffy can aid in that fight. They need the blood of a hero to cast their spell tomorrow. Even after Spike finds out who Thessaly really is and what happened to her mothers, he's even more determined that the spell is their only chance at success.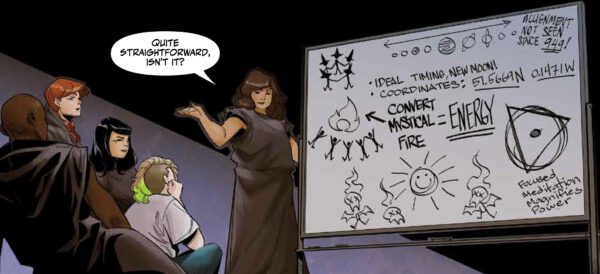 Buffy has a lot of regrets over what has happened in her life. She stopped talking to Willow and Tara because time just got away from them and the divide of not communicating grew wider. However, Thessaly's parents never forgot Buffy, and she was a topic of conversation in all aspects of their lives. While Buffy hasn't been a good friend to all the people that cared about her, Spike explains that the ups and downs of friendship are normal. She is human after all. And after a brief conversation with Anya, it becomes clear that Buffy needs to join the fight. She must take a stand, and stop being complacent, to protect those around her. It is her destiny.
But the planned spell at noon over at Highgate Cemetery will not be without some push back. The extra-humans are there as well, to fight against them. And fight they do. While the witches and Thessaly are doing the spell, Buffy and Spike fight against the extra-humans. Her body might be weathered by the battles she fought, but Buffy's determination is what counts. It is up to them to bring back the sun and some light in the world. However, that cannot be accomplished unless both Thessaly and Buffy embrace their true selves.

Thessaly has been enjoying learning spells with the witches, but the others sensed that something is dampening her power, whether that be an outside force or Thessaly herself erecting a protective barrier. Buffy has the same issue, as Charlie revealed to her. She is repressing her abilities and creating a ticking bomb that will surely explode if she doesn't let loose. Both of them will need to learn to accept who they are in order to win this fight.
Rating: 5 / 5 Stars