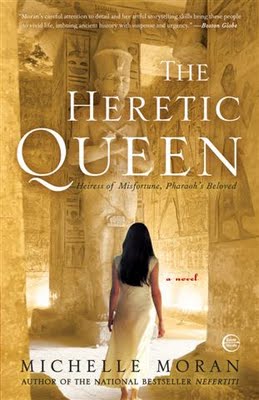 Title: The Heretic Queen: A Novel
Author: Michelle Moran
Publisher: Crown Publishing
Release Date: September 16, 2008
Synopsis:
Nefertari is the daughter, niece and grandaughter of Pharaohs and Queens of Egypt. Unfortunately for her, though, they are among the most hated of all royalty to ever sit on the throne. Her aunt, the beautiful Nerfertiti, and her uncle, Akhenaten were heretics to the gods and were banished from history for trying to raise one god, Aten, above all others. Nefertari is the last in her line and, with a beauty that reminds many of her aunt, must find her own way in the new regime.
Nefertari isn't completely without resources. She is intelligent, a quick study in languages and court politics. She also has the advantage of being childhood friends with the future Pharoh, Ramesses the Great. However, when it is time for Ramesses to take a wife, he marries Nefertari's rival Iset, starting up a tug-of-war for who would eventually be Chief Wife. Warring factions within the Pharaoh's family will try to put one woman above the other, but ultimately Nefertari will prove on her own her worth to him not only as a wife but as a diplomatic asset.
Review:
Michelle Moran really knows how to pen an intriguing tale. Using historical facts available today and a knack for character portrayal, she weaves facts and fiction into a wonderful tapestry of historic fiction. This book does what I feel any good historic fiction should do: make me interested in the time period it takes place in and the characters it is depicting. Without both, you have something two-dimensional and bland. When I am finished with the book, I don't want to feel like I've read some dry lecture or a sappy romance that could have been set anywhere; I want to be curious to learn more about what I just read. This book definitely satisfies those desires for me.
I read Moran's Nefertiti not too long ago, and there were some very striking similarities outside of style and how enjoyable I found them. They both show a woman's struggle in the courts of the Pharaohs, and while Nefertiti was from the beautiful Queen's sister's point of view, The Heretic Queen was from Nefertari's, the "queen to be." Read back to back I found that even though I thoroughly enjoyed The Heretic Queen, I did prefer Nefertiti. The Heretic Queen is a stand-alone novel, but I feel that I would have enjoyed it less without the context of Nefertiti as there is quite a bit of reference to the events and people in Nefertiti.
Overall, it was an enjoyable read. I will likely pick up anything in the future written by Michelle Moran because her books offer a great escape. Her voice is unique and she keeps the story full of intrigue and history while not getting too weighed down in cliché. I have yet to read her newest release, but if it is anything like The Heretic Queen, I will burn through it in less than two days and have my appetite only whetted for more. I appreciate how well-researched her stories are and, moreover, that she sounds like she knows not only what she is writing about, but who she is writing about.