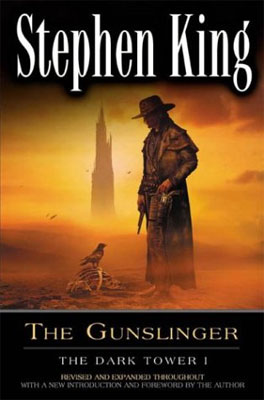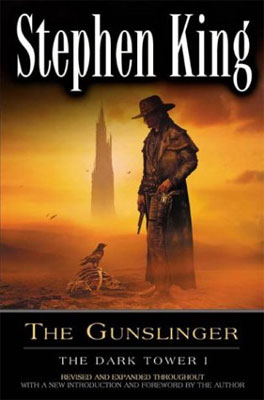 It can safely be said that I have have a love / hate relationship with Stephen King, and it of course is completely one sided.  The Dark Tower series, with The Gunslinger as the first installment, runs the full spectrum of my feelings about Stephen King.  However, The Gunslinger is perhaps one of my favorite books that I have ever read.  The opening line to The Gunslinger can be and will be argued by geeks everywhere as being one of the best ever written, and with it, I will start my review.  "The man in black fled across the desert, and the gunslinger followed"
Intrigued? I was; I couldn't help it. I think it's every writer's dream to be able to write a first page, let alone a first sentence, and have the audience dragged in. While it may have taken Mr. King twelve and a half years to write it, it took me just over three days to read it. The Gunslinger, as with the rest of the Dark Tower series, is a book you can read once, and it will stick with you, and you'll want to read it again and again.
The gunslinger, a man named Roland, feels almost as if he could be just at home in a western as anything. His mission is to find the man in black across a world that had already moved on. While the setting is reminiscent of the old west, it's set in a parallel universe. Demons and people dying in our universe and showing up in an abandoned way station in Roland's give it an element of fantasy. You're not going to find elves and sprites, but the feeling of mystery about the world Roland lives in is palpable.
Roland at first is an elusive character. Other than his desire to chase the man in black (and eventually catch him) he isn't given much in the way of personality, or a reason why the reader should even like him. As far as heroes go, he's a bit of the anti-hero, but after meeting Jake, a young boy who died in his own world and ended up in Roland's, the reader gets a better sense of what makes the gunslinger tick. Roland is set up in this first book as a man who will sacrifice those closest to him, if necessary, to accomplish his own needs. This is exemplified when he sacrifices David, his hawk, by using him as a weapon against his teacher in a battle to determine whether he was a man.
When Roland finally meets the man in black he is told his future, and thus starts the rest of the story. The Gunslinger is an excellent introduction to Roland and his world. His world has similarities with ours, and it even contains echos like "beans beans the magical fruit", but it is quite clear that the gunslinger is unlike any real man in our universe.
If you aren't a fan of Stephen King's horror, don't be afraid to give this series a shot. This is a step away from the usual for the prolific writer, and in my opinion, The Gunslinger is one of the best novels by the author. Roland might be following the man in black, but after reading The Gunslinger you'll want to follow Roland to the Dark Tower.
*I should note that this is a review of the original version of the novel and not the reissued extended version which I have yet to read.