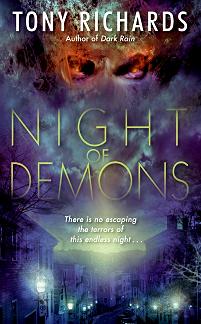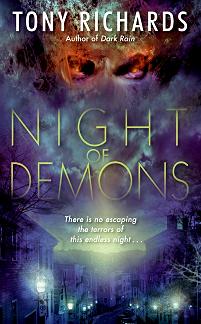 Title: Night of Demons

Author: Tony Richards
Publisher: Eos
Release Date: October 28, 2009
Synopsis:
Raines Landing is like any other town. It has its own diners, schools, hospitals, class divisions, and magic. Wait, that last bit is what sets it apart. Generations ago, before the Salem Witch Trials, the real witches of Salem left town and formed their own community of magic users — a community that had a curse so that those born there couldn't leave and normal humans couldn't enter. This curse kept the community secluded, with only a few exceptions. Turns out the mentally unstable homicidal maniacs out there could occasionally find their way in.
This had happened before, and in the times previous the people of Raines Landing, both magical and mundane alike, had dealt with who ever was throwing themselves at them. However, when Cornelius Hanlon stumbles across its borders, the citizens are in for something worse than a mass murdering mad man. Hanlon manages to get hold of a magical artifact that makes him near invincible.  The people of Raines Landing will have to join forces, magical adept and normal alike, to defeat this new intruder.
Review:
I had the opportunity to read an unedited advanced reader's copy of the book, so that being said I will only talk about the story since the nitpicky stuff may change between now and when it is released. While the saying goes "one should never judge a book by its cover," that is an excellent place to start here. It easily sets the mood, and really grabbed my interest. The mood? Dark and ominous. I know I don't normally comment on covers, but this one just caught my eye from the moment I opened the package it came in and tempted me to read just based on the artwork alone.
This is a book right up my alley. You need say no more than magic and serial killers to get my heart pumping (I know I do say this a lot, but I am passionate about so many things!). I love a good "good vs evil" fight and when that involves mysterious towns, magic, and magically enhanced serial killers you have my attention. The pace was excellent, there was enough action to keep the pages turning and enough character development to keep you interested.
If I have one complaint, it is that I had a hard time figuring out the curse that surrounded Raines Landing and Raines Landing itself. There were definitely passages where I could see the town, its rich neighborhoods or more disadvantaged areas, so visually it was intact. However, the curse was designed not to let people in who weren't magic users, yet somehow they could still get shipments in from other parts of the world, even if they can't be found on a map. I felt like this should have been explained a little better because I found it slightly distracting as I was reading. On the whole however, I liked the idea.
This is a supernatural suspense story that will keep you turning the pages and waiting to see what comes next. It comes out just in time for Halloween and I would suggest anyone interested in either stories about magic and magic users or crime and detective novels should pick this up. Even if you're not, this story doesn't alienate the uninitiated and is quite compelling.