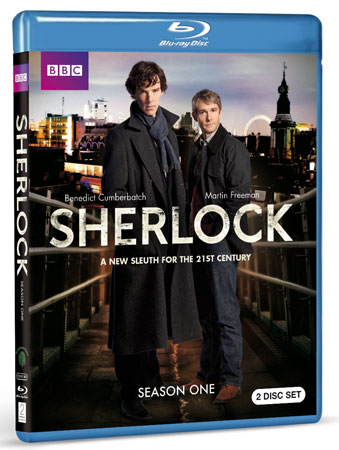 Blu-ray: Sherlock Season 1
Release Date: November 9, 2010
In this age of remakes, revamps, and reboots, new productions of Sherlock Holmes stories are a dime a dozen. Guy Ritchie's outstanding 2009 film is a recent highpoint among TV shows and movies that draw inspiration from the works of Sir Arthur Conan Doyle. The majority of new Holmes stories and adaptations blend in with a mass of generic Victorian-era mysteries, but the BBC has managed to update the legendary detective and his world in a series that manages to be both relevant and timeless. The first season of Sherlock released on DVD and Blu-ray this month, and here's a look at the collection.
The Series
The minds behind this new modern day Holmesian series are familiar to fans of Doctor Who. Steven Moffat is the current Who showrunner and has penned several instantly classic episodes, including the effectively disturbing episode about killer angel statues, "Blink." The other main Sherlock writer is Mark Gatiss, scribe of such Who episodes as "Victory of the Daleks" and "The Idiot's Lantern." Their Doctor Who heritage is evident in the three episodes that make up the first season of Sherlock. In fact, this version of Sherlock Holmes very well could be an incarnation of the Doctor.
Benedict Cumberbatch (Atonement) plays the title character with all the frantic brilliance of the Doctor and all the eccentric sociopathy of classic Holmes. In fact, Holmes refers to himself in one episode as a "high-functioning sociopath" by way of explaining to a police officer that he is not a psychopath. Cumberbatch's Watson is Martin Freeman, known to sci fi fans as Arthur Dent in the most recent film adaptation of The Hitchhiker's Guide to the Galaxy and soon to be Bilbo Baggins in Peter Jackson's upcoming adaptation of The Hobbit. I'm convinced that Freeman is working his way down a checklist of iconic British literary characters.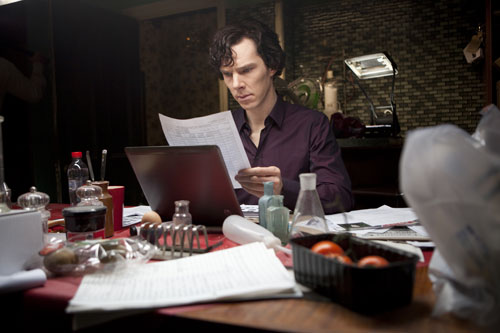 Watson is a veteran who returns home to London from Afghanistan with a psychosomatic limp and a sense of displacement without a war to fight. Through a mutual friend he meets Sherlock Holmes, ever the disarmingly observant consulting detective. The two immediately move in together to share a flat, and the game, as this new Holmes, says, is on! All the tropes of classic Sherlock Holmes stories are here, from Holmes knowing a person's life story after a brief encounter to the array of supporting characters, all updated to fit modern English society. Rupert Graves plays Lestrade, Una Stubbs is Mrs. Hudson, and Mark Gatiss himself appears in a surprise role. All the characters and relationships survive and thrive on the modernization.
Just as intact in the modern world are Sherlock's methods and madness. Holmes still plays the violin, but his infamous cocaine addiction is replaced by an addiction to nicotine arm patches, even though he does not smoke. Present is Holmes's discontent between cases, as are his prowess with swords and his petulant jealousy for Watson's time and attention. The original Doyle stories helped shape modern day crime scene investigations through Holmes's scientific methods. As he was on the bleeding edge of science in the classic stories, this Sherlock thrives on technology. He is as adept with computers and other technical devices as he is with more classical investigatory methods.
Each episode of Sherlock is shot and directed with attention to style and to detail. In true mystery style, all the clues to each case appear throughout each episode, but they are presented as set dressing, as subtle asides, and as seemingly unimportant decorations or asides. We occasionally are privy to Holmes's mental processes, depicted as floating words and symbols. Watching him reason through a problem in this way is truly fascinating stuff.
The Blu-ray
The Blu-ray release collects all three episodes of Sherlock across two discs. The packaging is a standard plastic case without any frills and without any inserts or booklets. Even though the outer presentation is a bit sparse, the on-disc contents are fantastic. In addition to the three episodes, you'll find a few bonus features, including:
The pilot version of the first episode, "A Study in Pink"
Audio commentary from the cast and crew on two episodes
Sherlock Unlocked – a making-of featurette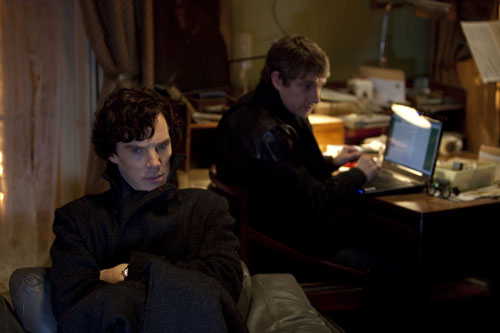 Conclusion
Fans of the classic Sherlock Holmes stories might balk at such a blatant modernization of the characters and cases, but a closer examination reveals that Sherlock is a lot nearer the source material than a first glance would reveal. Matching the tone and adventurous spirit of Doyle's writing, this series is a welcome addition to the growing library of Baker Street mysteries. Anyone who loves a good mystery and clever writing should check this series out, but Doctor Who fans will especially love the characters and pacing.