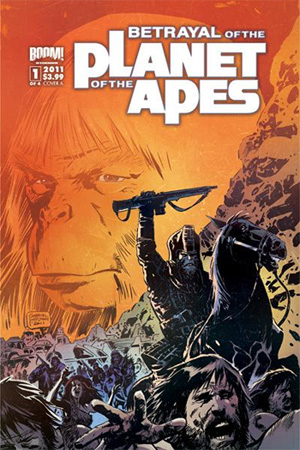 Issue: Betrayal of the Planet of the Apes #1
Release Date: November 2, 2011
Writer: Corinna Bechko and Gabriel Hardman
Artist: Gabriel Hardman
Colors: Jordie Bellaire
Letters: Ed Dukeshire
Cover A: Gabriel Hardman with Jordie Bellair
Cover B: Mitch Gerads
Cover C: Tonci Zonjic
Publisher: BOOM! Studios
Betrayal of the Planet of the Apes is great stuff if you liked the original. It is set 20 years before the original classic starring Charlton Heston (or starring Mark Wahlberg, for those fandomaniacs who like being heretics). The great thing about Betrayal is that it brings back the flavor and appeal of the original. I'm not talking about the classic overacting, which is the primary appeal of the original. That's tough to do without actual actors.
I'm talking about the other appealing aspect of the original movies: apes arguing about how enlightened, peaceful, and non-judgmental they are, but the whole time acting more warlike, bigoted, and primitivist than a hung over neo-fascist at a gun rally.

It's great stuff. The preamble sets things up nicely: the rigid caste system (presumably the one that makes orangutans the statesmen, chimps the smart ones, and gorillas the warriors) is breaking down. Humans by now are mute halfwits, but scientific curiosity is breaking old taboos, allowing apes to start to question whether they are really as perfect as they lawgiver's ancient pronouncements would lead the apes to believe, and whether humans are as low on nature's hierarchy as the lawgiver asserted all those years ago.
Of course, as many pivotal historic figures (Galileo, Martin Luther, John Brown…) can tell you, standing up for the betterment of society has its risks. One of those risks is that people will want to kill you.
We start with General Aleron leading an ape raid on human settlements to "clear an infestation," and having to deal with Varus, one of his lieutenants who definitely is a troublemaker.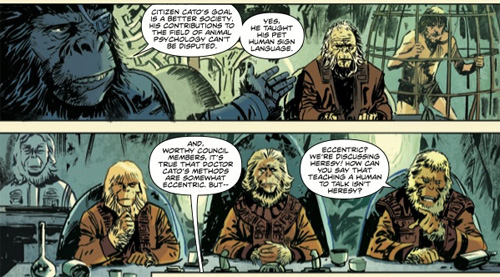 Flash forward 15 years. General Aleron is now a lawyer for Dr. Cato, a scientist who, in the interest of science, has taught a human to communicate through sign language. The charge of this horrible, dastardly action is the heresy of raising the status of humans to that of apes. But the council is (barely) enlightened enough to see that, perhaps the Lawgiver would approve if he were alive today because: science GOOD, ignorance BAD.
Of course, this doesn't go down well with most other apes, who are disgusted that anyone would treat humans as anything other than vermin (even if it's for "scientific" reasons). Thus starts the intrigue. This is a good first installment that enthusiastically lays into the moralistic side of the POTA franchise. But it's done in a way that is entertaining in its heavy-handedness. Let's hope they can keep it up.
Rating: 4 / 5 Stars