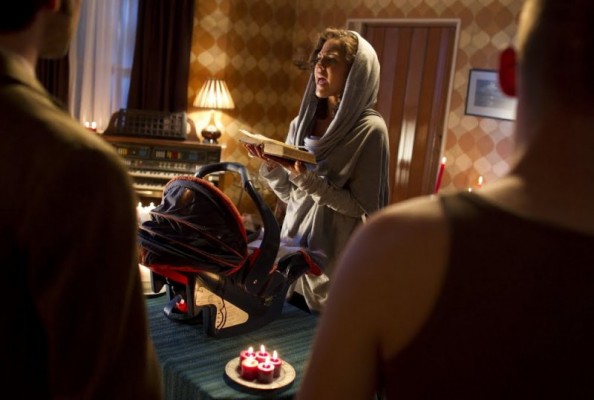 Episode: Being Human 4.02- "Being Human 1955"
Original Air Date: February 12, 2012
In this week's episode of the BBCs Being Human, three unexpected guests turn up on the doorstep of the Honolulu Heights bed-and-breakfast: a vampire, a werewolf and a ghost. An angel has told them that baby Eve is their savior, but does she have the power to save dying werewolf Leo?
When last week's episode was so wrapped up in time-travelling, talk of prophecy, and bidding a tearful goodbye to George, there wasn't much time to introduce us to the series's new cast members. "Being Human 1955" not only gives us a proper introduction to new arrivals Hal, Leo, and Pearl but also has plenty of the humour that made the first series of Being Human so entertaining and unique in the first place. There's no indication how much time has passed since George's death, but Annie and Tom aren't wallowing in grief. "Where have you been?" Annie demands of Tom as he returns from hunting vampires, slipping easily into the role of mother as she scolds his poor grammar and calls him a "very naughty werewolf." Tom, meanwhile, has hidden his stake in the garden shrubbery. There's an air of the absurd about it all and the dynamic between Annie and Tom is excellent.
Elsewhere, a dying old man receives a message from an angel. The old man is Leo the werewolf and the angel is… well, that's not entirely clear. Her message is, however: Leo must travel west to visit the miracle child that's capable of curing him. When he — along with ghost Pearl and vampire Hal — turn up on the doorstep at Honolulu Heights, Annie is flabbergasted and Tom is on hand to welcome Hal with a stake. It's the beginning of what's clearly going to be a beautiful friendship between Tom and Hal. Though the new trio are surprised to find Annie and Tom "shacked up, babysitting the messiah," they're willing to indulge the idea that baby Eve might help them, as it's the last hope Leo has of surviving his next transformation.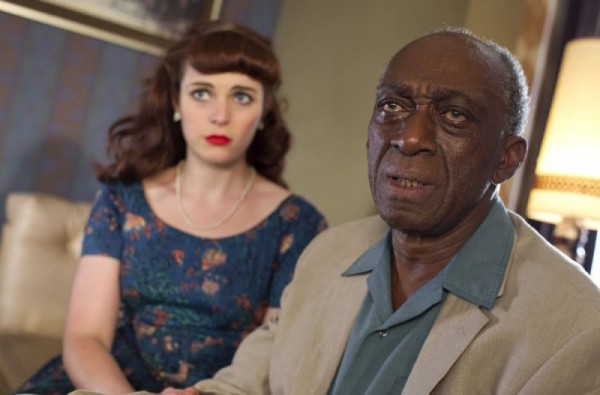 Meanwhile, at the cheekily named Stoker Imports & Exports, forward-thinking vampire Cutler is showing a focus group a smart-phone video of Tom and George transforming into werewolves. He has them completing clipboard questionnaires about their reactions to the clip, but Fergus — "the perennial henchman" — tells Cutler that what the vampires need to succeed is "fists and fangs" and promptly has Cutler's focus group devoured by his minions. Though Fergus has a face that begs to be punched and Cutler is a fun new twist on what it means to be a vampire, neither has really cemented himself as the series's "Big Bad" yet.
Back at Honolulu Heights, Annie is about to lead a ceremony which will hopefully save Leo. It seems she's taken a leaf out of Regus's book (see: last week's episode) as her incantation is a jumble of Latin nonsense, song lyrics, and Star Wars quotes, ultimately culminating in the frustrating revelation that Eve isn't the savior that Hal, Leo, and Pearl hoped she would be. Whilst they look genuinely shocked that Eve doesn't have miraculous powers, Tom wonders why Eve has to be anything more than just George and Nina's daughter. It'd be nice to think that Tom could be right, that Eve really is just a baby, but given how commonly "The Chosen One" trope crops up in just about every form of fiction, it's unlikely.
Resigned to his fate, Leo sends Tom and Hal out on a "quest" to find a ring. Though they've been living together and quite clearly in love for the 55 years they've known each other, Leo has only now decided to propose to Pearl. Given how insular we're led to believe their life has been, it's hard to imagine that the two of them haven't admitted their love for each other before. While Tom and Hal head off on their quest, Pearl and Leo give Annie the low-down on Hal and the things that he should be kept away from: people, small dogs, budgies, blood, Kiora, and all other diluted drinks and squash. For a shut-in, Hal's got a surprisingly dry sense of humor, best exhibited when he attempts to turn down Tom's reluctant invitation to join his shopping trip with the excuse that he has "plans to stay in and self-harm."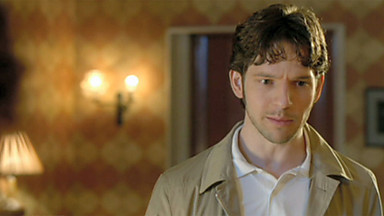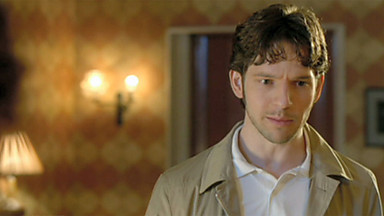 To put it bluntly, Hal does not play well with others. The pawn shop that he and Tom visit in their search for Leo's ring has a wolf's head mounted on its wall and when Tom gets into a fight with the owner, demanding that he take it down, Hal can barely contain himself at the sight of the blood on the owners split lip. Things get unexpectedly, and oddly, intense when Hal gives the pawn shop owner a lecture about conscience. When it's clear that the episode hasn't been taking itself very seriously so far, Hal's speech feels a little over-dramatic and out of place.
Though there are moments like this where Damien Molony has the chance to show us what he's capable of, it feels as if the writers are still trying to get to grips with the complexities of Hal as a character. One minute, he's desperate to save Leo, his best and only friend from dying. The next, he's seething at baby Eve about how he can't shed tears over "the fool." When Hal is on the verge of sinking his teeth into Eve, Tom arrives without a moment to spare and only spares Hal a stake to the heart because he refuses to kill anyone in front of the baby or in Annie's house.
The episode ends with Hal admitting to Tom and Annie, as all three sit on the couch together, that he wants baby Eve to kill all the vampires. Annie gives a polite smile and Tom a bemused nod. To say that "I've got a bad feeling about this" would be an understatement.