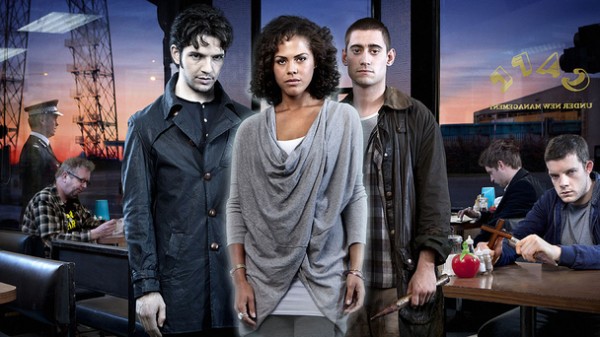 Episode: Being Human 4.01- "Eve of the War"
Original Air Date: February 5, 2012
Death, departure, a dystopian future, a vampiric prophecy written on human skin, and a baby called Splodge that just might be The Chosen One. There's all this and more crammed into the fourth season opener of BBC's Being Human.
In the wake of the previous season finale, it was difficult to imagine how both the creators and characters of Being Human could carry on. The departure of not only Mitchell (Aidan Turner) but also George (Russell Tovey) and Nina (Sinead Keenan) was made public months before "Eve of the War" aired. With three quarters of the series's central cast leaving, how could things get any worse? The first scene in "Eve of the War" — a flash-forward to London of the future — shows us exactly how as we glimpse of humanity's last line of resistance against the vampires hearing that New York has fallen to the blood-suckers.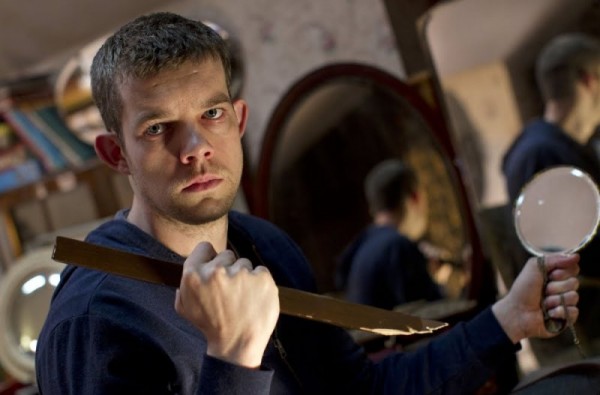 Back in the present day, Honolulu Heights feels bigger and emptier than ever before. A matter of weeks have passed since George put Mitchell out of his misery. As if staking his best friend wasn't torture enough, Nina has been murdered and their baby is next on the vampires hit-list. George — now permanently clutching a stake — has surrounded the baby's crib with crucifixes and refuses to give the child a name, evidently terrified of becoming emotionally attached to his own daughter. With his red-ringed empty eyes, George already looks like a dead man walking, his inevitable tragic fate foreshadowed by the knowledge that actor Russell Tovey would be leaving Being Human soon.
Still trying to find his place in the world is werewolf Tom (Michael Socha) whose desire to join a new pack is plain to see in those big, puppy-dog eyes of his. When he's not working in a greasy-spoon café, Tom's moonlighting as a vampire slayer and none too subtly angling for an invite to live in one of Honolulu Heights's newly vacant rooms. Tom's attempts to win over George are endearing but ultimately rebuked, with a harsh reminder that George won't fill the void left behind by Tom's departed father-figure, McNair (Robson Green). Annie (Lenora Crichlow) does an admirable job of trying to hold herself and the household together, but when Tom and George are tricked into going after the vampires responsible for Nina's death, Annie is powerless to save the baby — who she's affectionately nicknamed Splodge — from abduction.
At first it seems like the vampires want Splodge dead because she's a baby werewolf, but when the full moon rises and no transformation occurs, the vampires turn to self-confessed "Vampire Recorder" Regus (Mark Williams) for answers. Is she the harbinger of the vampire apocalypse, or their unknowing savior? Glimpses of the future might keep the answer to that question deliberately vague, but in the end it's Regus — looking rather silly with a tea-towel on his head — who stalls the sacrifice of the child and gives George the window of opportunity he needs to rescue his daughter. His success comes at a cost, however. By forcing himself to undergo a partial transformation, George does irreparable damage to his body and survives the aftermath of the battle only long enough to name his daughter Eve and slip away into the afterlife, where Nina is waiting for him. It's a heart-wrenching performance by Russell Tovey that caps the episode off with a bang.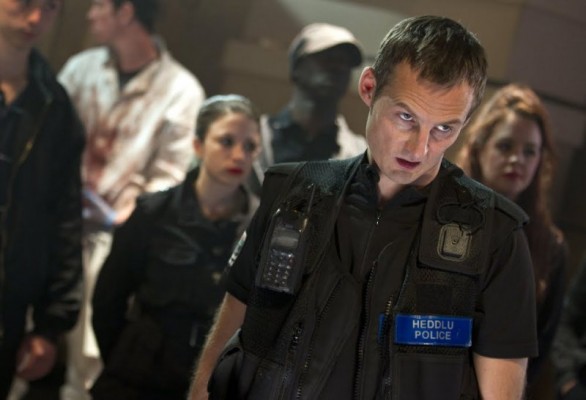 Alongside all of this, we also get to meet to what could almost be described as a parallel universe version of the original Being Human trio. Our introduction to new vampire Hal (Damien Molony) is low-key, compared to the drama centred around George et al and, though he's well played, it's hard to see beyond Hal's role as a convenient Mitchell-substitute, much as quickly dispatched vampire boss Griffin (Alex Jennings) feels like a poor man's Herrick. Though the brooding vampire is an all too common cliché, it will be interesting to see how stand-offish, posh Hal and salt-of-the-earth Tom get along, and how Annie copes with the living, blood-sucking reminder of the lover that she's lost.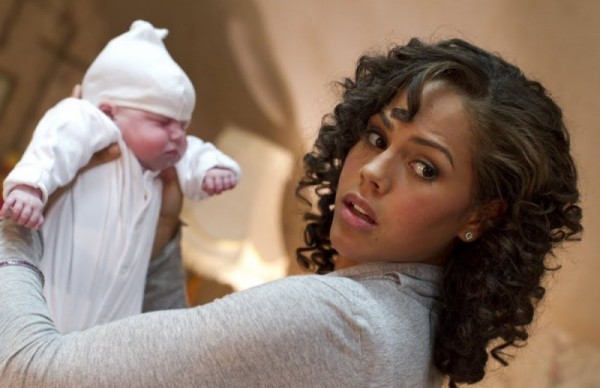 By the time the closing credits roll, "Eve of the War" has left viewers with plenty to digest and just as many new questions as resolutions. Being Human's scope has become broader than it ever was before, though whether the show can balance its core, ultimately human drama with the sweeping scale of an impending, global vampire invasion remains to be seen.
If you're a North American reader and want to catch up on what happened in season 1-3 of Being Human, check out this recap video from BBC America. Being Human is currently airing on BBC America in the US and on BBC Three in the UK.