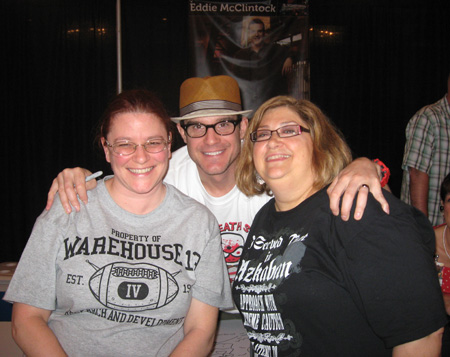 Labor Day Monday is the last official day of the Dragon*Con convention. Activities are scheduled until the convention closes at 5 p.m. The reality is most of the guests and many attendees have departed by two in the afternoon. I like that I have the flexibility in my schedule to stay through Monday. Often, it's one of the most fun days of the entire convention. Thinned crowds create a more relaxed atmosphere. Guests who wait out the time between checkout and departure hanging out in the Walk of Fame become more approachable and show more of who they are as a person.
A few major "farewell" panels are scheduled in the morning. Usually, being Squirrels, we don't miss the Stargate panel. This year, we elected to attend the Warehouse 13 panel instead. An interesting reveal occurred at the beginning of the panel. During the previous evening's panel, Eddie McClintock had gotten bored and drew on the tablecloth over the stage tables. The hosting venue was reportedly quite upset by this "vandalism". In an attempt to lighten the situation, the track host provided Eddie with a kids' paint-by-numbers set and paintbrushes. Even though he accepted it graciously, I think he was not amused by the situation. He kept making sarcastic remarks like: "Don't mind me. I'm just sitting here painting my picture." At the end of the panel, a lucky fan went home with the picture signed by Eddie. Besides playing the character "Pete" on the show, Eddie has also built a reputation as a talented artist.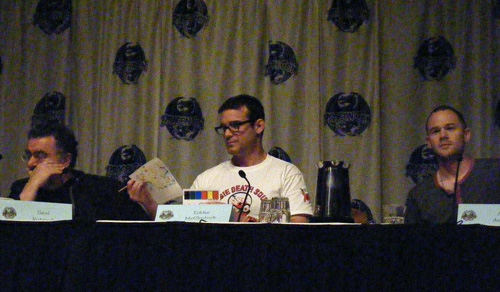 Sadly, we had to bid a personal farewell for another year to Misty and Kimberly on Monday.
For the early afternoon, we planned one more trip to the Walk of Fame to visit with the Warehouse 13 guys again. They had announced they would stay on Monday so fans could have one-on-one time with them. As I've mentioned before, I'm impressed by how caring and respectful the cast is toward their fans. The Walk of Fame was more than half emptied, and most of the remaining guests had been moved into the same half of the ballroom.
Angie and I intended to get a table picture together with Eddie. When we walked up to his table, I noticed there was old, faded writing on the table. I pointed to it, gasped, and said in my best "Mom" voice: "Eddie! Have you been writing on the table again?"
Angie, picked up on my cue, and said in a singsong tone: "Oh Eddie. You're gonna be in trouble."
He laughed and said like a small child: "I didn't do that!" He picked up a Sharpie marker and quickly drew a large, self-portrait caricature over the entire center of the table.
The two of us can instigate certain kinds of trouble when we're together, and we like to push people's buttons in a teasing way, but that result even shocked us. His poor staff handler was aghast. Every time I think of this incident, I do hope that he didn't get in trouble over it. Eddie's a great person and a lot of fun to interact with.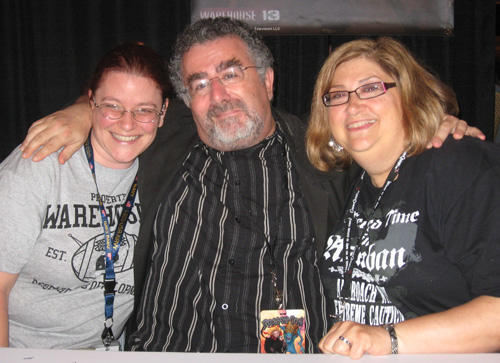 Since we had done a photo of Eddie together, we decided we also had to get one with Saul Rubinek ("Artie"). Only a couple of people were in line ahead of us, but they were taking a great deal of time. Nothing wrong with that; however, we get bored easily and will amuse ourselves. Our group started cutting up with each other and acting crazy. We heard a loud throat-clearing and looked around to see Mr. Rubinek staring straight at us from his now-free booth. When he had our attention, he said: "You two ladies are silly." He instructed us to come round the table and sit in chairs either side of him for the photo. Once we were seated, he stretched his arms way up in the air, and then placed one around each of us. He enjoys indulging in a bit of silliness, too.
A few guests were still at booths in the other half of the ballroom. One of those was Cliff Simon, our favorite Stargate Gou'ald lord, "Ba'al". It was the first chance to interact with him we'd had all weekend. Of course, we needed photos with him, too.
When we arrived on the other side of the ballroom, my eyes were drawn to one thing. Craig Parker was still there! He had been listed as appearing through Sunday, so I had presumed he would be gone by Monday. No, I wasn't going to miss the opportunity to see him one last time and get one last picture with him. This time everyone left in our group accompanied me, but I was no longer nervous because of our previous encounters. Jackie had been mockingly upset with me for failing to tell him I had a friend from New Zealand who was there at Dragon*Con. There were a few people ahead, but no one behind us.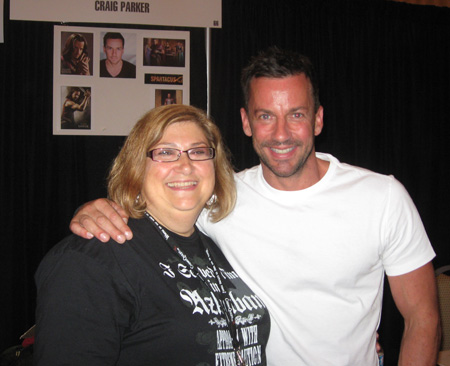 What happened next was even better than getting a kiss. I walked up, and he reached out and held my hand. With a big, warm smile, he said: "It's you. You've come to see me again before I leave." Happily shocked to my toes he remembered me, and in a good way, was a Cloud 9 experience. At each convention, guests encounter so many people that to be remembered out of a great number of fans felt amazing. I introduced my friends. Jackie stepped up and cleared her throat, determined to not let me forget again.
Craig was excited to meet someone else from New Zealand in the middle of Atlanta. They talked about "home" and places they each like. He told her: "Wow! It's so great to meet someone who talks normal!" That statement led into a conversation about Southern accents. We talked to each other in Gone With The Wind Scarlett O'Hara voices. Honestly, I was impressed at his skill and not because he's one of my favorite actors. For the most part, television and film "Southern" is not at all how any Southerners sound. Badly done Southern accents have long been one of my pet peeves with the industry.
He talked to everyone in our group. Since it was late on Monday, we were able to talk with him for quite a while. We parted with one last picture together, and he gave it to me as a gift. The weekend turned me into an even stronger fan, now a fan not just of Craig Parker the actor, but also the person.
Next, we accosted Cliff Simon. He told us about his baby, his new dog — a mixed Pit Bull rescue. He heads a charity that rescues abused Pit Bulls. You could hear in his voice it's a cause he really cares about. He's so talented at playing nasty and evil villains, yet he's really a gracious, humble and nice person.
I've mentioned before that one of things I like best about attending conventions like Dragon*Con is meeting the guests. No matter how well-known each is, most are regular people with families, pets and some of the same struggles in life everyone faces. For me, it places a layer of reality onto seeing them on my television screen on a regular basis.
After our Walk of Fame adventures, Kristy and I hit the vendor area for souvenir shopping. That was a fun way to wrap up our time at the convention. We returned with our treasures to our room for a bit of much-earned rest time. Later, Green, another Squirrel, dropped by the hotel with an invitation to join her and others for dinner. Two of those coming were Nate and Dave. Yes, there are guys within the Squirrel ranks. I hadn't seen Nate yet over the whole convention, and it would be the first chance I'd had to meet Dave in person. It ended up with Jackie, Kristy, and me meeting them back at the Metro Diner Café. The restaurant, too, was way less crowded, but the service was still lacking. We were served by the same waitress, and I think that was the true issue with the service. The gathering was great, a good time of talking, singing along with karaoke, and being crazy together.
Too soon, everyone was ready for a good night's sleep before our Tuesday departures. Tired and sad to say good-bye, we once again scattered to our various homes, satisfied with our convention adventures and looking forward to next year's convention.