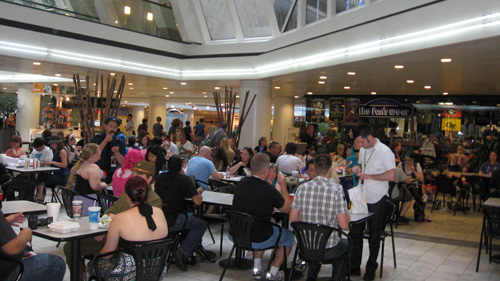 One of the reasons I love going to conventions like Dragon*Con is meeting favorite actors/writers/artists that I would never otherwise encounter. Conventions provide a setting that is comfortable for both the celebrity and fan sides for photos and autographs. Even though I enjoy meeting these people, I understand that I don't really know them, and the encounters will be brief and probably not life-changing. I'm a joker and extrovert by nature, so I try to keep the exchanges light-hearted and fun. I've carried a lot of pride that I don't tend to be star struck and have mercilessly teased friends who revert into batty-eyed, tongue-tied, giggly, nervous 16-year-old fan girls in front of their favorites. But, I should have heeded age-old advice: Pride goes before a fall.
Late Saturday afternoon was blocked out for cruising the Walk of Fame and gathering autographs. We planned to meet up with others in our group and pester the Warehouse 13 bunch… I mean, visit their booths en masse. We've met them before and enjoy joking around with them. Saturday was their first day at the convention. They were delayed by the filming schedule, but still made the effort to come from Toronto to Atlanta to meet their fans. They're first class.
When we found Angie and Katie, they were far back in the line for RDA's autograph. The time they would spend in line gave us a great chance to grab a quick lunch. When we finished, they had almost reached the front of the line. Katie is a talented photographer and photo editor. She created a special "Jack O'Neill" photo compilation for Richard Dean Anderson to sign. His rep liked it so much he requested Katie send him a copy!
As we entered the Walk of Fame, I spotted Craig. His line wasn't very long, and it was like the proverbial moth to the flame. Standing in that line, slowly approaching Craig Parker's booth one person at a time, it happened. My mouth went dry like it was stuffed with cotton balls. My hands shook so much I could barely hand my bag to Kristy who had volunteered to hold it for me. "Butterflies" invaded my stomach to the point I felt nauseous. All my brain cells turned to jelly and so did my knees.
Too soon and not soon enough, it was my turn. With my reputation to protect, I took a deep breath, determined not to let my nervous feelings show. Truly, I was secretly glad Kristy was the only one of my friends to witness me going to pieces in front of an actor. I don't know if it showed, but I felt like I was that batty-eyed, giggly 16-year-old standing in front of her first crush, acting all weird and fumbling around with my "to be signed" items. There I stood, grinning like a loon, freaking out inside and speechless. My expression was probably what my older daughter calls my "picture face" which she claims looks like I'm gritting my teeth and about to attack someone.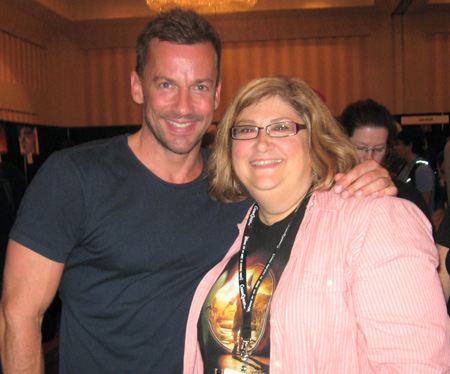 Craig insisted on sitting on the front side of his table to have more personal interaction with his fans. He finally asked: "Would you like me to scribble on something for you, love?" Somewhere inside, the sassy part took over, and I replied: "You can scribble on anything you want to." His response was to air write his signature across my shirt. After he did it, he apologized for being so "cheeky", but it amused me and made the nerves drain away. Turns out he's a lovely person, funny and easy to talk with, plus he has that wonderful New Zealand accent. The rest of this first meeting was the standard autograph booth encounter. He was offering only table pics, no official ops, so things wrapped up with our Day 1 Photo. Little did he know then, I planned to return next day. I didn't want to overwhelm him with a bunch of things to sign all at once, nor did I want to leave the impression of being a creepy stalker. So, one visit per day per celebrity is my rule, unless it's someone who I know doesn't mind. I had no idea if or when I would ever get the chance to meet him again, so I was determined to get my money's worth out of the weekend.
I brought one of our versions of Fellowship of the Ring to be signed by all the attending cast members. Next on the agenda was getting sigs from John Rhys-Davies and Billy Boyd. It was a bit intimidating to approach an actor as venerated as John Rhys-Davies, sort of like having to see and talk to the school principal. During panels and interviews, he seems somewhat reserved, even though he lets his humor shine through. Up close and personal, he's charming and amiable. He chatted for a while to Kristy and me while he sorted through his markers to find one that was still writing well. I offered him the use of mine, but he insisted on locating one on the table that still wrote. He possesses a humble and gracious attitude about his immense body of work. If possible, I have more respect for him now than I did before meeting him in person. Billy Boyd's booth was located across the hall from the others. While we waited in his line, we did get to stare at Joe Flanigan, a decent way to pass the time. Boyd struck me as a pleasant person, but he was definitely reserved. Besides signing the DVD, my purpose was to get an autographed pic for my older daughter.
While he signed the items, it was weird to stand there silent, so I asked him: "Is there any news on Space Milkshake?" He paused, looked up with a shocked, but delighted expression and said, "You know about that?" He updated us on the progress. Space Milkshake is an independent film he made that also stars Sanctuary alums Amanda Tapping and Robin Dunne. He said it was coming out later in the year, and it did premiere at London Film and Comic Con in October. Boyd also fronts his band, "BeeCake".
The Walk of Fame is shaped like a horseshoe. As we went around to the other side, we met with Angie and Katie coming the other way. Excited, Angie related that Eddie McClintock, "Pete" from Warehouse 13, told her she had been picked as the DVD winner for her T-shirt picture! We were headed to Eddie's booth. They wanted to get a table pic with someone, but said they would meet us there.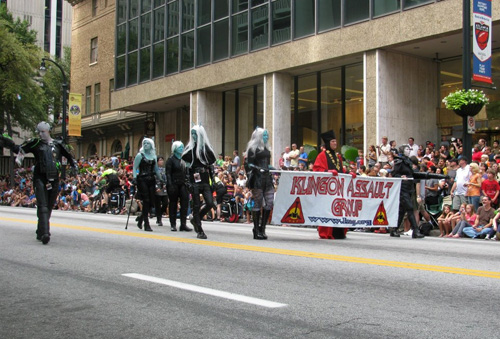 Inside the Walk of Fame, no personal pics are allowed, even if you want to take pictures of your friends. According to the official statement, it's because the celebrities' reps won't allow any photos in order to protect the guest's copyright of their identity. Most guests do the official photo ops, but that can get rather expensive fast at $30-$40 per on the low end. Add in autographs, and one can spend quite a lot of money quickly. I have no problem with charges for these things and do believe the guests deserve compensation for their time. But I also understand a lot of attendees are on tight budgets and feel they can't afford a lot of photo ops. Many celebrity guests have started offering "table pics" at a much lower rate. Basically, it's a pic taken with your camera of you and the guest at their autograph booth. It's a trend that has gained momentum among the guests so they can give fans a better experience, and one has to admire that, for many of these celebrities, the fans are more important than the money.
We all met Eddie McClintock at his first Dragon*Con a few years ago. Eddie is about as open to fans as celebrities get. At that first encounter, he insisted on introducing himself to and hugging each person in our group. Eddie loves meeting and talking to fans, so visiting his booth and pestering him is a Dragon*Con must for Warehouse 13 fans. Plus he's a great person and funny guy who loves to joke around. He's also a talented artist, and every year, he designs a Warehouse 13 T-shirt to sell at the convention. I was waiting till after our photo op later in the evening to get an autograph, but I did want to make sure I bought a shirt before they sold out.
The upshot is, I'm familiar enough with Eddie to know I could joke with him as much as I wanted, and he'll give it right back. When I walked up to his booth, he greeted me with a "Hello, Darling!" I replied right back, "Hi Honey!" He asked if I wanted something signed, but I said was just there to get T-shirts that trip. He acted all broken-hearted. I "reminded" him that we had a "hot date" later (photo op). He promised to be a perfect gentleman. I sighed, and said, "That's too bad. I don't really like gentlemen." That remark caused him to laugh, and, as we left, he said he'd wear something sexy for me.
Often, there's not enough time between the normal activities of the day and activities like photo ops to return to your hotel room to freshen up. My normal dress for each day is a nerdy or favorite fandom T-shirt. I've developed the habit of putting a nicer shirt in my bag so I can change for opportunities like photos. There was about an hour of downtime between seeing Eddie and the photo. Kristy wanted to do some shopping in the vendor area. Earlier in the day, the crowds were so heavy, the line extended outside the vendor entrance. That was no longer the case, but inside the crowd was still shoulder-to-shoulder, like navigating the Main Street and shops of Disney World.
At the photo op, I said to Eddie, "You didn't tell me it was a group date" in a disappointed voice. He grinned, and said, "Oh yeah, you're my hot date!" I was delighted he remembered. We ended up doing a crazy pose where it looked like Eddie was proposing to me, under pressure. Lots of fun.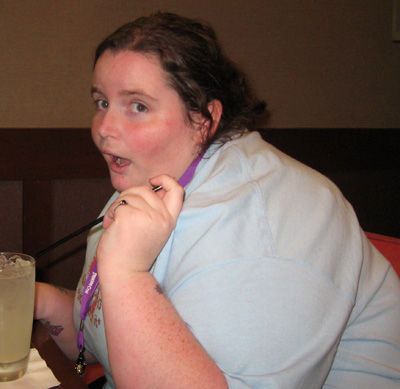 By this time, Kristy and I had no idea where anyone else had gone. Our group had plans later than night for our own "Doctor Who Premiere Party" at our hotel. Snacks, laughs, and watching the Doctor Who season premiere together. We headed to grab a quick dinner at the food court at Peachtree Center. It was mayhem. People were standing or sitting wherever they could find space, even on the floor of the mall. After meandering through for a while, we decided to take our food back to the hotel room, so we could have a place to sit and eat. Everyone else had returned to the hotel. Angie and Katie had ordered pizza because Jackie had never eaten American pizza. They ordered from Mellow Mushroom, a chain I introduced them to at a previous Dragon*Con. Everyone wanted Jackie to have good pizza for her introduction to American pizza. She declared it the best pizza she's ever eaten.
Someone had the brilliant idea to take a group shot of us all. Kimberly volunteered her camera. It meant she had to set the auto timer and rush into the picture. Most of us were sitting on the large sofa, but Misty and Kimberly were on the floor. So when Kimberly pressed the camera button, she would back quickly into her place in front of Misty. Unknown to Kimberly, every time she did this, her rear was placed inches from Misty's face. The incident kept repeating because she kept resetting the camera. Her obliviousness turned it into a hysterical moment. Misty began making hand motions of certain actions, like grabbing or pushing, and I, being the great friend I am, secretly took pictures. Until the moment Kimberly finally noticed, and exclaimed, "Are you taking pictures of my butt?!" That just made things worse. Which is one of the reasons we're laughing so hard in this version of the group picture.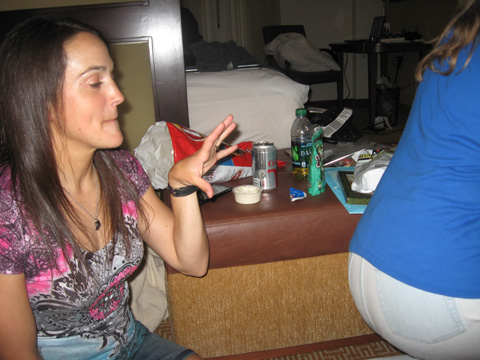 Spending fun time with friends I otherwise don't see very often is the greatest things about the sci-fi convention experience for me. Crazy fun is always better with a group of like-minded people who share one's interests. We wrapped Saturday night up with a group viewing of the Doctor Who season 7 premiere. Misty taught us how to cook an MRE in the field. Hijinks lasted far into the night. Katie and Jackie pranked Angie by putting plastic forks into her pillowcase, a method we dubbed "gang-forking". It may be the sleep deprivation, but one's mind does begin to develop strange ideas at conventions that appear genius and hilarious at the time. When one thinks back on those times, the memories still resound with hilarity within the shared experiences.