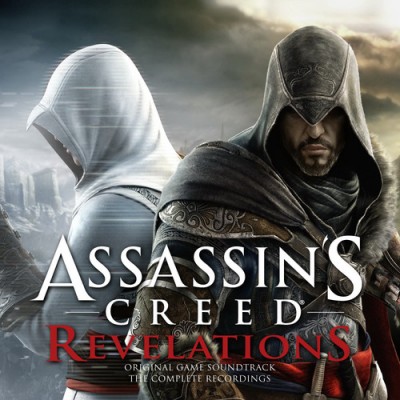 Title: Assassin's Creed: Revelations (The Complete Recordings)
Composers: Jesper Kyd and Lorne Balfe
Label: Ubisoft Music
Release Date: November 15, 2011
I might not be the perfect person to review this soundtrack, since I haven't played any of the Assassin's Creed games, but I'll do my best.
Revelations is set mostly in Constantinople, and the songs reflect that, as they have a Turkish/Middle Eastern vibe to them. The songs are pretty short overall, with the longest being 4:44 and the shortest being 0:33. Like other video game soundtracks, some songs are meant to pump you up, especially during fights. Others are just meant to be background music when exploring or talking to NPCs. Other songs would be in the background during cut scenes.
"The Wounded Eagle" not only has a Turkish/Middle Eastern vibe, but also sounds epic, like when first entering a city and seeing it all for the first time. The song "The Noose Tightens" has short sounds, making it tense and like the character is being stalked and herded somewhere they don't want to be. "Constantinopolis" continues with Turkish/Middle Eastern theme, while being mysterious and compelling. Overall, if you enjoy the Assassin's Creed games, then you will enjoy this soundtrack.
The three-disc set, containing 80 songs, is out now and came with the special edition and signature edition of Assassin's Creed Revelations. It's also available from Amazon and iTunes.
Track Listing:
Disc One
"Assassin's Creed Theme"
"Animus Island"
"The Road to Masyaf"
"The Wounded Eagle"
"The Noose Tightens"
"Sailing to Constantinople"
"Master and Mentor"
"Welcome to Kostantiniyee"
"The Crossroads of the World"
"Sofia Sartor"
"Son of Umar"
"No Mistakes"
"The Traitor"
"A Heated Discussion"
"Ambush"
"A Familiar Face"
"Byzantium"
"Nova Roma"
"Templar Occupation"
"Arrocco"
"On the Attack"
"Last of the Palaiologi"
"Yerebatan Cistern"
"Fight or Flight"
"Galata Tower"
"Die By the Blade"
"Forum of Ox"
"Suleiman's Grief"
Disc Two
"Istanbul"
"We Talk Together"
"Altaïr Escapes"
"Betrayal"
"The Mentors Return"
"Rebuilding the Brotherhood"
"Of Life and Death"
"Greek Fire"
"An Unsubtle Approach"
"The Hidden City"
"Infiltration"
"Cappadocia"
"Street Fight"
"Mastermind"
"Notorious"
"Constantinopolis"
"Investigation"
"Everything Changes"
"You Have Earned Your Rest"
"Passing the Torch"
"Crossed Swords"
"Scheduled for Deletion"
"Altaïr and Darim"
"The Library"
"The Revelation"
"Labored and Lost"
"Reunion"
"Enough for One Life"
Disc Three
"Abstergo Industries"
"Rhodes"
"The Hunted"
"Antioch"
"The Hunter"
"Kill Streak"
"On The Run"
"Constantinople"
"In the Simulation"
"Find the Target"
"Firenze"
"Welcome to the Fold"
"Souk"
"Chase the Target"
"The Lobby"
"Venezia"
"Let the Chase Begin"
"Siena"
"Tracking Templar"
"Castel Gandolfo"
"On a Kill Streak"
"The Pursuit"
"Assassinate the Target"
"San Donato"